Tattu Funfly Lipo Battery 1550mAh 14.8V 100C 4S1P
---
QuadCopters Price Match
Tattu Funfly Lipo Battery 1550mAh 4S 100C Lipo Battery Pack The Perfect all rounder for Drone Racing and FPV
This pack is specifically designed for FPV Quadcopters and Freestyle Racing Drones which require high discharge rates. Tattu battery pack has the ideal combination of power and weight. 100C discharge rate gives you instant power boost when flying.
Tattu batteries provide high quality, reliable power for your Multirotor or Aircraft.
All Tattu LiPos are packed with vibration-proof & fire-proof material and our luxury battery box. Make sure you get your battery in perfect condition. An automatic procedure & Computer system battery cell matching process ensures the batteries stability and quality. Different from the original Gens Ace series, TATTU is specialized for the UAV & UAS market, with their industrial quality (since Gens Ace is based on the Hobby area), their slogan "less is more", "more" means more flight time, more enjoyment, and more satisfaction, and "less" means less weight, simple design. Tattu always develops their products according to these 2 directions giving you a high-quality battery.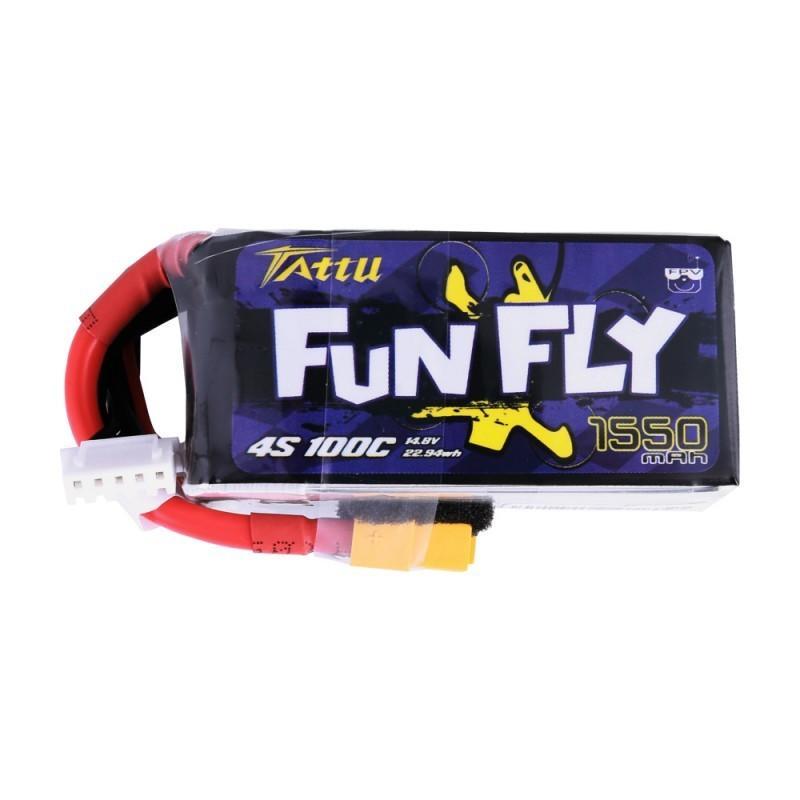 Tattu Funfly Series 1550mAh 4S 100C Lipo Battery Pack Specs:
- Capacity: 1550mAh
- Voltage: 14.8V/4S
- Discharge Rate: 100C
- Weight (±10g): 180g
- Size (±5): 71*35*35mm

We are the Uk's Authroised dealer for Gensace Tattu Lipo Batteries. 
The item has been added to your basket