AcroBrat Freestyle 3 Inch Frame.
Ummagawd Acrobrat 3" Frame - Tommy (Ummagawd) created a miniquad that doesn't intimidate newcomers, and doesn't disappoint seasoned FPV pilots. A balance of size, budget and fun-factor, that encourages anyone to create awesome HD FPV videos, without risking expensive equipment, breaking laws, or scaring spectators. A lot of time and effort as been put into creating the best 3" frame on the market which is dedicated to carrying the split mini 2 so HD footage is now possible in such a small size frame.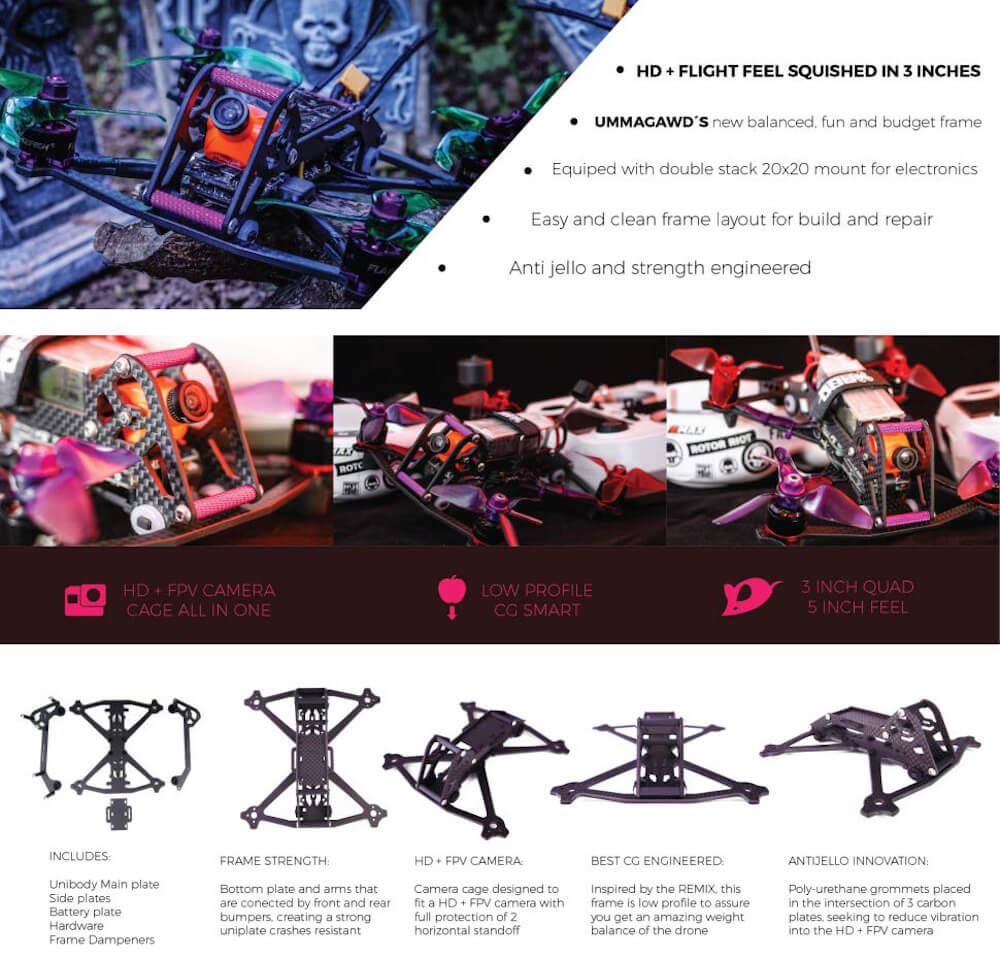 Design Goals:
Deliver an HD freestyle quad for less than the price of a gopro session 5 (at the time $299)
A 3" quad that feels and flies like a 5"
Uses the runcam split mini, but mitigates the jello issues that the split is prone to
all in a package that is fairly durable and not intimidating for the pilot or spectators
Specs:
Unibody Main plate = 3mm bi-axial Toray Carbon Fiber
Side plates (w/adjustable FPV cam placement) = 2mm bi-axial Toray Carbon Fiber
Battery plate (w/optional top mount FC holes) = 1.5mm bi-axial Toray Carbon Fiber
Hardware = Stainless Steel
Frame Dampeners = Custom Poly-urethane
Motor to Motor (diagonal) = 163mm
Motor to Motor (front to back/side to side) = 115mm
Overall Frame size = 141x141mm
Frame height = 55.5mm
Dry Frame Weight = 54g
Motor bolt pattern = 12x12mm
Motor c-clip hole = 6mm
Simply the best 3 inch frame out there, the design and thought gone into the acrobrat is wonderful. It also was a pleasure to build and also very happy with the service provided by Quadcopters.
Write your own review
The item has been added to your basket