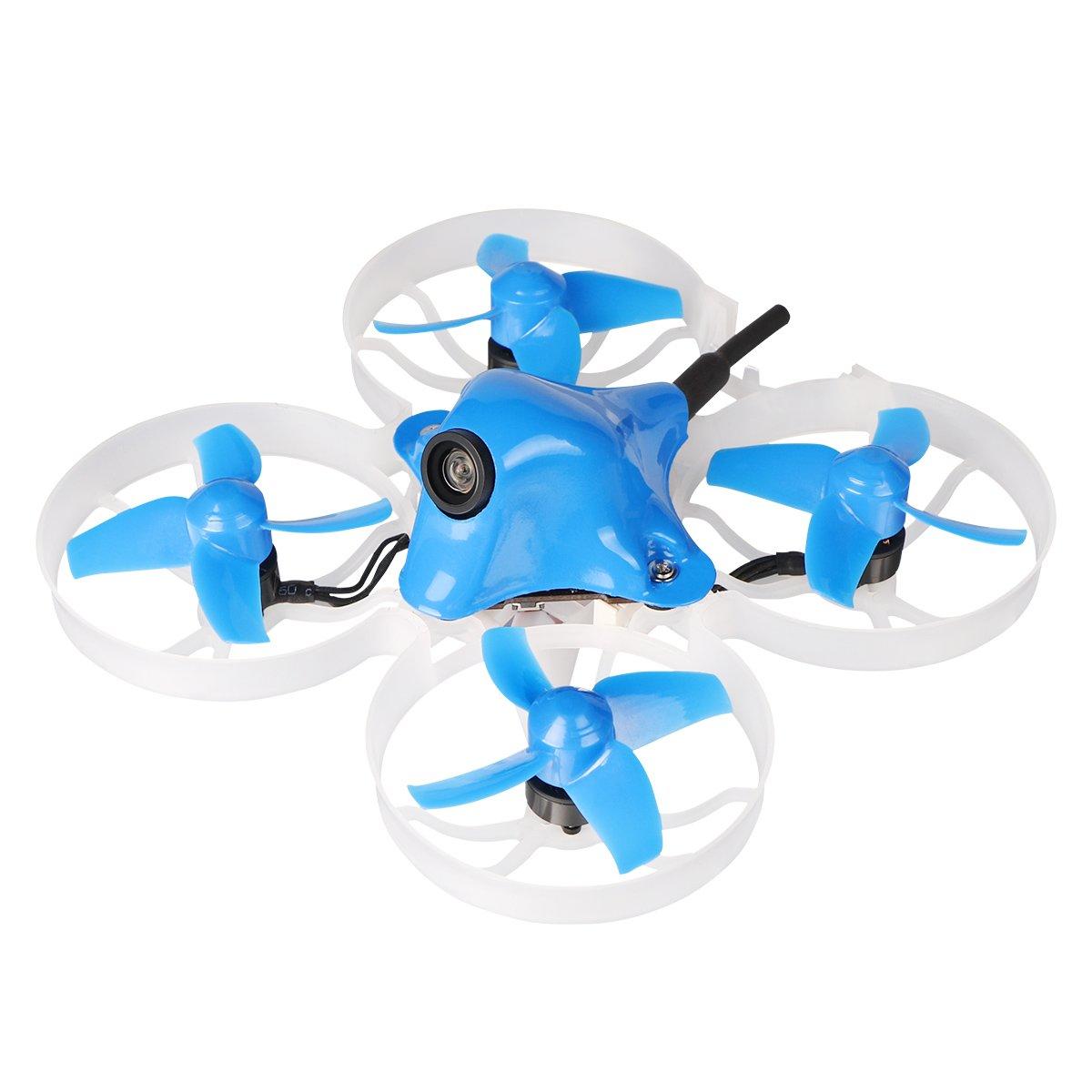 Beta75 Pro 2 Micro Racing Drone 2S (Discontinued)
---
QuadCopters Price Match
Beta75 Pro 2 2S Micro Racing FPV Drone by BetaFPV.
Frsky Receiver D8 Mode . 

The Beta75 Pro 2 is a micro whoop drone which is very light but nevertheless very fast. With the flight controller AIO F4 2S and 0802 brushless motors, and only 28 g without battery. BETAFPV is still trying to offer more choice to all FPV pilots The Pro Series is the product line with integrated brushless UAVs that are lighter, faster and more efficient. This is a lighter version to the 75X and is said to be a trashcan beater.
We also recommend changing the pigtail to the XT30 and then you can use the Tattu 450 2s lipos with ease.


Key Points 
The Beta75 Pro 2 opens new perspectives for whoop 2S drones. Compared to Beta75X, it weighs 14g less. You can fly in real mode with a 2S battery, like a faster Tiny Whoop drone, while remaining small enough, safe and quiet enough to fly anywhere.

Thanks to the FC high-performance cards with STM32F411 processor and the betaflight_matekf411rx_4.0.0 (development version) version, the Beta75 Pro 2 drone can be piloted like a racing pro.

The durable and lightweight frame is customized for the Beta75 Pro 2. It is 2g lighter than the Beta75X, but has the same battery slot compatible with the 2S.

Whole drone seamless or DIY needed. The lightest 0802 12000KV custom motors with cable connectors. Just plug in and play.

2 high speed 300mAh HV 1S batteries are recommended by default. But the pilot could also use his 2S battery with a replacement power cable. Optional and affordable.

The wash-out problem does not exist in Beta75 Pro 2 drones.
Specs of the Beta75 Pro 2s
Weight: 28g (without battery)

Motors: 0802 12000KV with connector

Protocol D16 FCC / D8 EU

Frame: Beta75 Pro 2

Propellers: Quadripal 40mm, 1.0mm shaft hole

Camera: 35 degree AIO camera (default)

Receiver option: Frsky

Battery: 300mah 1s HV Batteries 2pcs
Comparison between Beta75X and Beta75 Pro 2: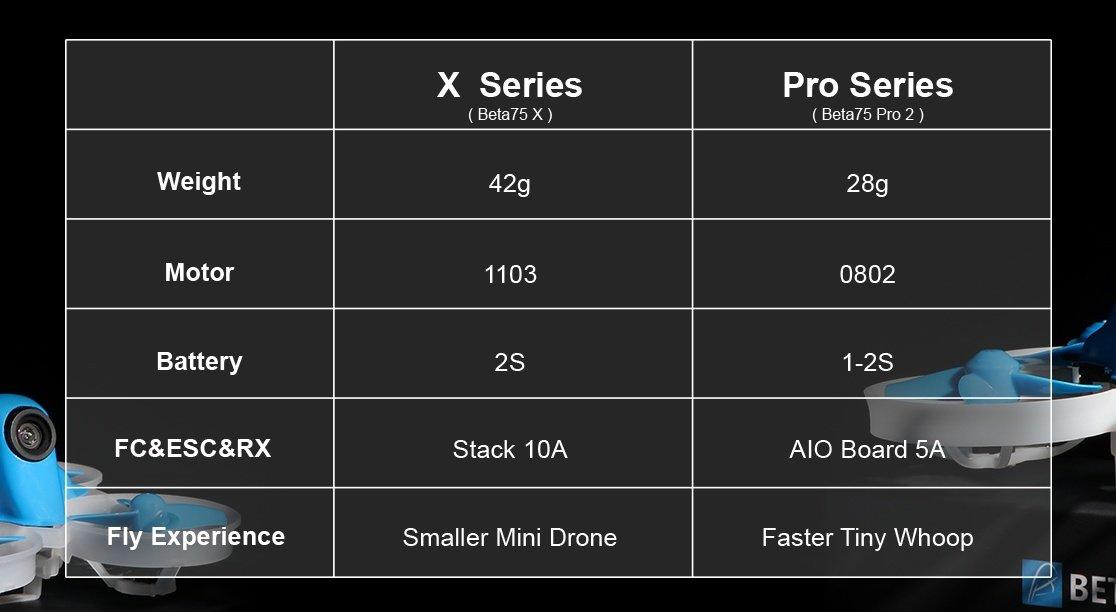 FC & ESC Features
FC 2S AIO F4 Card
Six axes: MPU6000

Size: 26mm x 26mm, mounting pattern

Firmware version: betaflight_matekf411rx_4.0.0 (development version)

OSD: Built-in OSD BetaFlight (STM32 controls the OSD chip on SPI in DMA mode)

The Smart Audio port is available for VTX radio control

Built-in 1-2S controller with 5A DC current and 6A peak current

Programmable BLHeliSuite support

Factory firmware: S_H_50_REV16_7.HEX
AIO VTX camera
On the Beta75 Pro 2, this is the custom AIO VTX camera lighter, with only 2.9 g.
Output power: 25mW

The Smart Audio function is included for radio control

Antenna: Dipole ANT

Frequency: 5.8 GHz 6 bands 48 channels, with Raceband: 5362 ~ 5945MHz

TV system: PAL

Field of view: 100-120 degrees with 1/4 lens


Contents
1 x Beta75 Pro 2 BNF 2S

2 x 300mAh 1S HV batteries

1 x spare camera holder with 25 degree tilt

PLEASE NOTE YOU WILL NEED TO BIND IN D8 MODE 
5. If you are using EU-LBT firmware radio controller, you might find that you can't bind successfully to this SPI Frsky receiver. Here are the solutions betafpv provide for you. 
The item has been added to your basket