BetaFPV F4 2S AIO Brushless Flight Controller/ESCs
---
QuadCopters Price Match
BetaFPV F4 2S AIO Brushless Flight Controller/ESCs
This AIO F4 FC is suitable for a lighter 2S whoop drone, like Beta65 Pro 2 or Beta75 Pro 2etc. It integrated a Betaflight F411 processor FC, Betaflight OSD, SPI Frsky receiver and 1-2S 5A ESC. So the 2S drone could save many weight for a faster fly experience.

SPECIFICATIONS OF FC
CPU: STM32F411CEU6 (100MHZ )
Six-Axis: MPU-6000 triaxial accelerometer / triaxial gyroscope (SPI connection)
Size: 26mm x 26mm, fully compatible with the all whoop drone mounting pattern, recommend the Beta65X frame and Beta75 Pro frame.
Firmware version: betaflight_matekf411rx_4.0.0 (Development Version)
OSD: Built-in BetaFlight OSD (STM32 controls OSD chip over SPI in DMA mode)
Built in SPI Frsky D16 protocol native receiver, compatible with almost ALL Frsky FCC radios(e.g. Taranis X9D/X9D Plus/X7) or Frsky compatible transmitter module. Not compatible with Frsky LBT protocol. You will need D8 mode on the radio.
Power Cable: 55mm, with 2pcs JST-PH 2.0 connector, AKA PowerWhoop connector
Weight: 4.5g 
DIAGRAM FOR F4 2S AIO FC (BUILT-IN FRSKY RX)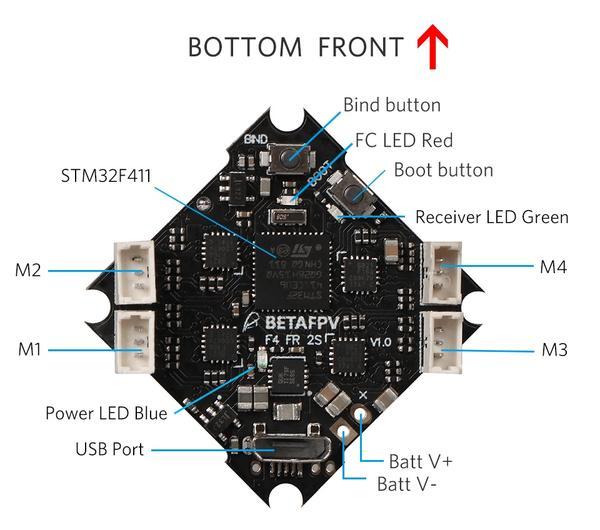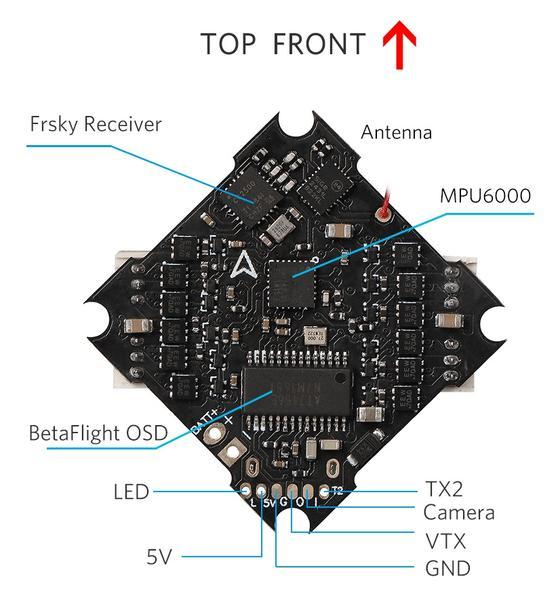 SPECIFICATIONS OF ESC
Built-in ESC with 5A continuous and peak 6A current
Power supply: 1-2S
Support BLHeliSuite programmable
Factory firmware: S_H_50_REV16_7.HEX
Signal Support: D-shot150, D-shot300, D-shot600, Oneshot125, Multishot, PWM
Status LED
There are 3 LEDs on the bottom of the board to indicate the status, including Receiver LED ( Green), FC Status LED ( Red ) and FC Power LED ( Blue ).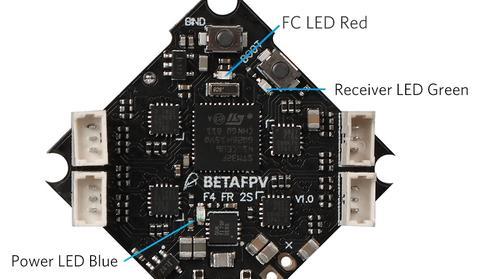 | | | |
| --- | --- | --- |
| LED | Status | Description |
| Receiver LED ( Green) | Solid | Connected or in bind mode |
| Receiver LED ( Green) | Flashing | Not connected |
| Power LED ( Blue ) | Solid | Power on |
| Status LED ( Red ) | Solid | Motor Armed |
SPI Frsky Receiver
Currently the built in Frsky receiver is compatible with Taranis, Taranis Plus, X9E, Horus X12S, XJT Modules. Pay attention, this is a SPI connection receiver. In Betaflight Configuration, it should be setted as FRSKY_D receiver (aka Frsky D8 mode) or FRSKY_X receiver (aka Frsky D16 mode) in SPI RX mode.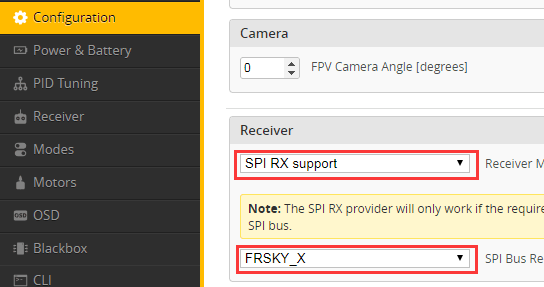 The Frsky D16 unstable connection issue is totally resolved since Betaflight 3.4.1. Nowadays, the default configuration from factory is Frsky D16 mode (FRSKY_X).
Note: If you are using EU-LBT firmware radio controller, you might find that you can't bind successfully to this SPI Frsky receiver. Your radio must have D8 mode enabled. 
PACKAGE
1 * F4 2S brushless flight controller
4 * M1.2x4mm screws
4 * M1.4x5mm screws
4 * Anti-vibration rubber dampers
The item has been added to your basket