BetaFPV HX100 SE Brushless FPV Toothpick Quadcopter 1S Frsky LBT BNF
---
QuadCopters Price Match
BetaFPV HX 100 SE Toothpick 1s Racing FPV Drone BNF Bind and Fly is pre built and ready to pair with your Frsky compatible radio.
The BetaFPV HX100 SE is a micro size fpv drone fitted with powerful brushless motors and is perfect for indoor flying and outdoor on calmer days.
It is also the first 1s brushless whoop size drone to come on the market and with the BT2.0 Connector power delivery is smooth thanks to the new style connector that can deliver power when needed without sagging like other types on the market.

Ultralight, quiet and powerful! With the tiny design of a 100mm wheelbase and the BT2.0 300mAh 1S battery, this small body contains incredible energy! This little beast will bring you an unprecedented outdoor flight experience!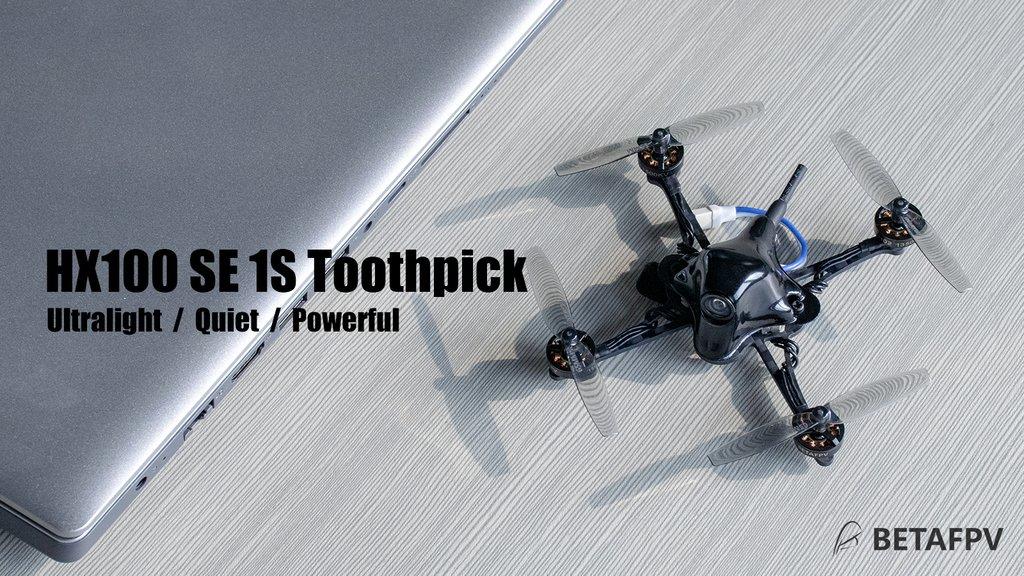 Features of the HX100 SE
Uses the lightest F4 1S Brushless FC V2.1 motor, which weighs 2.69g
without a cable. This FC has the efficient STM32F411CEU6 processor
and tuned Betaflight MATEKF411RX (MK41R), which allow for
maximum weight savings
Equipped with BetaFPV's exclusively designed BT2.0 connector, it can
support 9A continuous current and 15A burst while the PH2.0 connector
uses 4.5A continuous current
The highly efficient combination of the light 1102 13500KV motor and
durable 65mm 2- blade props deliver a drone with excellent flight
performance and achieves a great noise-reducing function.

Specs

Item: HX100 SE FPV Quad
Weight: 28.09g (without battery)
FC&ESC: F4 1S Brushless FC V2.1 
Motors: 1102 13500KV Motors
Props: Gemfan 65mm 2-blade props(1.5mm shaft hole) 
Camera & VTX : M01 AIO Camera 5.8G VTX
Frame: HX100 SE Carbon Fiber Frame
Canopy: Canopy for HX100 SE
Receiver Option: Frsky LBT
Battery: BT2.0 300mAh 1S Battery
Flight time: 4 mins in a smooth outdoor flight, 2:30 mins in full throttle outdoor flight

Super light with a total weight of 28.09g, installed with the customized
HX100 SE carbon fiber frame.
The drone comes with BT2.0 - PH2.0 adapter cable in default, which is convenient for customer who uses PH2.0. We also released the BT2.0 tester and charger, its charging current has been upgraded from 0.5A to
1A, which makes the charging speed 2 times faster.

BT2.0 Connector
BETAFPV exclusive designed BT2.0 connector has broken through the bottle-neck of PH2.0 connector. BT2.0 connector has decreased internal resistance of connector effectively allowing more current to be transferred, which means it supports 9A continuous current (15A burst). This means stronger power and longer flight time on 1S brushless drones while PH2.0 just supports 4.5A. You can enjoy more flight time without disturb of low voltage warning due to reducing voltage sag.



Includes

1 * HX100 SE FPV Quad with Frsky LBT Receiver
1 * BT2.0 300mAh 1S Battery
1 * BT2.0-PH2.0 Adapter Cable
The HX100 is a upgrade from a brushed whoop I have previously owned and this is way way faster and agile. Cant believe brushless whoops are so much fun. The HX100 from Betafpv flies like it wants to be a 5" but is great at making small gaps. The new BT2 connector does deliver more power but I am still waiting on stock arriving at QC for more lipos so I can do some non stop ripping.
Write your own review
The item has been added to your basket