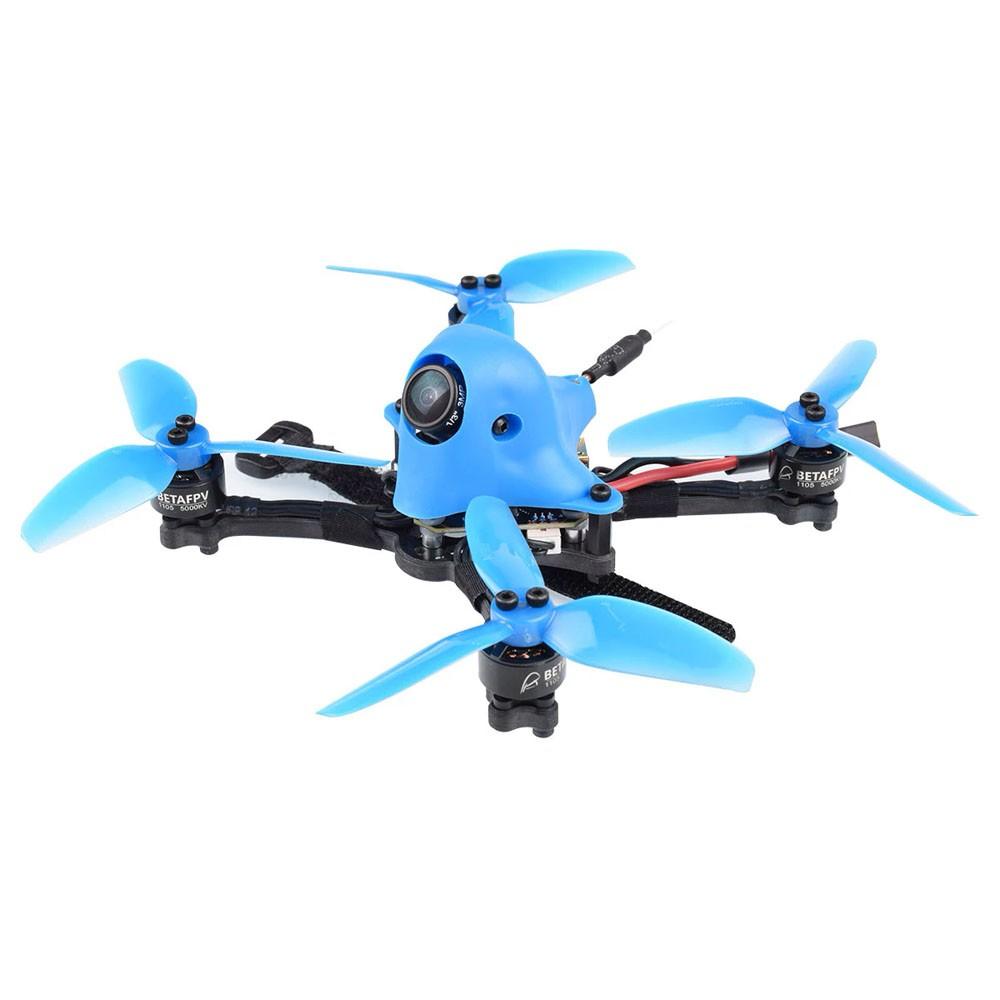 BetaFpv HX115 Ripper Toothpick Drone 3-4s
---
QuadCopters Price Match
Introducing the New HX115 from Betafpv , This is the fastest production toothpick to date and capable of running on 3s and 4s Lipos. Receiver type Frsky LBT.

The HX115 3-4S Freestyle Ripper is the ideal micro racer. Crazy fast due to its lightweight frame and powerful 1105 5000kv motors, this toothpick drone is no toy
It features the Toothpick 12A AIO FC paired with 1105 5000KV motors able to push 3-4S voltages. You'll experience an unparalleled boost in power and performance on this 115mm toothpick class drone. Fly faster than ever before on a micro-sized drone with the HX115.
Note: Want an HD Toothpick? Check out the HX115 HD Version with RunCam Split 3 Nano.
Features
Customized Caddx Kangaroo, delivering 4ms ultra-low latency, FOV 165°, and super WDR with weight just 3.5g, specially designed for the pilot who seeking the ultimate speed
The first carbon fiber series with Toothpick 12A AIO flight controller, using a stack instead of individual boards encourages compatibility, which can reduce weight and size, and often makes it easier to work on and repair your build without lots of messy soldering and wiring.
Integrates with 1105 5000KV motor, powerful and versatile 115mm FPV carbon fiber racer can be flown indoors and out, offers unparalleled execution in thrust, control.
Supports 3-4S battery. It has plenty of power and punch to do all the tricks and flips you want.
Upgraded 4.4mm thickness carbon fiber unibody frame, more durability and aesthetic while maintaining minimal weight is achieved.
Specifications
Weight: 66.6g (without battery)
FC&ESC: Toothpick F4 2-4S AIO FC
Motors: 1105 5000KV Brushless Motors
Props: HQ 3020 2-Blade Props / HQ 3030 3-Blade Props
Camera: Caddx Kangaroo
VTX: A01 25-200mW 5.8G VTX
Frame: HX115 carbon fiber frame
Canopy: Canopy for HX115
Receiver Option: Frsky XM / DSMX / Futaba S-FHSS / Flysky / TBS Crossfire
Battery: 450mAh 3S Battery /450mAh 4S Battery
Flight time: Almost 5 mins



Toothpick F4 2-4S AIO Flight Controller
The new layout Toothpick FC, all in one board, makes this ideal for tight builds and achieves mini stack height. Possesses high-performance STM32F411CEU processor and tuned Betaflight MATEKF411 (MK41), which provides much more power on 2-4S. For detailed specifications, check out the FC page.

Caddx Kangaroo and A01 VTX
We customized 165° FOV and ultra-low latency(4ms) Betafpv version for pilots' better visual experience compared with Caddx official FOV160° version. It comes with Sony Starvis CMOS sensor while camera lightweight – only 3.5 grams. More Instruction for Use clicks here to reach.

Besides that, A01 VTX comes with 25-200mW 5.8G and Smart Audio.

HX115 Upgraded Frame
HX115 frame utilizes to T700 carbon fiber material, stronger crashworthiness compared to the initial T300 frame. Newly structure design, R0.5 chamfer, and ONLY 4.4mm thickness cause this carbon unibody frame to become ultimate durability and aesthetic while maintaining minimal weight is achieved.

Recommend Battery
Power combination suggestion is that use 3030 props with 450mAh 3S battery and 3020 props with 450mAh 4S battery, switchable and affordable.




Note: We do NOT recommend using 3030 3-blade props with the 4s battery, it may burn your motor due to increased amp draw.
Includes

1 * HX115 115mm HD Quad
1 * HQ 3030 3-Blade Props (4pcs)
1 * HQ 3020 2-Blade Props (4pcs)

*Battery is NOT included. It comes with two sets of 3'' props without pre-installed, props at your disposal.
The item has been added to your basket