HQProps Info and Blog Page - The Most Popular Prop in FPV Drone Racing
HQ PROPS HERE
The HQ Prop has definitely become the most popular propellor on the mini-quad market. This can be down to the consistency of balance and quality in every propellor produced by HQ.
HQ has produced high quality props since 2012 and has become the highest competitor in the mini-quad market. For this reason of quality and popularity, quadcopters.co.uk have decided to become the UK's leading stockist for the HQ prop.
Our pilot and staff, Tom Smith, is a proud user of the HQ prop and swears by it. The durability and weight allow the motors to swing the propellor around faster than competitor props, whilst remaining ridged in flight and producing excellent power to weight ratios.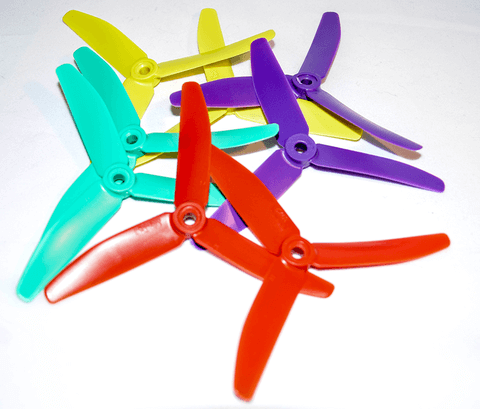 The most popular of the HQ prop is the 5x4.3x3 V1S DURABLE POLYCARBONATE which can output at 1.1kg+ on 4s 2206 2400kv motors.
KrazyFPV created a durability test video on YouTube which shows the strength and endurance of the HQ Props. With the ability to clip tree branches and leaves the props were in tact and able to continue flying at top performance.
As the miniquad market progresses, the drive to create the ultimate prop becomes clear. Unfortunately there is no "perfect" prop. Although a perfectly chosen prop is attainable. Whether you're racing, free-styling or going for a top speed run, HQ props can supply it all. Pitchy props with 3 blades tend to be great for freestyle as the pitch provides "grip" and can help in high speed tricks. Speed and racing will require less pitch to keep the flight fast yet still enough pitch to grip around corners and gaps. Bi-blade props are perfect for high speed runs and will provide the fastest readings as the motors have less prop to move around.