DemonRC Fury 5X Super Lightweight FPV Drone Racing Frame.

The FURY Frame is a culmination of our experience and knowledge that we have gained over the years of RC designing.
This quad has been designed to achieve fastest possible speed at the racing tracks and events combined with the best possible acro flying characteristics.
Advanced design solutions have led to a perfect weight distribution and perfect X proportions. 
FC sensors, Center of Gravity and Center of Thrust meet at the same place what guarantees the best possible racing and Acro flight characteristics.
This is an ideal quad for both fpv styles – Racing and Extreme Acro.
The Frame "body" section has a decent durability. The arms are 4mm thick but designed in such way to lower the weight to minimum. Possibly some day you may have to replace an arm but thanks to smart design it can be performed within 20 seconds at the flying field.


Specifications (Hardware supplied is all blue anodized 7075 T6 aluminium):

205 mm motor to motor ( Pure X layout )
60 grams before hardware
4mm 3k Twill weave carbon fiber Arms
1,5mm 3k Twill weave carbon fiber Top plate, Center Plate, Bottom Plate, Side Protective Plates and Stiffening Plates
Recommended hardware:

Props: 5045 Double or TriBlades
Motors: 2204-2206 2300-3000KV
ESCs: 20A - 30A Spedix or Emax Bullet
Flight controller: DemonRC Soul F4 FC
PDB: DemonRC Core v2.3 or  DemonRC PULSE
Camera: 600 tvl Runcam Swift 2 or HS1177
Video Transmitter: IRC Tramp or TBS UNIFY
Battery: 1300mAh - 1500mAh 4S 75C
Frame Kit included:
Toray Carbon
– Bottom Plate – 1.5mm
– Center Plate – 1.5mm
– 2x Side Plate – 1.5mm
– 4x Arms – 4.0mm
– Top Plate – 1.5mm
– 2x Stiffening Plates – 1.5mm
– 2x Protective Bumpers
Fasteners
– 8x M3x6mm Button Head Socket Screw – 7075-T6 Aluminium
– 6x M3x8mm Button Head Socket Screw – 7075-T6 Aluminium
– 4x M3x14mm Button Head Socket Screw – 7075-T6 Aluminium
– 4x M3x12mm Button Head Socket Screw – Steel (Black)
– 5x M3x28mm Spacer – 7075-T6 Aluminium
– 4x M3x18mm Spacer – 7075-T6 Aluminium
– 4x M3x5+6 mm Male/Female Spacer – Black Nylon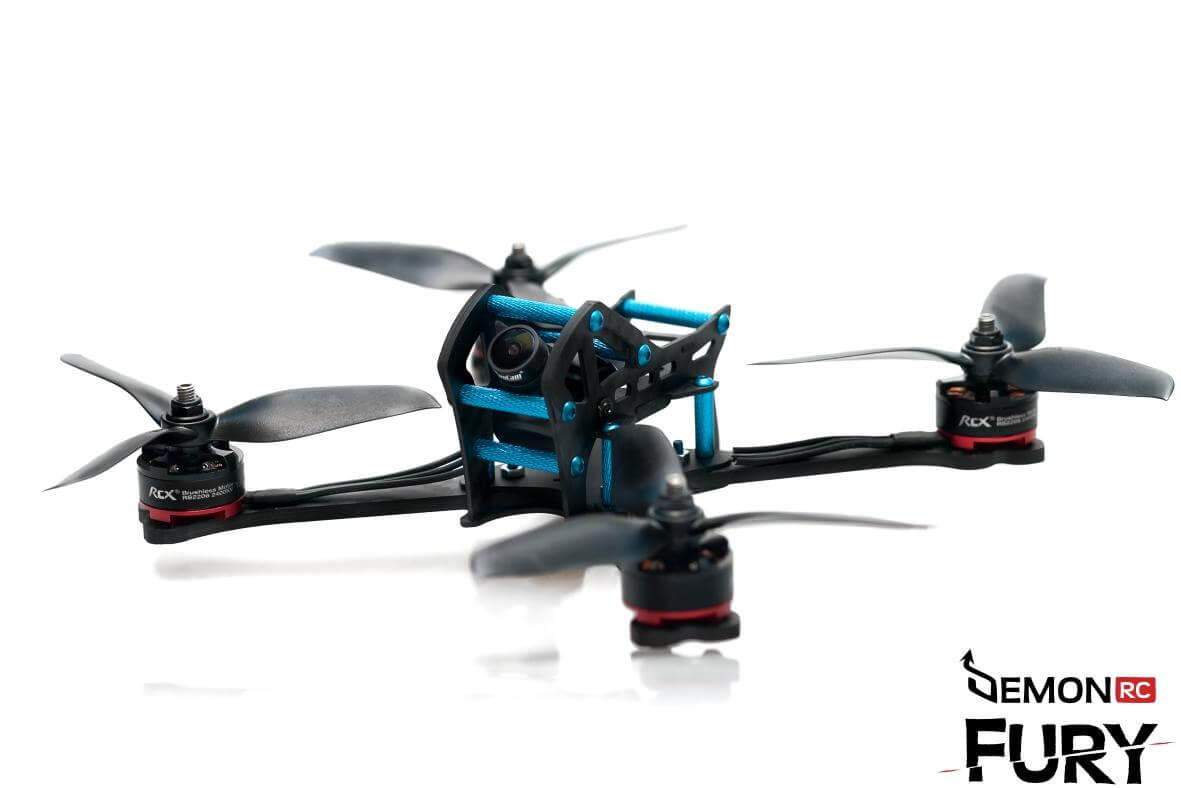 The item has been added to your basket