This Combo contains the DJI Air Unit and the DJI FPV HD Goggles and is perfect for fpv pilots wanting to use there own radio.
We are the UK's leading FPV Drone racing store and offer fully ready to fly and BNF HD solutions.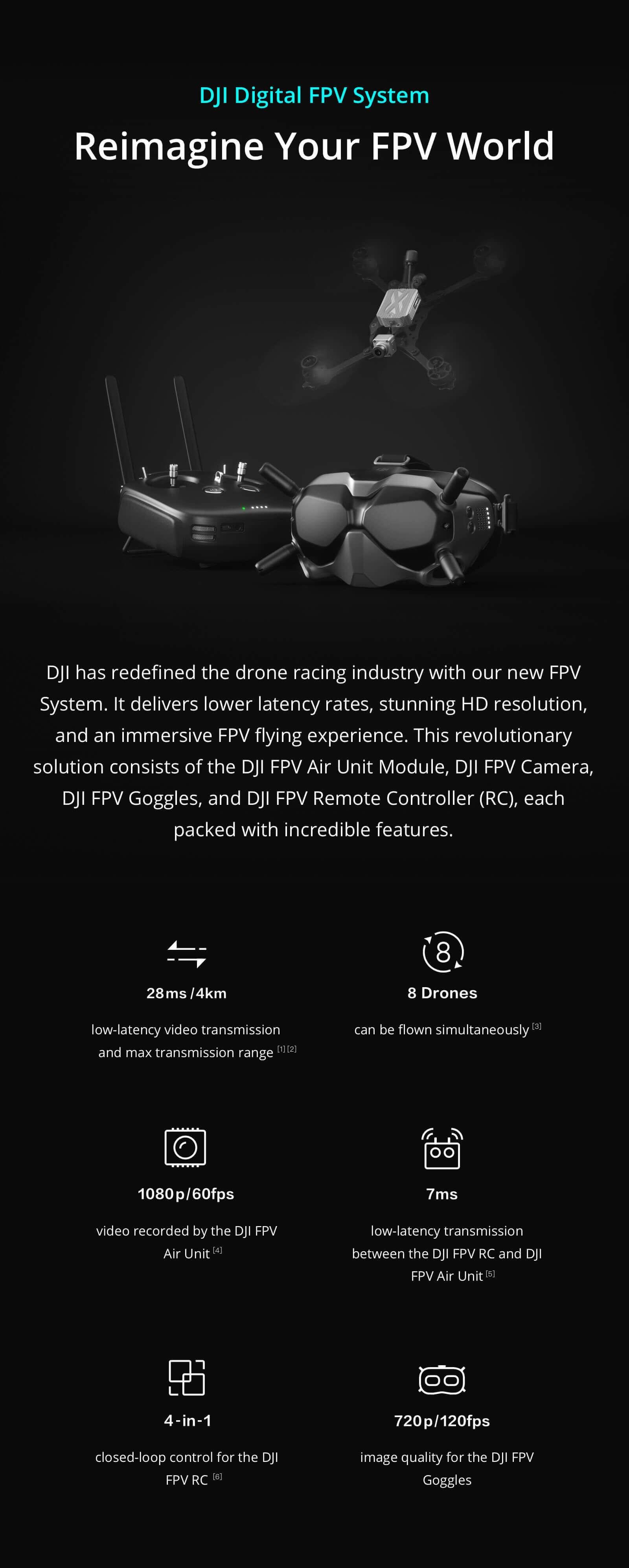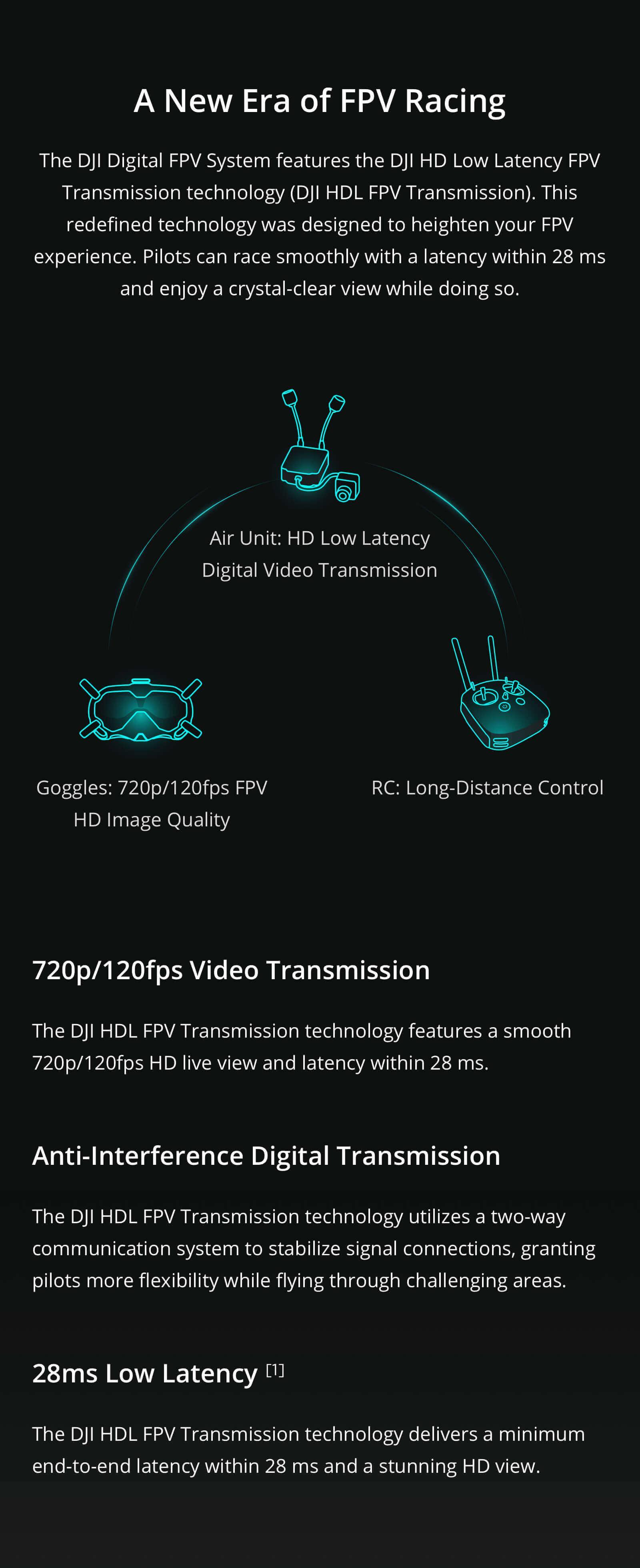 DJI FPV Goggles (1 included)
The DJI Digital HD FPV Goggles are truly one-of-a-kind, in performance and style. DJI has created and honed its digital transmission system to satisfy the demands of drone pilots (no easy task).
Racing and freestyle drone pilots alike want the fastest response, lowest latency and clearest video in their FPV system in order to perform fast movements with the most accuracy. Analog video was the best way to achieve low latency and fast response, but the video was never very clear. And conversely with digital, the video was clear and crisp, but there was a noticeable delay that many pilots couldn't live with - plus digital HD systems were bulky and cumbersome to put on your drone.
Well, all of that is changed with DJI's entry to Digital HD. Crystal clear 720p 120fps video directly to your goggles, with the lowest latency ever before on a digital HD system!
DJI FPV Air Unit (1 included)
FPV through the DJI Digital HD Air Unit is the way FPV is meant to be. This 5.8Ghz air unit (FPV camera + VTX) provides amazing visual clarity that is able to be transmitted to your DJI Goggles through its built-in receiver module. The DJI FPV Air Unit provides ultra-low latency HD digital image transmission, built-in 1080p/60fps DVR recording, and eight frequency channels to allow up to eight pilots to fly simultaneously.
Digital HD systems have traditionally been rather bulky and unwieldy to mount on a mini quad. Not anymore. With this air unit, you can comfortably fit the module in your mini quad stack (probably not slammed frames). The 'mini' camera fits easily into your existing builds, no weird mounting adapters.

Specifications
DJI FPV Goggles
Weight: Approx. 415 g (headband and antennas included)
Dimensions:
202 × 126 × 110 mm (antennas included)
184 × 122 × 110 mm (antennas excluded)
Screen Size: 2-inch × 2
Screen Resolution (Single Screen) : 1440 × 810
Screen Renew Rate: 120 Hz
Communication Frequency: 5.725-5.850 GHz
Transmitter Power (EIRP) : FCC/MIC: <30 dBm; CE: <14 dBm; SRRC: <19 dBm
Live View Mode
Low Latency Mode (720p/120fps)
High-Quality Mode (720p/60fps)
Video Format: MP4 (Video format: H.264)
Supported Video Play Format: MP4, MOV, MKV (Video format: H.264; Audio format: AAC-LC, AAC-HE, AC-3, MP3)
Operating Temperature: 32° to 104° F (0° to 40° C)
Power Input: 7.4-17.6 V
FOV Adjustable from 30° to 54°. Adjustable image size from 50%-100%
Interpupillary Distance Range: 58 -70 mm
Battery: 6.6V-21.75V
External battery, total power consumption of 7W
Supported Storage Card: microSD cards with capacities of up to 128GB
DJI FPV Air Unit
Weight
Air Unit (Camera included): 45.8 g
3.9 g (MMCX elbow each)
Dimensions
Air Unit: 44 × 37.8 × 14.4 mm
Camera: 27.4 × 21.1 × 20.1 mm
Coaxial Cable: 100 mm
Operating Frequency: 5.725-5.850 GHz
Transmitter Power (EIRP): FCC/SRRC: <30 dBm; CE: <14 dBm
Min. Latency (end-to-end)
Low Latency Mode (720p/120fps): <28 ms
High-Quality Mode (720p/60fps): <40 ms
Max. Transmission Distance: FCC/SRRC: <4 km; CE: <0.7 km
Video Format: MP4 (Video format: H.264; Audio format: ACC-LC)
I/O Interface: USB-C, MMCX, 3-in-1 port, microSD card slot
Operating Temperature Range: 32° to 104°F (0° to 40°C)
Input Power: 7.4-17.6 V, about 4-9 W
Sensor: 1/3.2'' CMOS; Effective Pixels: 4 M
Lens: 2.1 mm, f/2.1
Shutter: Rolling shutter
ISO: 100-25600
FOV: 150°(D); 122°(H); 93°(V)
Dimension: 22.1 × 21.1 × 20.1 mm
Weight: 8.2 g
Channels: 8
Channels Info
FCC
Channel 1: 5660
Channel 2: 5695
Channel 3: 5735
Channel 4: 5770
Channel 5: 5805
Channel 6: 5878
Channel 7: 5914
Channel 8: 5839
The item has been added to your basket