DJI Spark Fly More Combo Alpine White
---
The Spark Fly More Combo comes complete with the DJI Spark along with:
HD WiFi Transmission Controller

Extra Lipo

Prop Guards

Extra Props

Charging Hub

High quality carry DJI Bag special designed for the Spark 
The main benefit of the Spark fly more combo is the included remote controller which will allow you to fly further distances and free up using your mobile device as a controller. 
The DJI Spark is the smallest of the DJI fleet yet features the same technologies as its ancestors. The fly more combo is the most efficient way to get up in the air and capture extraordinary images with ease. The DJI controller, similar to the Mavic, allows the user to take the spark up to 1.2km away with the safety of GPS and Return to Home. A battery charging hub is also supplied which allows 3 dji spark intelligent flight batteries to be charged at the same time. This is extremely convenient as 3 batteries will take the same amount of time to charge as a single battery as the amps supplied by the charger are greater.
Two full sets of extra propellors are included in case of damage and propellor guards to prevent future damage if the spark is flying indoors or in tight spaces.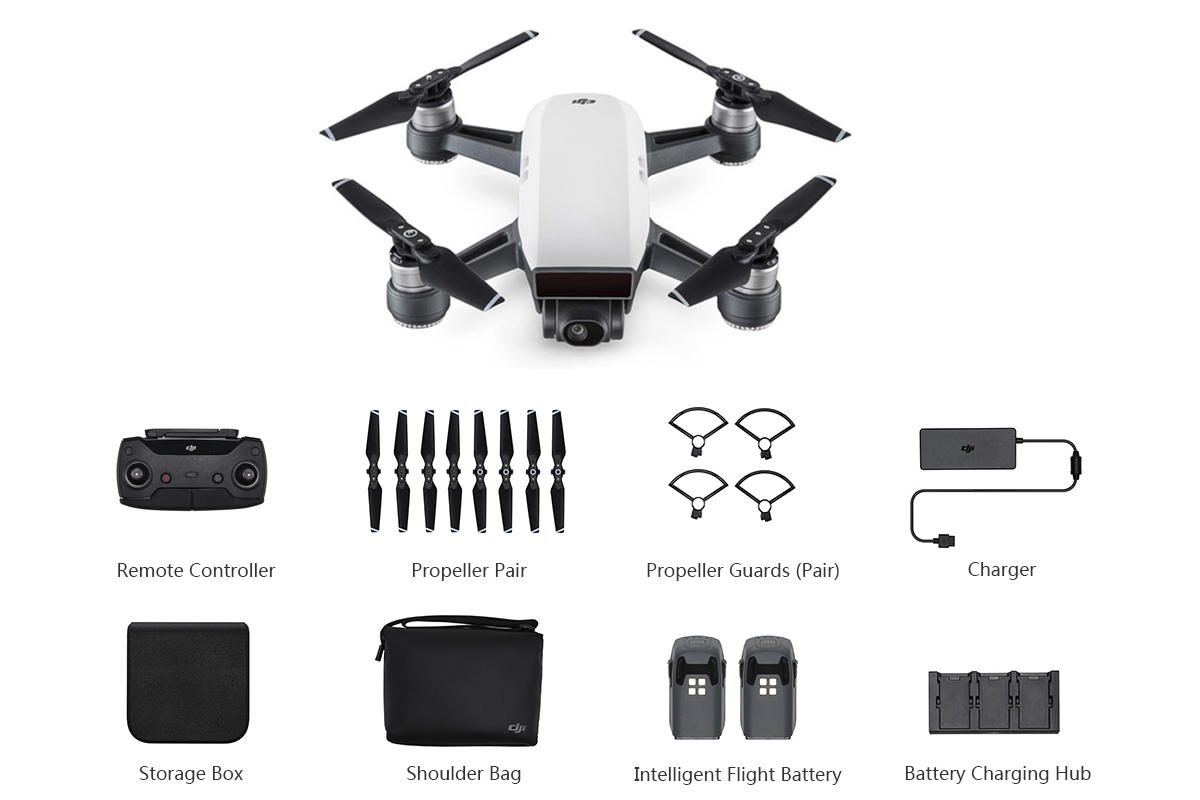 Safety
If the Spark is your first DJI drone, the fly more combo is a perfect fit for anyone who wishes to take it further than the WiFi range of a phone or tablet. DJI have crammed many safety features into the Spark to ensure a hassle free experience and comply with local laws and regulations. Intelligent return to home feature ensures the Spark can return safely from the point of launch when battery or signal runs low.
Geo-Fencing
DJI's GEO system sets up no fly zone 'fences' around regulated no fly zones in your country which provides warnings and also disables certain uses of the Spark in these regulated areas. DJI's Flight safety allows for data logging and crash investigation. Also included flight protection and flight autonomy which will guide the Spark to safety.
DJI Spark Technical Specs
Takeoff Weight
300 g
Dimensions
143×143×55 mm
Diagonal Distance (propellers excluded)
170 mm
Max Ascent Speed
9.8 ft/s (3 m/s) in Sport Mode without wind
Max Descent Speed
9.8 ft/s (3 m/s) in Auto Landing Mode
Max Speed
31 mph (50 kph) in Sport Mode without wind
Max Service Ceiling Above Sea Level
13,123 feet (4,000 m)
Max Flight Time
16 minutes (no wind at a consistent 12.4 mph (20 kph))
Max Hovering Time
15 minutes (no wind)
Operating Temperature Range
32° to 104° F (0° to 40° C)
Satellite Positioning Systems
GPS/GLONASS
Hover Accuracy Range
Vertical:
+/- 0.1 m (when Vision Positioning is active) or +/-0.5 m
Horizontal:
+/- 0.3 m (when Vision Positioning is active) or +/-1.5 m
Transmitter Power (EIRP)
2.4 GHz
FCC: 25 dBm; CE: 18 dBm; SRRC: 18 dBm
5.8 GHz
FCC: 27 dBm; CE: 14 dBm; SRRC: 27 dBm
Operating Frequency
2.400 - 2.483 GHz; 5.725 - 5.825 GHz
3D SENSING SYSTEM
| | |
| --- | --- |
| Obstacle Sensing Range | 1-16 ft (0.2 - 5 m) |
| Operating Environment | Detects diffuse reflective surfaces (>20%) larger than 20x20 cm (walls, trees, people, etc.) |
SPARK CAMERA
Sensor
1/2.3" CMOS  
Effective pixels: 12 MP
Lens
FOV 81.9° 25 mm (35 mm format equivalent) f/2.6
(shooting range: 2 m to ∞)
ISO Range
Video: 100-3200
Photo: 100-1600
Electronic Shutter Speed
2-1/8000 s
Image Size
3968×2976
Still Photography Modes
Single Shot
Burst Shooting: 3 frames
Auto Exposure Bracketing (AEB): 3 bracketed frames at 0.7 EV bias
Interval: 2/3/5/7/10/15/20/30/60 s
Video Resolution
FHD: 1920×1080 30p
Max Video Bitrate
24 Mbps
Supported File Systems
FAT32
Photo Format
JPEG 
Video Format
MP4 (MPEG-4 AVC/H.264)
SPARK REMOTE CONTROLLER
Operating Frequency
2.412-2.462 GHz; 5.745-5.825 GHz
Max Transmission Distance
2.412 - 2.462 GHz (unobstructed, free of interference)
FCC: 1.2 mi (2 km); CE: 0.3 mi (500 m); SRRC: 0.3 mi (500 m)
5.745 - 5.825 GHz (unobstructed, free of interference)
FCC: 1.2 mi (2 km); CE: 0.18 mi (300 m); SRRC: 0.7 mi (1.2 km)
Operating Temperature Range
32° to 104° F (0° to 40° C)
Battery
2970 mAh
Transmitter Power (EIRP)
2.4 GHz
FCC: ≤26 dBm; CE: ≤18 dBm; SRCC: ≤18 dBm
5.8 GHz
FCC: ≤28 dBm; CE: ≤14 dBm; SRCC: ≤26 dBm
Operating Current/Voltage
950 mAh @3.7 V
Supported Mobile Device Size
Thickness range: 6.5-8.5 mm
Max length: 160 mm
SPARK FLIGHT BATTERY
| | |
| --- | --- |
| Capacity | 1480 mAh |
| Voltage | 11.4 V |
| Max Charging Voltage | 13.05 V |
| Battery Type | LiPo 3S |
| Energy | 16.87 Wh |
| Net Weight | Approx. 0.2 lbs (95 g) |
| Charging Temperature Range | 41° to 104° F (5° to 40° C) |
SPARK GIMBAL
| | |
| --- | --- |
| Controllable Range | Pitch: -85° to 0°  |
| Stabilization | 2-axis mechanical (pitch, roll) |
VISION SYSTEM
| | |
| --- | --- |
| Velocity Range | ≤22.4 mph (36 kph) at 6.6 ft (2 m) above ground |
| Altitude Range | 0-26 ft (0 - 8 m) |
| Operating Range | 0-98 ft (0 - 30 m) |
| Operating Environment | Detects clearly patterned surfaces with adequate lighting (lux>15) and diffuse reflectivity (>20%) |
WI-FI
| | |
| --- | --- |
| Operating Frequency | 2.4 GHz/5.8 GHz |
| Max Transmission Distance | 100 m(Distance), 50 m(Height) (Unobstructed, free of interference) |
CHARGER
| | |
| --- | --- |
| Input | 100-240 V; 50/60 Hz; 0.5 A |
| Output | 5 V/3 A; 9 V/2 A; 12 V/1.5 A |
RECOMMENDED MICRO SD CARDS
Model
Sandisk 16/32 GB UHS-1 Micro SDHC
Kingston 16/32 GB UHS-1 Micro SDHC
Samsung 16/32 GB UHS-I Micro SDHC
Sandisk 64 GB UHS-1 Micro SDXC
Kingston 64 GB UHS-1 Micro SDXC
Samsung 64 GB UHS-I Micro SDXC
GIMBAL
| | |
| --- | --- |
| Controllable Range | Pitch: -85° to 0°  |
| Stabilization | 2-axis mechanical (pitch, roll) |
VISION SYSTEM
| | |
| --- | --- |
| Velocity Range | ≤22.4 mph (36 kph) at 6.6 ft (2 m) above ground |
| Altitude Range | 0-26 ft (0 - 8 m) |
| Operating Range | 0-98 ft (0 - 30 m) |
| Operating Environment | Detects clearly patterned surfaces with adequate lighting (lux>15) and diffuse reflectivity (>20%) |
WI-FI
| | |
| --- | --- |
| Operating Frequency | 2.4 GHz/5.8 GHz |
| Max Transmission Distance | 100 m(Distance), 50 m(Height) (Unobstructed, free of interference) |
CHARGER
| | |
| --- | --- |
| Input | 100-240 V; 50/60 Hz; 0.5 A |
| Output | 5 V/3 A; 9 V/2 A; 12 V/1.5 A |
RECOMMENDED MICRO SD CARDS
Model
Sandisk 16/32 GB UHS-1 Micro SDHC
Kingston 16/32 GB UHS-1 Micro SDHC
Samsung 16/32 GB UHS-I Micro SDHC
Sandisk 64 GB UHS-1 Micro SDXC
Kingston 64 GB UHS-1 Micro SDXC
Samsung 64 GB UHS-I Micro SDXC
The item has been added to your basket