Emax Tinyhawk RTF Micro Drone inc FPV Goggles
---
QuadCopters Price Match
Emax Tinyhawk fully RTF Ready to Fly Micro Drone, Start your FPV adventure right here with this extremely fast and agile Tinyhawk brushless whoop. 
Kit contains everything you need including the Emax Tinyhawk, Radio Transmitter, FPV Goggles, Carry case, Batteries and Charger. Now you can rip the skies and start FPV flying for yourself.
FLY In full fpv mode thanks to the built in camera on the drone and the goggles that receive the image from the Quadcopter in realtime from your FPV goggles.
This is one of our best selling kits and we have love flying ours round the office.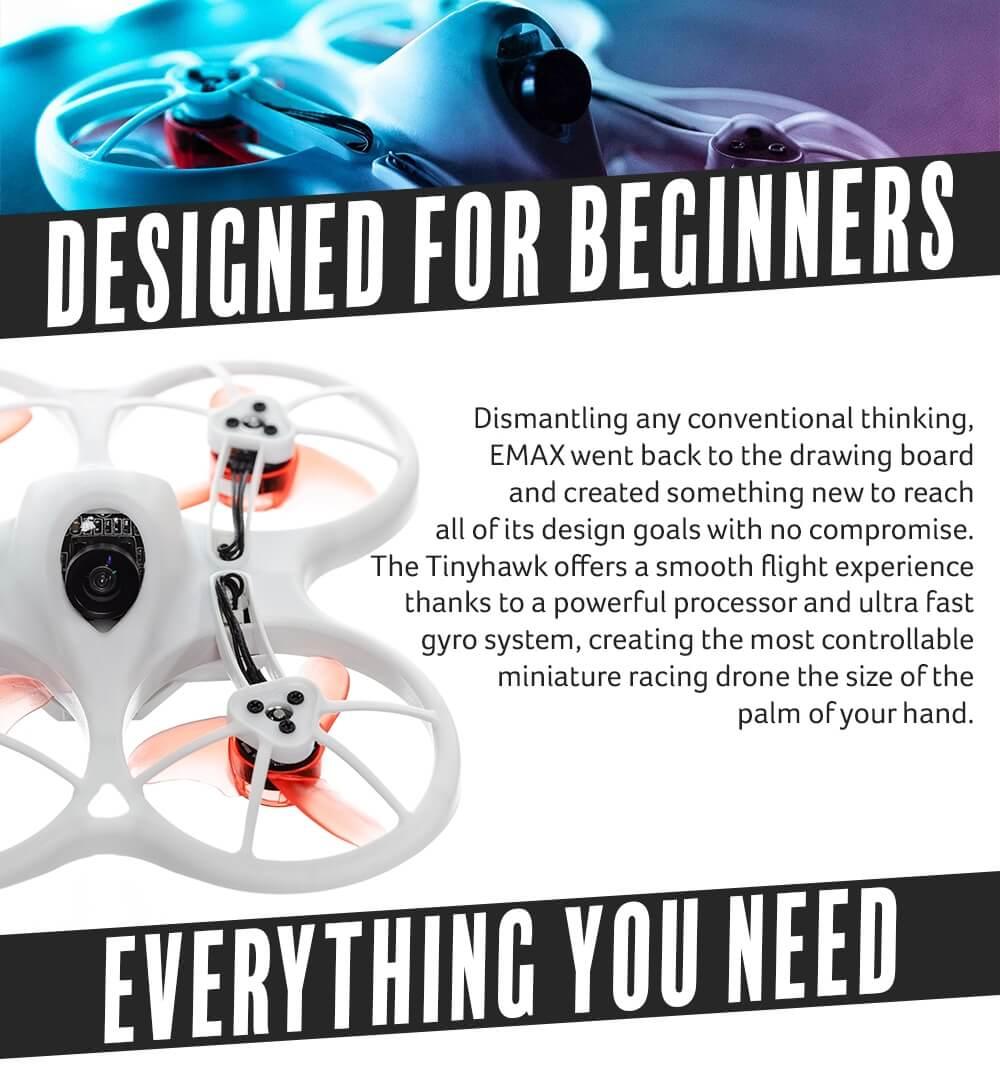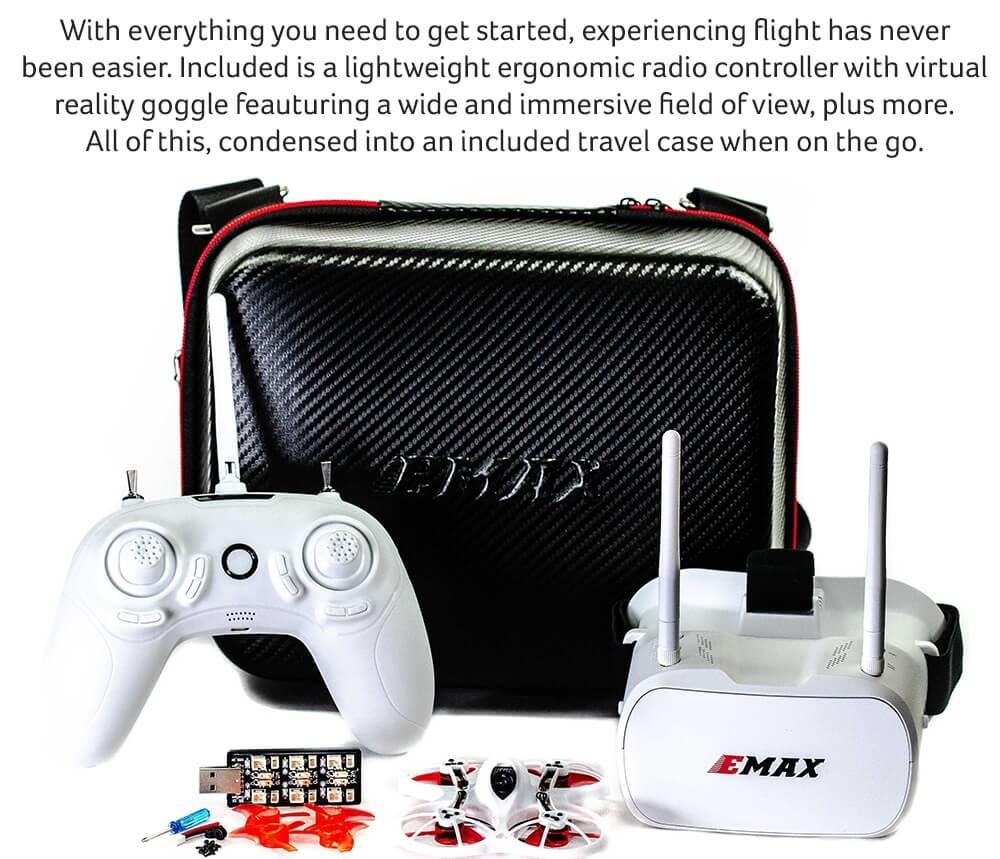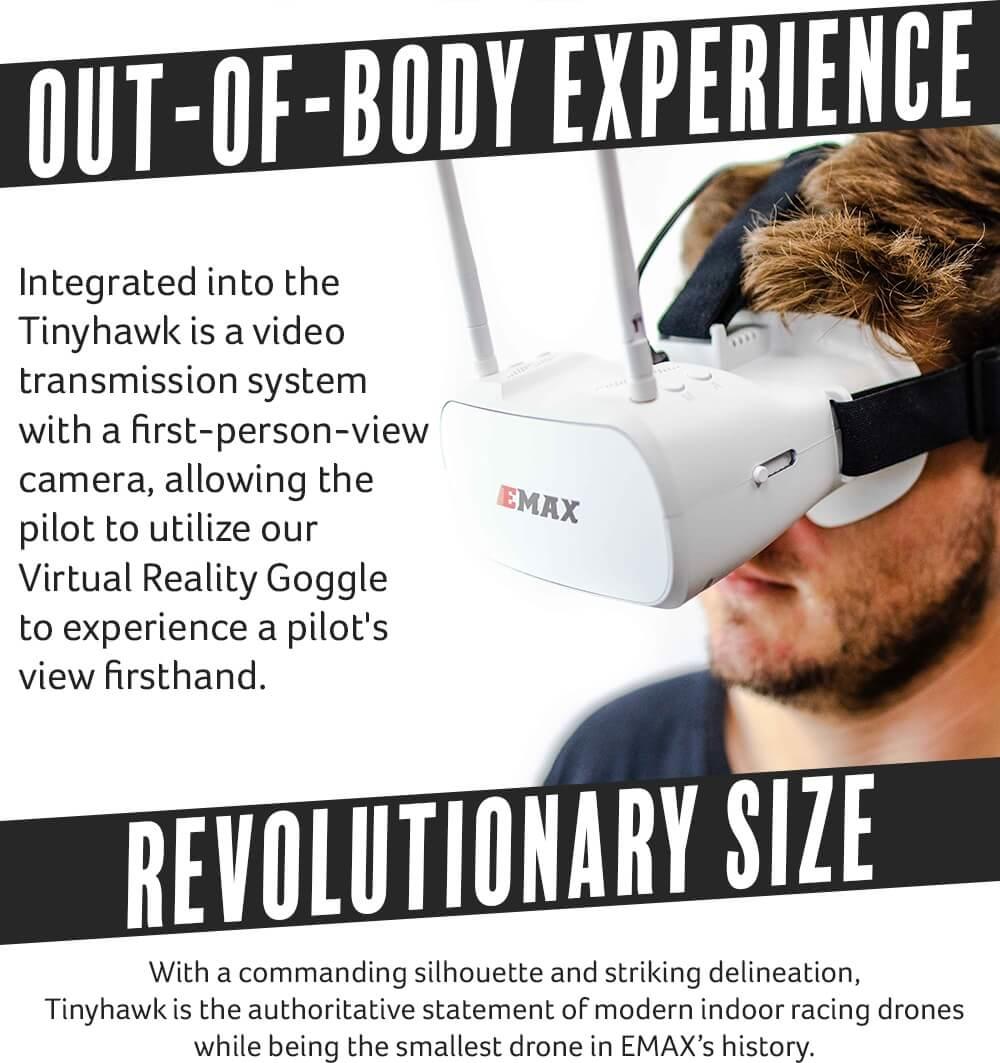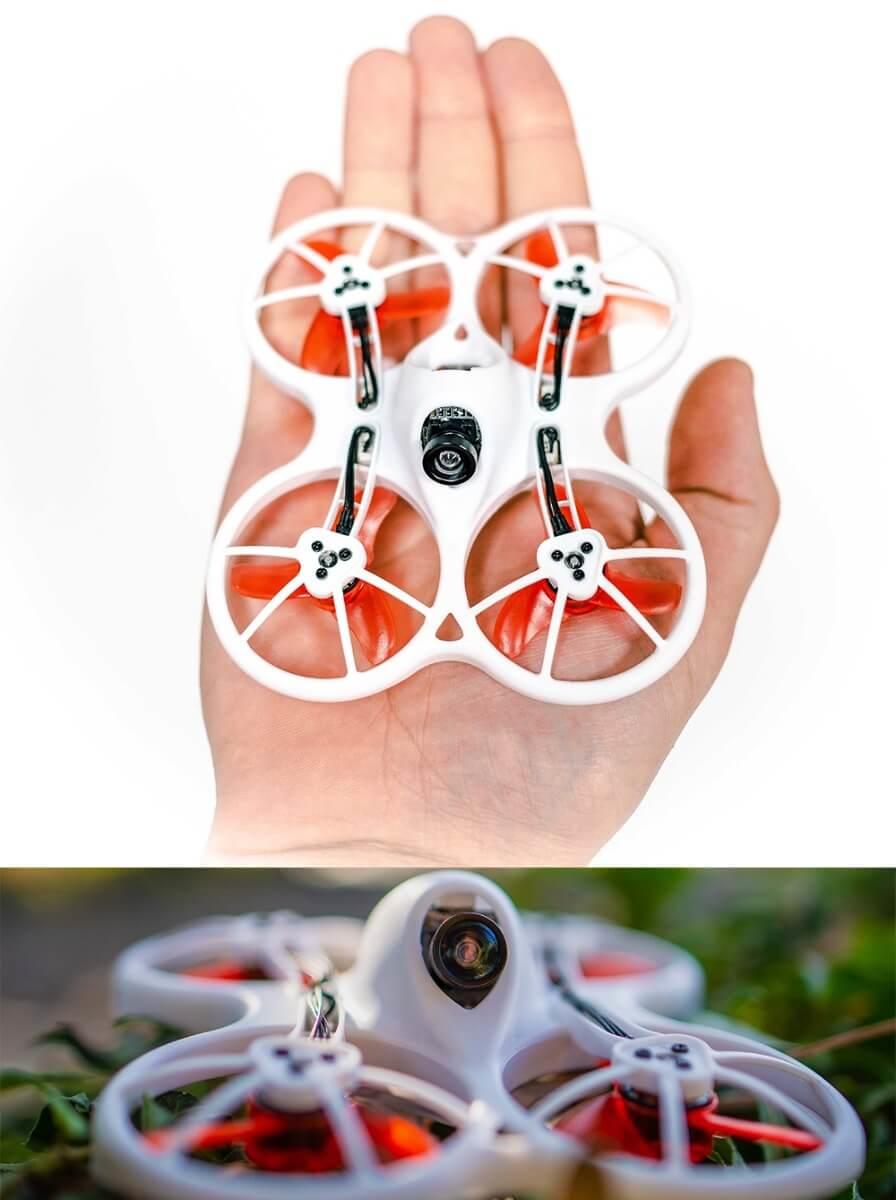 Key Features of the Emax Tinyhawk RTF FPV Kit.
75mm Indoor racing drone

08025 brushless motor with durable ball bearing for increase flight and low maintenance

Durable polypropylene plastic frame with propeller guards

Motor beeper function. Find your tinyhawk after a crash

Speeds up to 56kph

Up to 4 minutes flight time on single battery

Fast F4 Processor for smooth stable flight characteristics

MPU6000 gyro for vibration free operations

Unique inverted motor design to keep CG as low as possible to fit in the smallest of spaces

25mw VTX and 600tvl Camera included for fun FPV flight via FPV style goggles

Smart Audio function to change VTX channel via your transmitter

OSD settings control to customize flight feel

Pre-tuned from factory with expert pilots and new pilots in mind. 3 rate profile settings for all types of flying feel

Plug in type motors for easy maintenance

1s High Voltage (HV) 450mah lipo included

40 Channel goggles for FPV (First Person View) be like a bird, or pilot.

6 Channel gamepad size controller. Feel comfortable, like it playing a video game

Everything included in one package, no need for extra to get in the air out of the box.

Frsky compatible D8 receiver built in to FC

Custom carbon fiber themed carrying case
Tinyhawk Specifications:
Size: 75mm motor to motor L 110mm x W 95mm x H 39mm

Dry Weight: 29g

All Up Weight: 42g with 450mah 1s Battery

Frame Material: Polypropylene

Propeller Properties:

Diameter: 40mm

Blades: 3

Pitch: 23mm

Weight: 0.5 g

Motor Properties;

Stator: 8mm x 2.5mm (08025)

Kv: 15000kv

Weight: 2.5g

Bearing Size: Φ1.5*Φ4*2mm

Shaft Diameter:  Φ1.5mm

Propeller Mount: Press Fit Over Bell

Main PCB:

Flight Controller: F4(MATEKF411 firmware)

ESCs: 4in1 3A

Receiver: EMAX Tiny receiver (Compatible with Frsky D8 mode)

Battery Connector: JST-PH2

Camera and VTX:

VTX Power: 25mw

Channels: 37CH

Camera Properties: 600TVL CMOS

Smart Audio

Battery:

Voltage: 1s 4.35v HV

Capacity: 450 mAh

Discharge rating: 80c/160c
EMAX Transporter Goggles Specifications:
Maximum appearance size 140×153×90(mm)

Weight (without battery) 398g

Resolution 480×272

Battery 1 cell 18650 lipo battery
EMAX E6 Transmitter Specifications:
Maximum appearance size 181×213×80(mm)

Weight (without battery) 211g

Number of channels 6 Channels

Transmission frequency 2.4GHz ISM Band(2400MHz~2483.5MHz)

Output Power 22dbm

Modulation GFSK

Battery 1 cell 18650 lipo battery
Included in package:
Light weight soft carry case, with carbon fiber design

Tiny Hawk indoor flying drone

USB High Voltage capable 4 port USB Charger

1s High Voltage (HV) 450mah lipo battery.

FPV Goggle: EMAX Transporter 40 channel

EMAX E6 Transmitter: 6 Channel

USB Cable for charging goggle, radio

Parts Bag

Phillips screwdriver

2x 18650 Battery already pre-installed

1 Set spare AVAN Tinyhawk 3 blade propellers.
Emax Tinyhawk Review I purchased the Tinyhawk rtf kit after a lengthy chat in store about various options for getting into the hobby , The knowledge the staff have at Quadcopters was so genuine and can tell they all have a real passion. I have to say the kit does not disappoint and for the price and what you get is very good value and flies real easy and if you change modes it goes even faster and harder to fly but that's what I wanted. Something I can learn with before stepping up into bigger racing drones. Thanks again to the staff for making it a great experience visiting you.
I couldn't agree more with the previous review which actually convinced me to buying the Tinyhawk Kit, Everything you need is in this kit and although the goggles are only basic they are fine for the job and create a very immersive experience . Myself and son love it so much we are going to buy a second set so we can have races round the house .
Write your own review
The item has been added to your basket