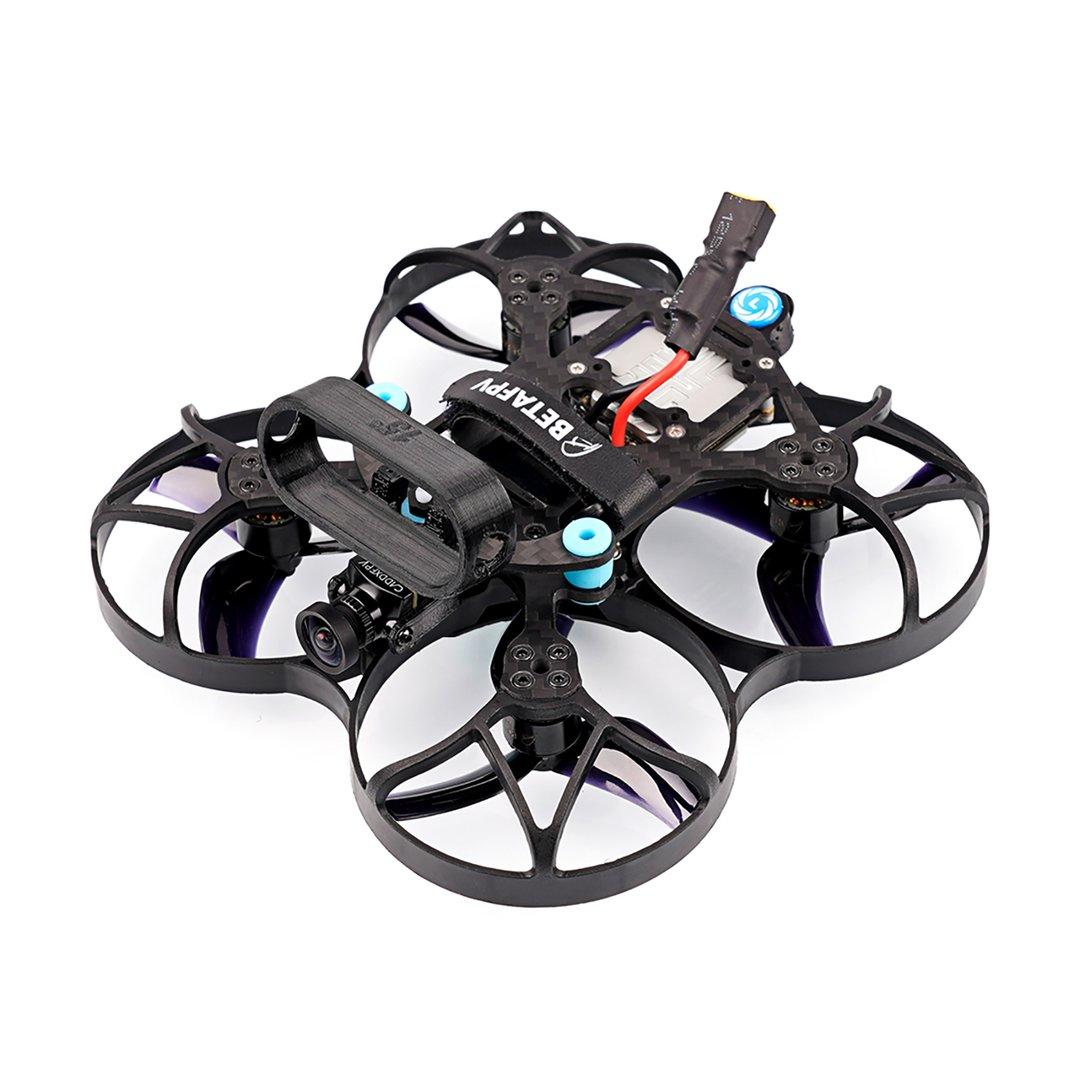 BetaFPV Beta95X V2 with HD Digital VTX PNP
---
QuadCopters Price Match
Beta95X V2 Whoop Quadcopter(HD Digital VTX) PNP with Caddx Nebula HD System compatible with DJI HD Radio and Goggles.
This has been updated to the V3 Click for that listing. 

The pusher whoop drone with HD digital VTX you have been waiting for! Especially combined with Insta360 GO, you can achieve all FPV freestyle tricks easily like diving but still keep your footage impossibly smooth. Featuring the highly popular inverted drone frame, the center of gravity is right in the middle of the drone, pilots can control the drone better in flight. What's more, Beta95X V2(HD Digital VTX) equipped with Nebula Nano Kit, perfectly supports the DJI FPV goggles. BTW, we provide the camera mount for the Customized Naked Camera, so you can replace it if you need it.


Summary of the Beta95x V2 HD With Caddx Nebula VTX and Camera
The first bundle cinewhoop of Beta95X V2 with Insta360 Go, create a different FPV experience for you.
The camera and battery are placed on the top platform. The center of gravity is right in the middle of the drone, makes the drone more maneuverable to achieve all FPV freestyle tricks such as diving. 
Stable camera, clear footage. Using rubber dumpers to further eliminate the shake of the camera, makes the camera more stable on the flight, which ensures pilots can capture all the beautiful moments of flight with stabilized and clear video.
With a 95mm wheelbase, 1106 motors and F4 AIO 20A FC, Beta95X V2(HD Digital VTX) is powerful enough. Pilots can fly any freestyle tricks such as DIVE.
Equipped with the nebula Nano HD System, perfectly supports the DJI HD system. This lightweight kit also provides a stable FPV picture and long transmission distance, greatly bring you a unique flight experience.

Customized Gemfan D63 propeller for Beta95X V2, it is more durable than the other propellers, offers pilots a high-efficiency flight experience. 





Specification

Item: Beta95X V2 (HD Digital VTX)
Weight: 113g (without battery)
Wheelbase: 95mm
FC: F405 AIO 20A FC V3
Frame: Beta95X Frame 
Motors: 1106 4500KV Brushless motor
Props: Gemfan D63 3-Blades Props
Receiver Option: Compatible with Frsky XM+ / TBS Crossfire, PNP using the Nebula VTX
FPV Camera Degree: 25°-45°
HD digital camera & VTX: Caddx Nebula Nano HD System
HD Camera Mount Degree: 15° (Provide the STL file of 25° camera mount)
Antenna: Air 5.8GHz Antenna (LHCP)
Battery: 450mAh 4S battery(Not included) 
Flight time: About 3.5 min flight with 450mAh 4S battery




Camera Support 

Beta95X V2(HD Digital VTX) comes with 2 customized HD camera mounts, supports for Insta360 GO and Naked Camera, offering more choices for different FPV film shootings needed. Both professional HD cameras are built for capturing your every highlight on the flight. Providing cinematic footage, at high speeds, and with zero limits.

Insta360 GO 

BETAFPV is collaborating with Insta360 now! The first joint Beta95X V2 with Insta360 GO is quite popular for FPV cinematic video shooting. 




Insta360 GO

 camera is awarded "Best of new products" IFA 2019 by Business Insider. It shoots 30- or 60-second clips at the press of the button — anytime, anywhere, and it can use AI to help you find and edit your best shots. It also can use proprietary FlowState stabilization to keep your footage impossibly smooth. No gear. No hassle. In addition, Beta95X V2 for Insta 360 GO is the first joint product of BETAFPV and Insta. (Please note INSTA360 Is available to order 

separately)





Customized Naked Camera

The camera mount for Customized Naked Camera is also provided, perfect to fix the Naked camera on the drone. What's more, we upgraded the case for Naked Camera, with the injection molding process, the new Case V2 is better looking and easier to install. If you have a GoPro HERO6/7, you can choose the BEC board and case to build one as our Naked camera. Meanwhile, we also released a new ND16 filter for Naked Camera, which not only protects the camera but also provides a better image.



Nebula Nano HD System

The Caddx Nebula Nano HD System can perfectly support with DJI goggles. With DJI goggles, it can provide 720p/60fps digital high-definition picture and a transmission range up to 4km. Users can choose 25mW/200mW/500mW/700mW from DJI goggle settings. The total weight (excluding antenna) is 24g only, about 26g lighter than the DJI FPV unit. Besides, it is smaller and designed for whoop drones.




Pusher Whoop Style

The Inverted drone frame is the most popular pusher installation in the current market. It puts all the cameras and batteries on the top of the platform, makes the center of gravity is right in the middle of the drone, brings the best fly operability.





FC & ESC

Updated the F405 Flight Controller & 16A BLHeli_32 ESC with F405 AIO 20A FC V3, it extremely reduces the weight while improving the ability of the ESC to continuous current 20A, and brings pilots more power to fly the Beta95X V2 quad! Meanwhile, the new 20A FC specially adds a 6-pin connector for DJI Digital VTX, just plug & play, less solder work needed, super easy to install.

Motor & Props

Gemfan D63 3-blades propellers are specially designed for the popular pusher configuration, compared with other propellers, D63 props are more durable and more powerful, offers pilots a high-efficiency flight experience, and it perfectly suits the overall appearance of the inverted installation. Equipped with the 1106 4500KV Brushless motor, Gemfan D63 3-blade Props even have a better performance.

Package

1 * Beta95X Whoop Quadcopter(HD Digital VTX)
1 * Insta360 GO Camera Mount
1 * Naked Camera Mount
1 * Case for Naked Camera V2
1 * BEC Board
1 * D63 3-blades Propellers(2CW+2CCW)
1 * Screw Pack

1 * TypeC Connector




Batteries , GoPro and Insta Camera not included but we recommend a 450mah 4s Lipo.
The item has been added to your basket