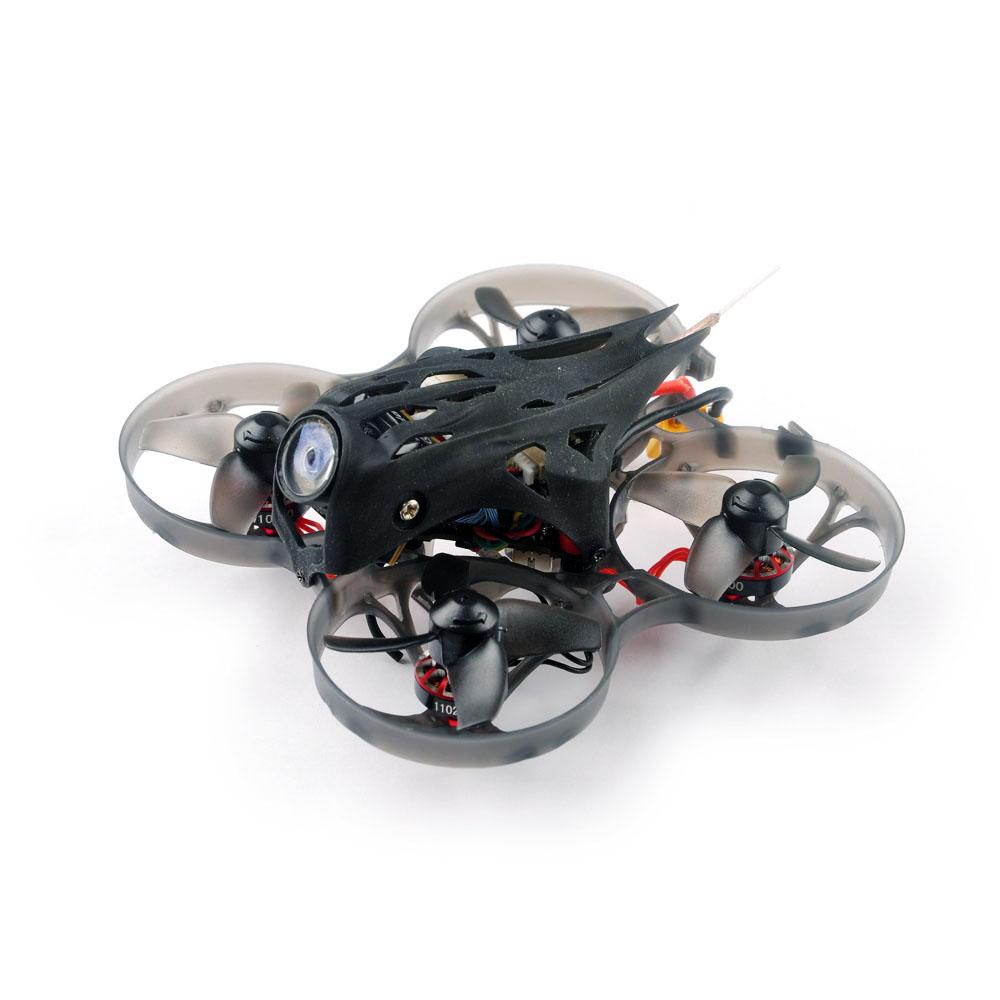 Mobula 7 HD Whoop Micro Drone Frsky Version
---
QuadCopters Price Match
Mobula 7 HD with FPV Camera and Built in DVR Recording all in a tiny sized micro drone.
Latest Version with new 9000kv motors and inline Capacitor.
Now In Stock Complete with the Caddx Turtle V2 with DVR to give you the ultimate Cinewhoop.
Its already one of the most popular Whoops in the Micro Drone market and now adding DVR takes your micro flying to a new level.


Specifications:
Brand Name: Happymodel
Item Name: Mobula7 HD 2-3S 75mm Brushless whoop drone
Wheelbase: 75mm
Size: 98mm*98mm*45mm
Weight: 48g(without battery)
Weight:72g(with Original 3s 300mah Lipo battery )
Features:
New Crazybee F4 PRO V2.0 AIO Flight controller 1-3s Lipo Compatible
2S for indoor Cine whoop mode
3S for outdoor Freestyle whoop mode 
Betaflight support , multi flight mode: ACRO/AIR/ANGLE
The lightest 1102 brushless motor only 2.7g with double ball bearings 
Powerful and smoothly 
Betaflight OSD support ,easy to get RSSI, Voltage ,current from your goggles(DSMX version no RSSI output)
Caddx turtle v2 + 1080p 60fps DVR ready
Camera Angle adjustable
VTX power switchable 25mw~200mw
Smartaudio ready , change VTX bands, powers, channels via OSD 
Frsky Non-EU version support NON-EU Frsky transmitter D8/D16 compatible
No RX version support external serial-bus receiver like xm+, crossfire, S-FHSS etc..
Full telemetry function ready (Frsky Non-EU and Flysky version support)
Special Breath light ready
Real Bind and Fly version
Compatible both for 2s-3s Lipo/LIHV


Package includes:
| | |
| --- | --- |
| Item Name | Qty |
| Mobula7 V3 Frame | 1 |
| Option1: Crazybee F4FR V2.0 PRO FC built-in Frsky NON-EU RX | 1 |
| EX1102 KV9000 Motor | 4 |
| 40mm propeller(4cw+4ccw) | 1 |
| Caddx Turtle v2+1080p 60fps DVR | 1 |
| 5.8G 40ch 25mw-200mw VTX | 1 |
| 3S 11.4v 300mah 30C/60C battery | 1 |
| Propeller disassemble tool | 1 |
| Screwdriver | 1 |
Spare parts specifications:
Motor

Mode: EX1102 KV10000

Configu-ration:9N12P
Stator Diamter:11mm
Stator Length:2mm
Shaft Diameter:Φ1mm
Motor Dimension(Dia.*Len):Φ13.5mm*16mm
Weight(g):2.8g
No.of Cells(Lipo):1S-3S

Flight controller

(Frsky version) CRAZYBEE F4FR PRO V2.0 Firmware target: CrazybeeF4FR

MCU:STM32F411CEU6 (100MHZ, 512K FLASH)
Sensor: MPU-6000(SPI connection)

Board size: 28.5 * 28.5MM
Power supply: 1-3S battery input (DC 3.5-13V)

Built-in 5A(each) Blheli_S 4in1 ESC Dshot600 ready

Frsky version Built-in SPI Frsky receiver with telemetry(D8/D16 switchable)

Flysky version Built-in SPI Flysky receiver with telemetry(AFHDS/AFHDS2A switchable)

DSM2/X Version built-in Serial-based DSM2/DSMX compatible satellite receiver

No RX version need to add external Receiver 

Built-in Betaflight OSD(SPI Control)

Built-in Current meter Max 28A

Current meter scale set to 1175

Built-in 5V 1A Buck / Boost with LC filter

Built-in voltage detection

Onboard 4in1 ESC

MCU upgraded to EFM8BB21

Power supply: 1-3S LiPo/LiPo HV (3.5v/13v)
Current: 5A continuous peak 6A (5 seconds)
Support BLHeliSuite programmable
Factory firmware: S_H_50_REV16_7.Hex
Default protocol: DSHOT600

Frsky NON-EU receiver Version

SPI BUS receiver

Frsky D8/D16 switchable

Compatible Non EU transmitter both D8 and D16 mode

Channels: 8ch or 16ch

Failsafe support

No ground interference ( Transmitter and receiver 1 m from the ground): 300m

PNP No RX version

No RX version support external serial-bus receiver like xm+, crossfire, S-FHSS etc.

VTX

Output power: 25~200mw switchable
Frequency: 40CH
Input voltage: 3.3V 5.5V
Current consumption: 300mA(type)
Antenna: RG178 antenna
Frequency: 5.8GHz 5bands 40 channels
With Raceband

Smartaudio ready
Weight: 3g

CADDX Turtle V2

Image sensor: 1/2.7" CMOS sensor

Horizontal: 800TVL

TV system: NTSC/PAL changeable

Video Resolution: 1080P@60fps / 1080P@30fps / 720@60fps

Power Input: DC 4.5-20V

FPV FOV: 155°

Recording FOV: 170°

Mini Illumination: 0.01lux

Image Resolution: 2 Megapixels

Lens: 1.8mm Turbo Eye Lens

Working Current: 380mA@5V/160mA@12V (low consumption)

OSD Menu: Yes (Support Voltage Display)

Video Files: MP4

Audio: Support

Electronic Shutter : PAL : 1/50-100,000 NTSC : 1/60-100,100

S/N Ratio: >60dB (AGC OFF)

Video Output: CVBS

Max Micro SD Card Supported: 8-64GB(need Class 10 or above, recommend Class 10/UHS-I/UHS-II)

Color: Red




Lipo Battery

Capacity:300mAh
Voltage:11.4v
Continuous Discharge Rate: 30C
Instantaneous discharge rate: 60C
Size: 65mmx18mmx11mm
Weight: 23g

Connector: XT30
The item has been added to your basket