BetaFpv Toothpick F4 2-6S AIO Brushless Flight Controller 35A(BLHeli_32)
---
QuadCopters Price Match
Toothpick F4 2-6S AIO Brushless Flight Controller 35A(BLHeli_32) Betafpv
It has been a long time since we released the BETA Test F4 35A AIO FC, thanks for all of your love and waiting, after 4 months' continuous testing and improvement, now the Toothpick F4 2-6S 35A AIO Brushless FC is finally officially released! It is the first BLHeli_32 ESC 35A All-in-one toothpick FC on the current market. Come with 35A continuous current(40A burst), this board provided with massive levels of performance capability, and it maintains ultralight only 7g. This board supports 2-6S Lipo battery, perfectly suitable for the 4''-5'' toothpick drone, we highly recommend it for TWIG ET5 and X-Knight 4'' FPV.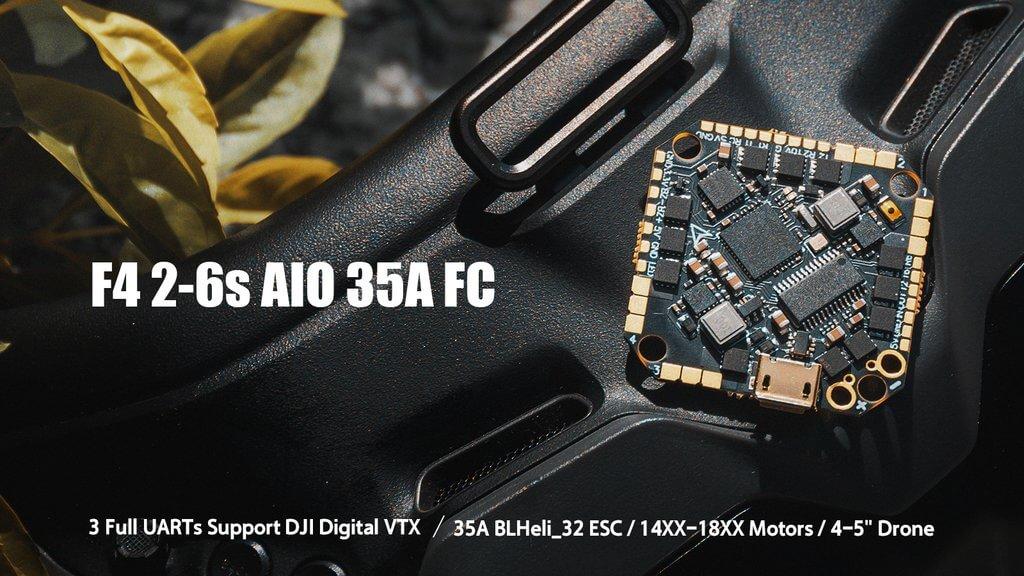 F4 AIO 35A toothpick FC is the first BLHeli_32 ESC 35A All-in-one toothpick FC on the current market. It can handle 35A continuous current(40A burst), totally supports 2-6S lipo battery.
Compared with the BETA Test 35A AIO FC, we widened the motor soldering pads to avoid the short circuit of the FC when you soldering. We also use thicker copper and wider connector to ensure that the FC will not overheat while it's carrying a large current.
With the 6S battery and this 35A AIO toothpick FC, the drone will break through the limit of toothpick power, exploring more possibilities in 4''-5'' drones.
3 full UARTs (UART1, UART2 and UART6) are available on this board. Pilots could use one UART for DJI digital FPV unit or Caddx Vista digital FPV unit and the other UART for an external receiver like TBS Crossfire.
Special build-in a 10V output pad for DJI digital VTX. With the pad, it is perfectly suitable for the 4''-5'' toothpick frame. Convenience to install, the recommend frame is TWIG MUTANT frame, X-knight frame and ET5 frame.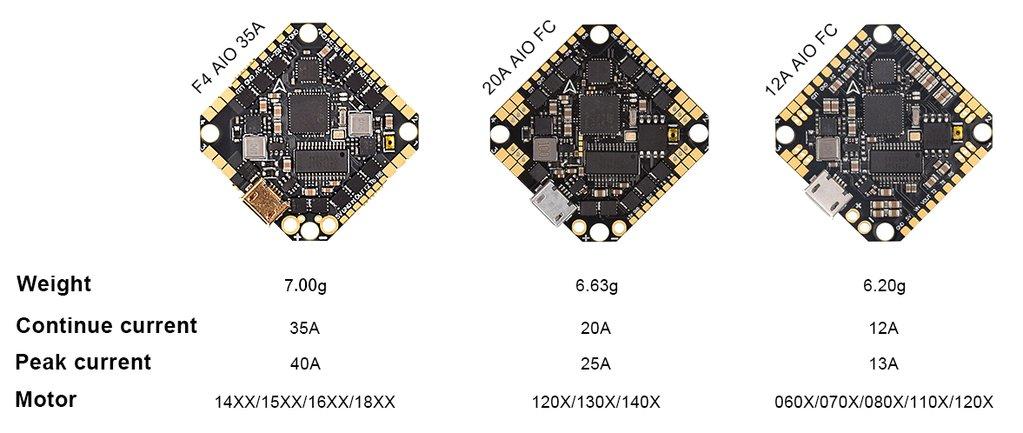 Specification of FC
Item: F4 35A AIO FC(BLHeli_32)

Weight: 7g
CPU: STM32F411CEU6
Six-Axis: MPU6000 (SPI connection)
Mounting hole size: 26mm * 26mm
Firmware version: BETAFPVF411 (BEFH)
OSD: Built-in BetaFlight OSD (OSD chip: AT7456E)
Support programmable LED like WS2812 etc
Built-in current sensor
Specification of ESC
Signal support: PWM, Oneshot125, Oneshot42, Multishot, Dshot150, Dshot300, Dshot600
Receiver: Support Frsky XM/XM+ Receiver/ Futaba Receiver/Flysky Receiver/DSMX Receiver/TBS Crossfire Receiver (requires external connection)
Input voltage: 2S-6S Lipo
Continuous current: 35A
Peak current: 40A
ESC firmware: BLHELI_S 32
Indicators: 3 indicators: receiver indicator (green)/Flight control status indicator (blue)/Flight control power indicator (red)
Capacitance: CS|5*10*17mm|680μF|35V
Connecter: XT60U 14AWG
Recommended motors: 140X series, 150X series, 160X series, 180X series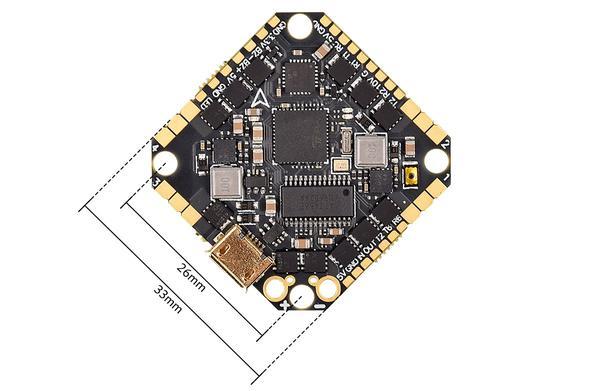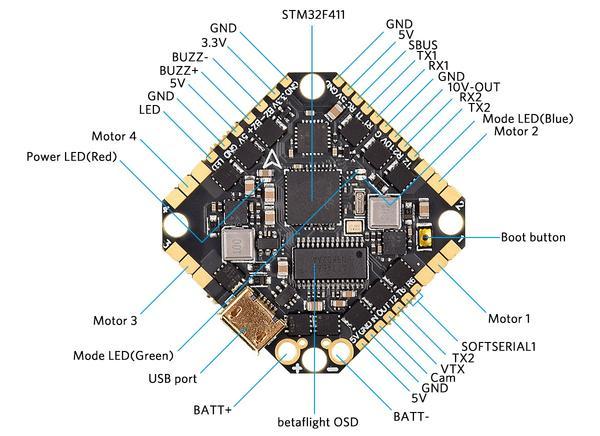 Status LED
There are 3 LEDs on the bottom of the board to indicate the status, including Receiver LED ( Green), FC Status LED ( Blue ) and FC Power LED ( Red ). 
| | | |
| --- | --- | --- |
| LED |  Status |  Description |
| Mode LED (Green) |  Solid | Horizon Mode/ Angle Mode |
| Mode LED (Green) |  Extinguished | Acro Mode |
| Power LED (Red) |  Solid |  Power on |
| Status LED (Blue) |  Solid |  Motor Armed |
Recommended Parts
Package
1 * Toothpick F4 35A AIO 2-6S brushless flight controller
1 * Cable Pigtail (XT60U)
1 * C

apacitance

4 * M2x10mm Screws
8 * M2 Nuts 
4 * Anti-vibration Rubber Dampers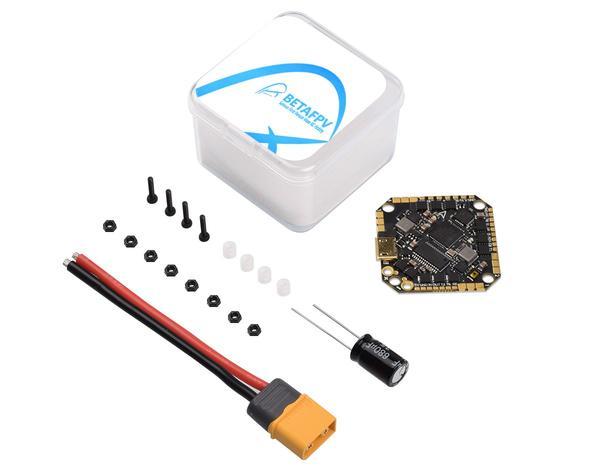 For more wiring information visit BetaFPV
The item has been added to your basket