Frsky Taranis Q X7 Transmitter 2.4Ghz Black EU Firmware
---
QuadCopters Price Match
Frsky Taranis Q X7 2.4Ghz Transmitter specially designed for Drone Racing Pilots.
The Frsky Q X7 is a sleek and very popular radio which is available in a choice of colours Black or White and is EU LBT Version.
Official UK Dealer for FrSKY Taranis Products
This is the latest powerful radio system from FrSky, The Taranis Q X7. This is a lightweight feature packed reliable system aimed primarily at drone racers and it comes in black or white color scheme. The radio includes a Haptic Vibration Feedback System which provides an alternative feedback system to the voice and sound alert warnings. This 16 channel radio has smooth ball bearing gimbals and is loaded with six switches and two knobs. It runs on OpenTX and files can be shared with the popular X9D Plus. The MicroSD card slot offers unlimited model memory options , it also has a USB port for upgrades and to connect to a PC for adjusting settings. Both sticks come with spring loaded return to center sticks, this makes changing from mode 1 to mode 2 extremely easy to set through the menu and the stick can quickly be set to a stationary throttle by unscrewing four screws and removing a spring. One of the best features of the Taranis Q X7 is its full telemetry capability, as well as RSSI signal strength feedback. Wheel and center enter button makes navigating the backlit menu easy and precise. Equipped with an audio jack output and trainer port as well. And of course a module bay for use with JR-type modules that can be used with other protocol receivers and with the use of a FrSky XJT module this radio can support up to 32-channels. Other features include Receiver Match, Real-Time Flight Data Logging and Super Low Latency for precision flying. Overall this Radio has the features of more expensive transmitters at an unprecedented value.
Specifications:
Model Name: Taranis Q X7 EU Version
Operating Voltage Range: 6~15V (2S, 3S Lipos are acceptable)
Operating Current: 210mA maximum (both RF module and backlit are on)
Operating Temperature: -10~45
Backlight LCD Screen: 128*64 outdoor readable LCD
Model Memories: 60 (extendable by SD card)
Compatibility: FrSky X series, D series and V8-II series receivers (plus other receivers if an external module is used)
Features of the Transmitter:
Quad Ball Bearing Gimbals
Receiver Match
Audio Speech Outputs (values, alarms, settings, etc.) (1)
Real-time Flight Data Logging
Receiver Signal Strength Indicator (RSSI) Alerts
Super Low Latency
Vibration Alerts
Model configuration files compatible with TARANIS X9D Plus
Including
1 x Taranis Q X7 Black
1 x Manual
1 x Back strap
Optional accessories not included: 
MicroSD card
Transmitter battery you will need to source a suitable Lipo or Nimh. 
UK Premier FrSky Dealer - Quadcopters.co.uk
I am extremely satisfied with my order for a few reasons. When I initially contacted the site about stock information on the qx7, I had a response in minutes. Secondly, I ordered it on Wednesday morning and by midday on Thursday i had my hands on my new toy:) And last but not least, the taranis q x7 is a brilliant piece of kit. Feels amazing in the hands and very easy to set up. Many thanks Quadcopters.co.uk for your amazing service.
Write your own review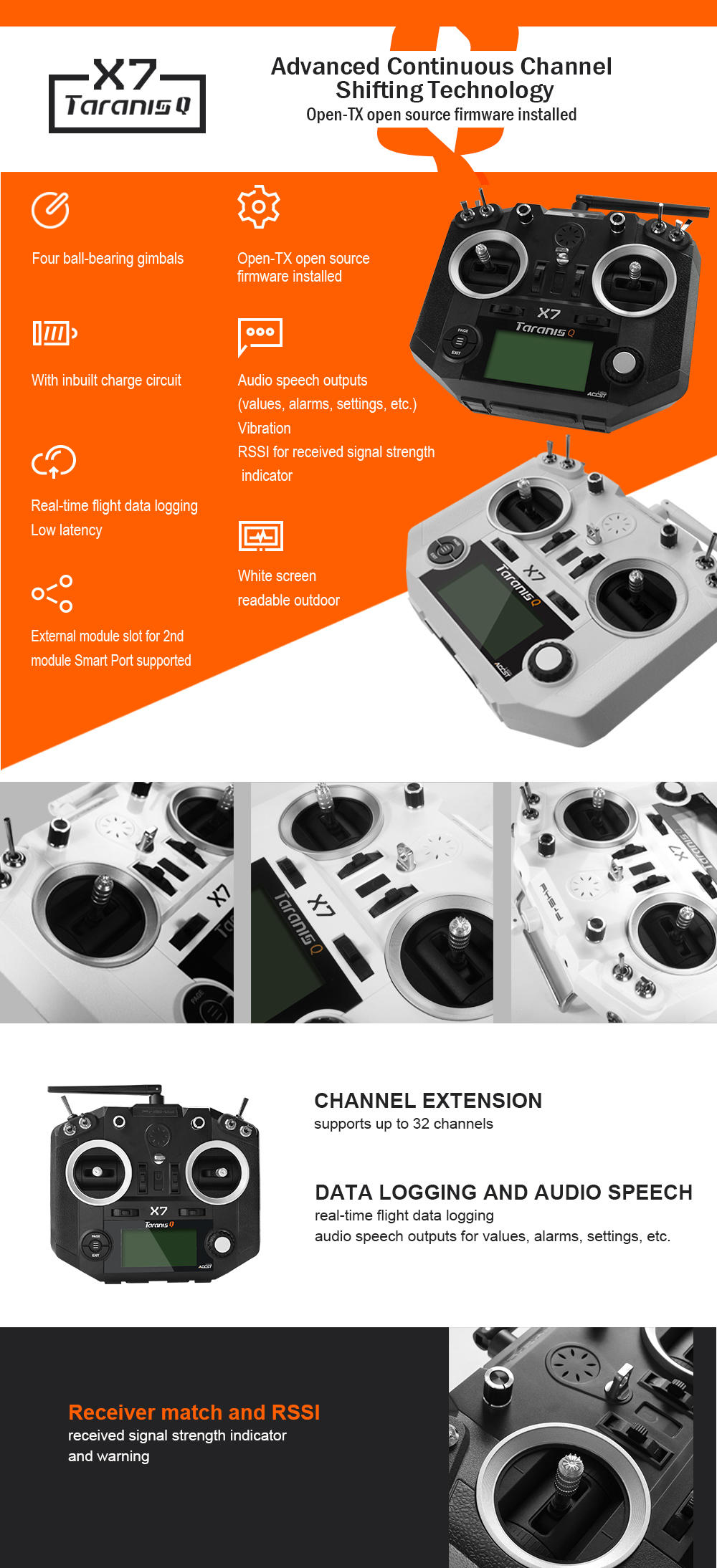 The item has been added to your basket