THE ICARUS PRO COURSE
The ICARUS Standard course is one of the most competitively priced courses around and has been carefully compiled by former military pilots and delivered by experienced operators; making it the most desirable too! This two-day course features:
1. CAA UAS Theory Exam
2.  Operations Manual review
3.  Flying skills test, which we call an Operational Evaluation (OE)
UAV pilots wishing to quickly excel their way to their PfCO and become a certified pilot recognisable nationwide - setting themselves apart from the numerous commercial 'drone' pilots out there, the new ICARUS PRO course is for you!
The ICARUS PRO course focuses on pilots becoming aerial operation experts. Based on the layout of the ICARUS Standard, the ICARUS Pro has an additional day, which also covers the following subjects and includes a full Night Permissions Course;
Night Permissions Course, Operations Manual Workshop, Operational Evaluation Demonstration and Small Training Drone. AMP's instructors will also guide each candidate through the completion of the CAA's SRG1320 form (your application to the CAA for the issue of a Permission for Commercial Operation).
Candidates will receive ICARUS Pro Merchandise, an ID Card and the opportunity to be featured on the ICARUS Pro Webpage. Featuring profiles of each ICARUS Pro Pilot, the website will be used to highlight ICARUS Qualified UAV Operators & each ICARUS Pro Pilot will have a photograph, bio and link to their website featured on their 'pin' on the map.
Operations Manual Workshop
A well-written and 'solid' Operations Manual is key to conducting safe and efficient flight operations. All ICARUS Pro Candidates will leave the ICARUS Pro Course having completed their Operations Manual and with all paperwork in place and ready to submit to the CAA upon completion of their flight test (OE). Provided by a third party company who are experts at writing technical aviation documentation, each ICARUS Pro candidate will create a manual which is tailored to the individual's operational requirements, ways of working and satisfies the CAA's requirements as land down in CAP 722.
Night Permissions Theory Course
Included in the ICARUS PRO course is our much distinguished; Night Rating Course. Our night course has proven extremely popular with both previous ICARUS students and those who have attended other NQE's. Our Night Rating Course now comes as standard for all ICARUS PRO candidates.
Operational Evaluation Demonstration
One of the most regular questions we get asked during the ICARUS Standard Course is "What am I required to do in order to pass my OE?". This short module will expose ICARUS Pro Pilots to the minimum equipment required for the OE and what manoeuvres they will need to fly competently in ATTI Mode in order to achieve a first time pass!
SRG1320 Completion Workshop
To help with another daunting process and drastically reduce the potential for timely errors in the application process (which often causes huge delays to the CAA issuing operators with their Permission for Commercial operations) your instructor will guide you through completing the CAA SRG 1320 form. You will be guided though the process, quickly, efficiently and correctly completing the CAA SGR 1320 form, thus ensuring everything is ready for your CAA submission when the time arrives.  
Small Training Drone
To help improve your flying skills, all ICARUS PRO Pilots receive a small 'practice' drone as part of the package. This enables you, as an ICARUS PRO Pilot, to practice without the fear of damaging your expensive aerial platform. The aircraft you will receive is great for indoor flying, which means you don't have to waste time waiting for fine weather, or daylight during winter.
ICARUS Pro Merchandise
An ICARUS Pro Thermal Travel Mug, ICARUS PRO USB Memory Stick and ICARUS PRO Branded Laptop Bag are also included to help keep you hydrated, organised and looking professional when engaging with clients.
ICARUS Pro Framed Certificate and ID Card
Your ICARUS Pro Theory Certificate will be presented to you in a frame along with an ICARUS Pro ID Card. The ID card will display your photo, qualification and expiry date, again, re-emphasising your professional approach and status whilst providing an audible 'check' of your credentials to be made back to ICARUS HQ should a member of the public request it.
Included on our ICARUS Pro Pilot pages
Have your name and/or business advertised on our live ICARUS Pro Map! Exclusively for ICARUS Pro Pilots; your location, along with a picture and short bio will be added to our ICARUS Pro Map so that anyone searching for a qualified drone Pilot near to you can get in touch!
What's left to complete once I leave?
Just your flight test... that's it!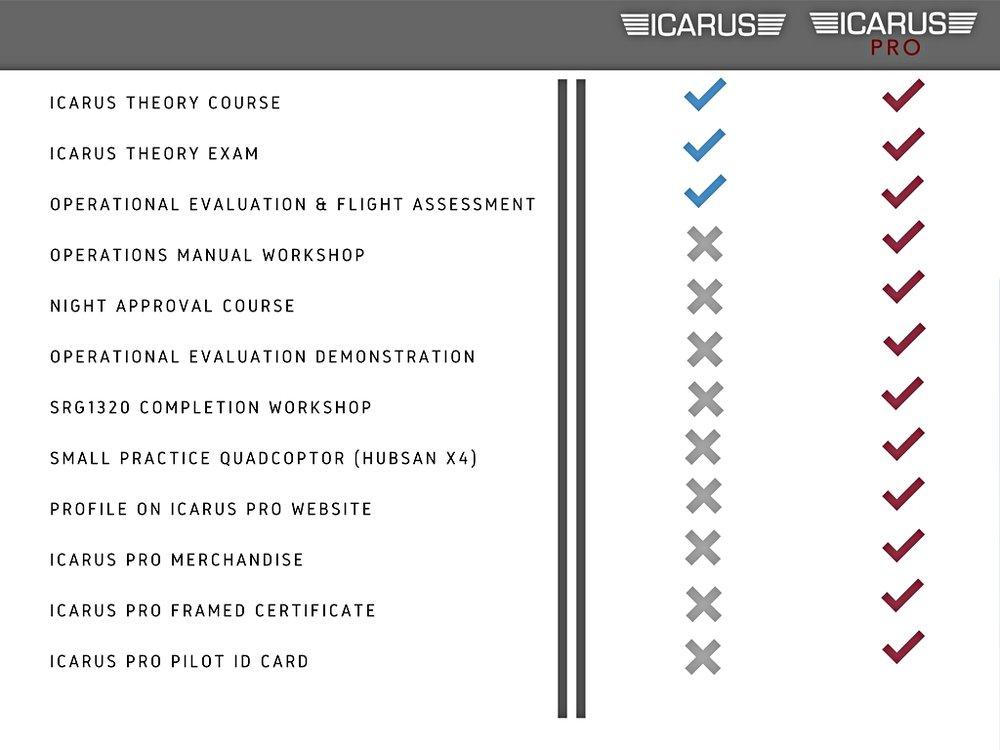 The item has been added to your basket