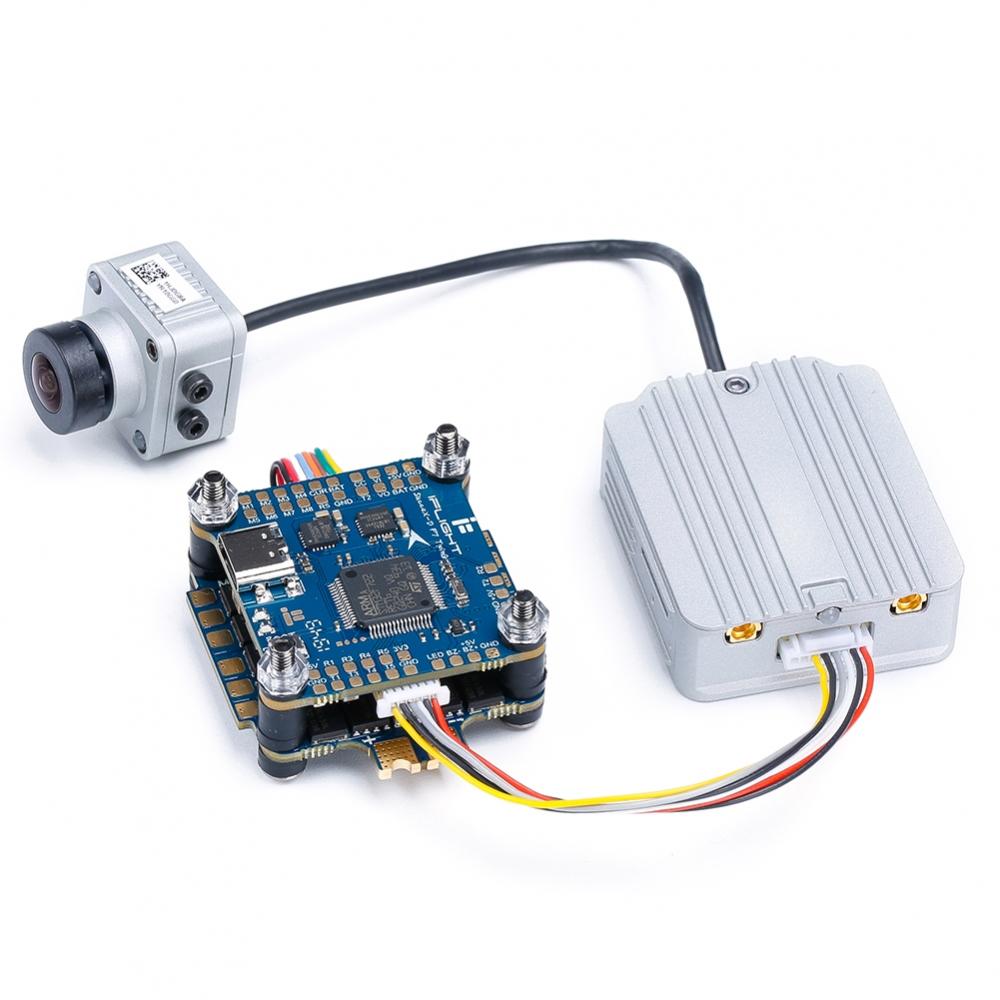 iFlight SucceX-D F7 TWinG FC + 50A 4in1 Stack 2-6S (For DJI HD FPV system) V2.1
---
QuadCopters Price Match
iFlight SucceX-D F7 TWinG FC + 50A 4in1 Stack 2-6S (For DJI HD FPV system) New V2.1 
The TwinG (Twin Gyro) flight controller combines data from the two onboard gyros to provide unmatched performance.  In addition this version is made specifically for the DJI HD system and plugs into the HD Air unit. This is the ultimate flight controller and 4in1 ESC to use on your DJI HD quad.
Many improvements have been made to the FC and ESC in this version 2.1 
Features
Universal USB Type C connector instead of micro USB
2-6S compatible flight stack
Supports BLHeli pass-through for easy ESC upgrade and configuration.
Designed to support DJI Digital FPV.
50A BLheli32 ESC to power just about any motors you can throw at it
FC // SucceX-D F7 V2.1 TwinG
MCU: 216MHz STM32F722
Gyro:2x ICM20689
Baro: YES
Blackbox:32MB
Betaflight OSD: YES
BEC: 5V 2.5A / 9V 2.5A
Current sensor scale:  100
Inverter for SBUS input (UART2-RX)
Smartaudio & Tramp VTX protocol supported
Beeper pad : Yes
RSSI input pad: No
UARTs:5
Motor outputs: 8
8 pin 4in1 ESC port (GND, VBAT, M1, M2, M3, M4, CUR, R5)
6 pin DJI Air Unit port (R1, GND, R2, T2, GND, 9V)
BLHeli32 Telemetry:RX5
Input voltage:recommended 2-6S, MAX 8S
Target:   IFF_TWIN_G (IFRC)
Mounting pattern: 30.5*30.5mm φ4mm with Grommets φ3mm
Dimensions:   36*36mm
Weight: 7.5g
USB type-C
ESC // SucceX 50A
8 layers single-board stacking PCB board
4oz 1.6mm thick power board
32bit FO51K86 MCU, 48kHz maximum clock speed
TDK MLCC Low ESR ceramic capacitors
Top grade NTMFS5C430NL MOSFET

ESC Specification
MCU: STM32F051
Up tp 48kHz PWM frequency
Capacitance: 470uF/50V
Current Sensor: Yes
Input: 2-6S LIPO
Constant: 50A / Burst: 60A
BlHeli32 telemetry: Yes
BEC: No
Supports up to Dshot1200, Proshot, Oneshot, Multishot 
Target: iFlight-BL32-4IN1
Weight:14.4g
Mounting pattern: 30.5*30.5mm/Φ3mm
Dimensions: 43*39mm (including the power pads)
*DJI FPV unit not included 
TwinG Gyro Setup
-The Betaflight target's default setting is 'gyro_to_use = both' / Gyro fusion is active!
-To check the current setting, please use CLI and type 'get gyro' to find the responding entry.
-Change the settings with 'set gyro_to_use = ' and type 'save'.
-To get the most reliable performance or encounter noise, oscillation and bent props: Please use the default setting 'both".
-For Single Gyro use, please use the debugging options to find and tune for the cleaner gyro, but lose the dynamic fusion and averaging.
-BF offers the following dual gyro debug options: dual_gyro_raw, dual_gyro, dual_gyro_diff, dual_gyro_combined.
-BlackboxLog explorer graph: dual_gyro_raw Debugging = [0] Roll Gyro1, [1] Pitch Gyro1, [2] Roll Gyro2, [3] Pitch Gyro2.
-The displayed graph will show the Gyro_Raw reading (no filters applied), both gyros can be compared.
The item has been added to your basket