Jumper T16 Pro V2 Transmitter with Hall Sensor Gimbals Mode 2 Silver or Carbon
---
QuadCopters Price Match
New T18 Available for the same price https://www.quadcopters.co.uk/jumper-t18-transmitter
The New Jumper T16 Pro Hall V2  Radio Transmitter with new Hall sensor gimbals and internal module inside the radio, Choose Silver or Carbon Fibre making this one of the most popular remote controllers for Drone Freestyle Racing and FPV Pilots around the world.
The new V2 features USB-C Charging as standard along with a foldable handle.


The Jumper T16 Pro with hall gimbals is a high performance Radio Transmitter (TX) with a bright colour 4.3" display. The T16 Pro with hall gimbals is compatible with TBS Crossfire modules and runs on a version of OPENTX. Supplied with the Jumper T16 Plus is the JP4IN1 module. The new hall gimbals allow for stick angle adjustment and deliver an ultra-smooth dual bearing precision gimbal feeling found on more expensive radio controllers. There are 6 buttons for professional flight control systems allowing for quick function asignment of regularly used functions.
Another really good feature on the T16 radio is the gimbal adjustment, this is easily done by removing the rubber hand grips which literally lock into place and can fold down to reveal the adjustment screws, other radios you normally have to remove the back of the radio to do this.
This is why Jumper are setting the way for our fpv community.
Jumpers mission was to create the most affordable, high-performance open source remote control on the market today and they have already succeeded in doing this. The T16 truly is the radio to rule them all. With angle adjustable ultra-smooth dual bearing precision gimbals, large 4.3" display, more than ample input controls, integrated 6 position buttons for professional flight control systems, JR module bay supporting TBS Crossfire modules and many more features the T16 is a remarkable offering at this price point.
Another notable point with the T16 is that it supports the popular D8 mode this is now not available on Frsky radios with the new ACCESS protocol so this radio may be worth considering if you require D8 mode.
This is the latest version with the Inbuilt multi protocol module and the Hall Gimbals. You can tell this by the silver writing on the radio, the older versions have red .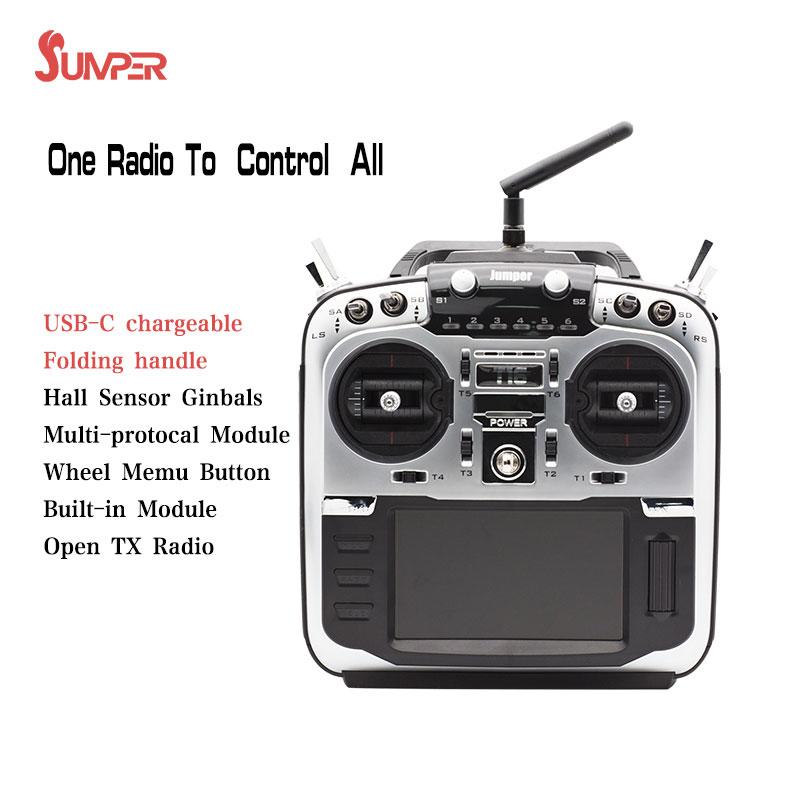 Features
STM32F429BIT6 MCU
Industrial grade 4.3 inch 480*272 outdoor readable color screen
Compatible with JumperTX and OpenTX firmware
Wheel menu button
Gimbal Type: HALL SENSOR
Internal Jumper 4in1 Multiprotocol module with TBS Crossfire Support
Angle adjustable ultra-smooth dual bearing gimbals
Removable battery
Supports Telemetry
Memory 16M (can be expanded by TF card)
Voice function
Vibration reminder function
Standard JR module slot
6-Flight Mode Buttons (for APM and Pixhawk flight controllers)
Two-color LED status display


T16 Pro Specs
Size: 180*190*58
Weight: 888g
Voltage: DC7-8.4V
Current: 350mah (NO CRSF)
Channel: 16ch
Internal Jumper JP4-in-1 Built in Module
The Internal Jumper JP4IN1 Module features the CC2500, NRF24L01, A7105 and CYRF6936 RF Chip modules all integrated on one board. This module can convert standard PPM signals form module equipped radios in to the RF protocols used by most radios in the market today (See RF Chip data below). This module is plug and play with module equipped radios in the FrSKY series and requires no complex wiring or "hacking" to get running. The module is a great way to improve the enjoyment of your flying experience, using a better radio such as the FrSKY Taranis series rather than the low grade radios commonly included with most kits offers an night and day difference in performance. The Jumper JP4IN1 module is also upgradable via USB input
JP4-IN-1 Specs
Working voltage: 6-9v
Working current: <=100ma
Operating frequency: 2.4G ISM band
RF power: +22DBM
Main control chip: STM32F103CBT6 (128K ROM, 20K RAM)
Module bay compatibility: FRSky, Jr and other dimensions: 64*49*33 (without antenna)
Net Weight: 42g (including antenna)
Software Compatibility: Suitable for radios using OpenTX or er9x/ersky9x
Firmware updatable: Yes, via USB.
RF Chip Data
Cypress Semiconductor CYRF6936: DSM/DSMX, Walkera Devo
Texas Instruments CC2500: FrSky, Futaba SFHSS
Amiccom A7105: FlySky, FlySky AFHDS2A, Hubsan
Nordic Semiconductor NRF24L01: HiSky, Syma, ASSAN and most other Chinese models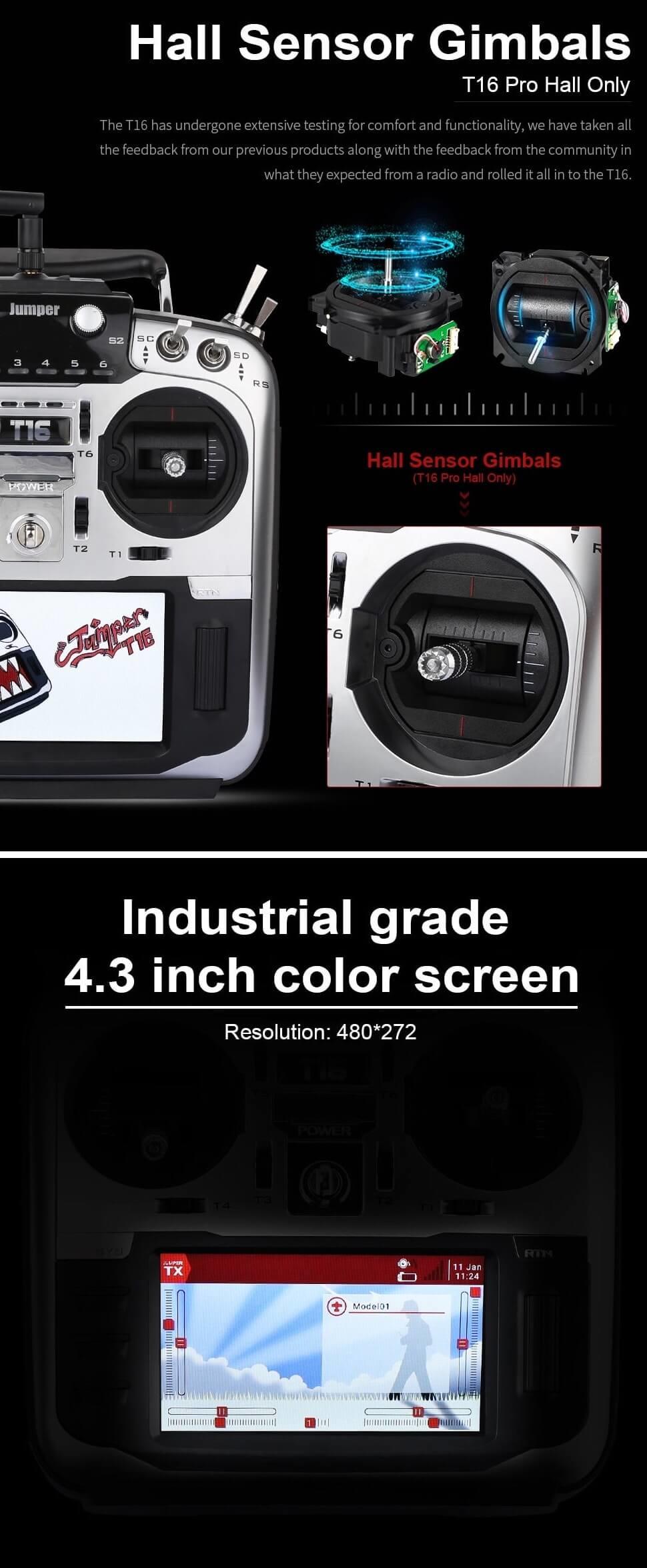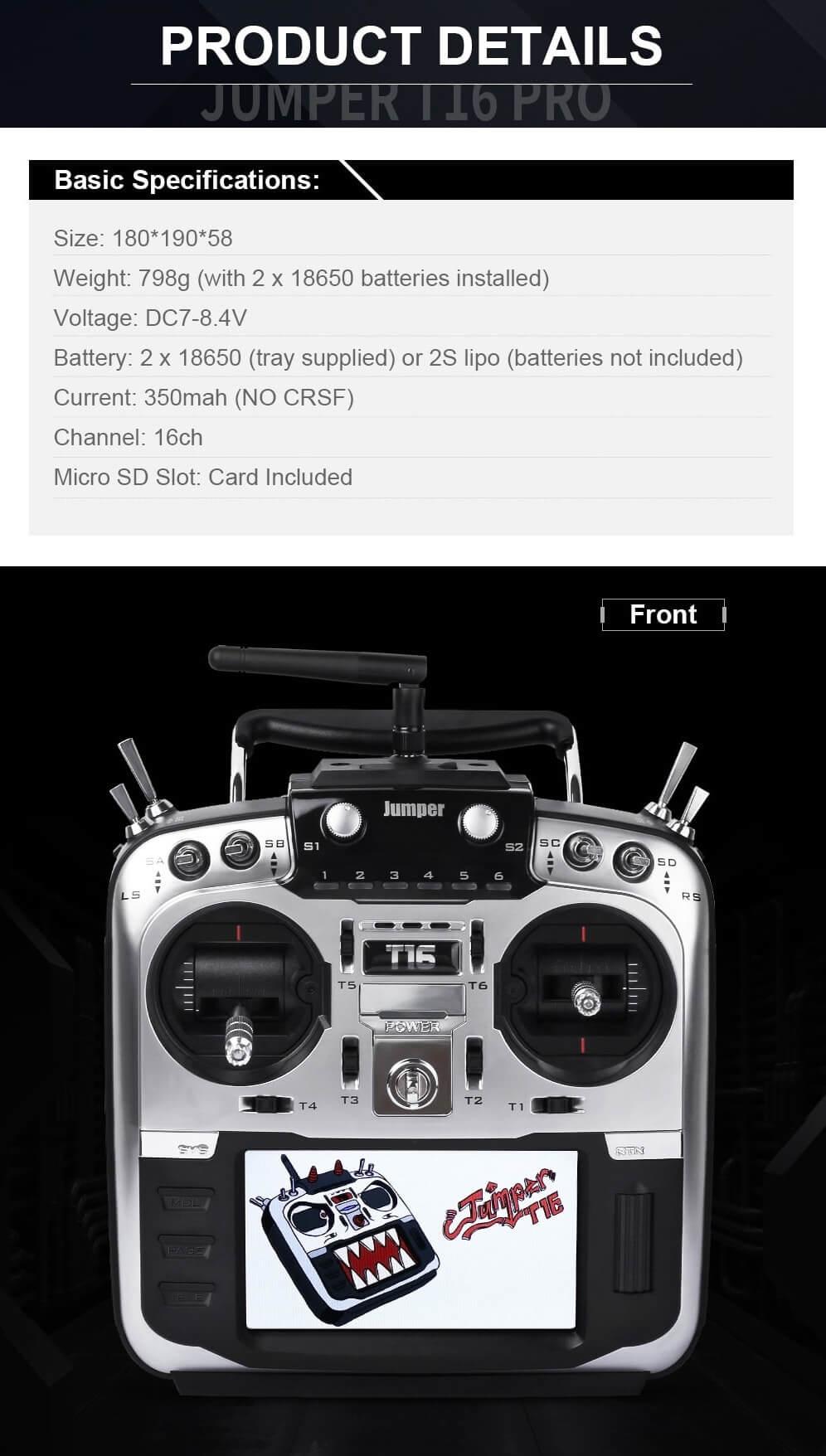 UK Dealer for Jumper ZYZ Radios.
Note: see below for batteries and charger for this radio.
Finally got my hands on the new T16 pro radio after years of being a Frsky user. I can say I won't be going back anytime soon after using this radio for the first time. Collected in store from Quadcopters and have to say they are a very knowledgeable team there and very helpful.
Loving the T16 Pro , it feels really slim in the hands when flying and the LCD screen is very easy to read and makes navigating and setting up so much easier. I specifically got the Jumper T16 Pro because of the internal module as I fly both frsky and crossfire so this is my new goto radio. Thanks for the next day delivery :)
The T16 is everything I wanted in a transmitter and much more. I was originally going for a X9D but when I was advised to take a look at the features on the Jumper T16 it was a clear winner and much cheaper too. Highly recommend the advice and help from Quadcopters uk and highly recommend the radio too.
Talk about quick delivery , order placed at 3.05pm and delivery of my T16 pro transmitter arrived at just after 9am the next day. Even got a text message with a 1 hr slot . I've wanted to switch to the Jumper t16 pro for a while now and Joshua bardwells video convinces me. No regrets and if your thinking about getting one just do it as these literally bind to anything and are a really well build radio.
Bought the T16 Pro by Jumper as I have a lot of models with Futaba receivers and also wanted something that supported crossfire with no hassle. The T16 Pro ticks all the boxes and has a nice easy to use clear screen and menu system.
These are excellent for the money and they work well. Don't be fooled by upgrades that will damage your unit like I did from http://www.rcbatterykit.com/order.htm stick to around the 3000mah 18650 battery.
Write your own review
The item has been added to your basket