Matek F405 AIO F4 Betaflight Flight Controller with Built in PDB and OSD
---
Matek F405 F4 AIO Betaflight Flight Controller with built in PDB and OSD inc 5v/2a Bec . Now replaced by the new F405-CTR AIO Here

Matek are already known for making great clean Flight Controllers with built in OSD inc Current sensing but this time they have gone a step further and created a F4 board with dual built in Bec , Full Betaflight osd inc current sensing , and PDB for the perfect clean build, The board will support DShot 1200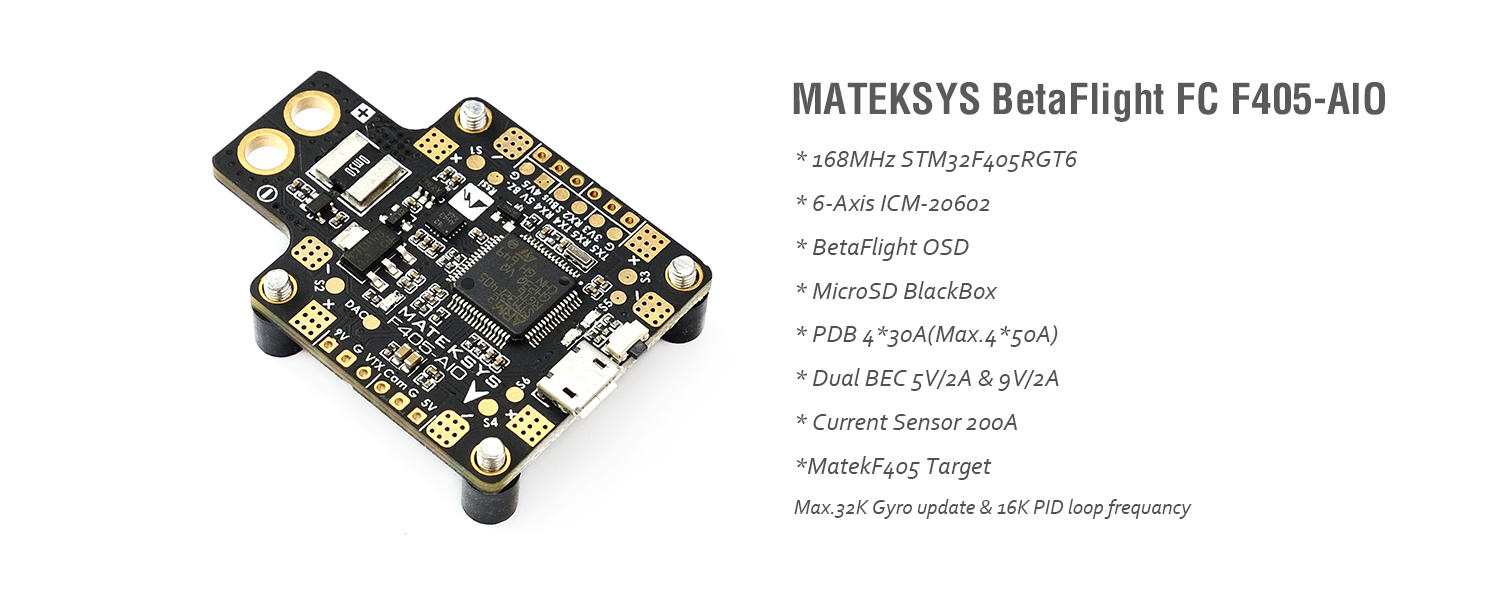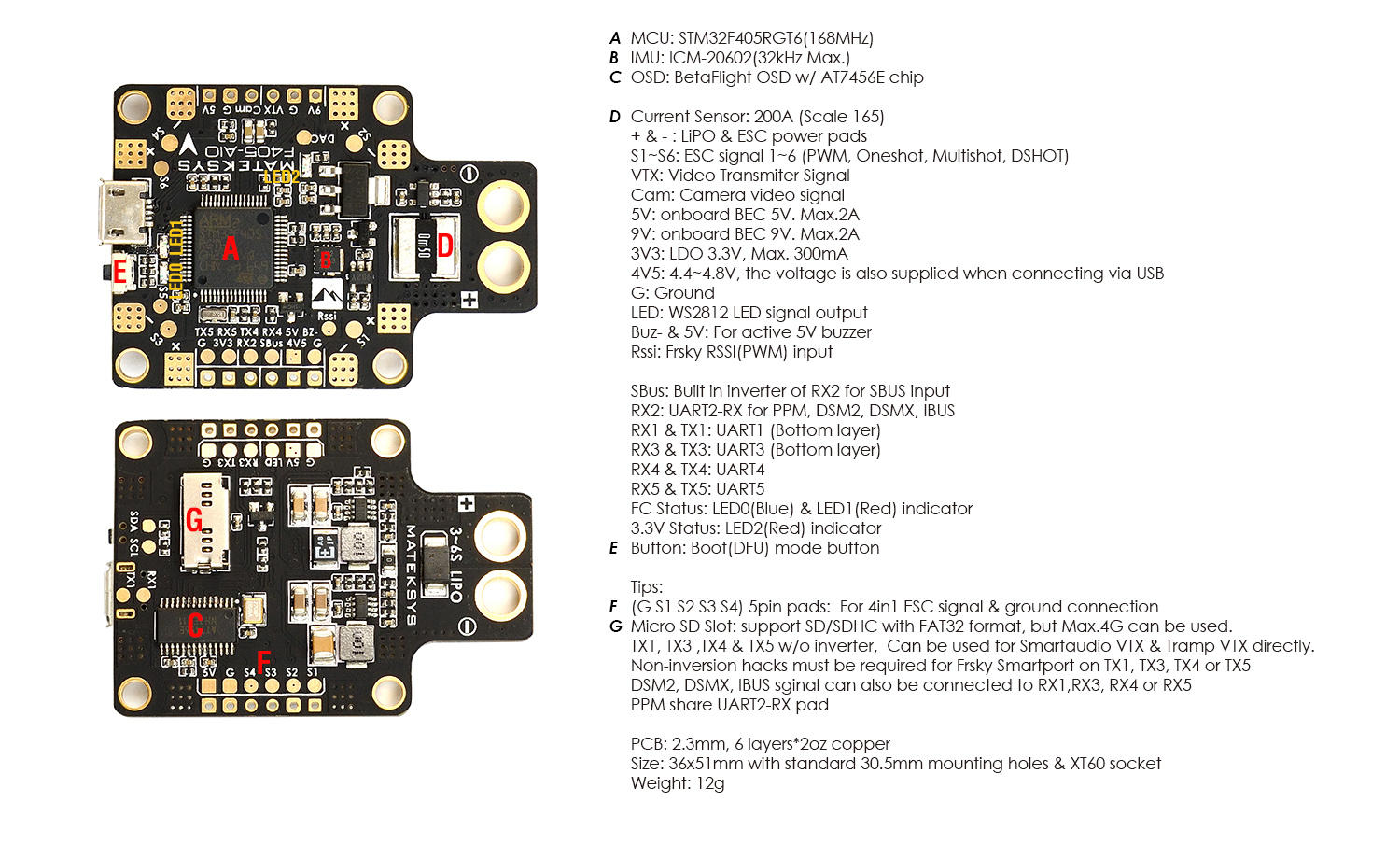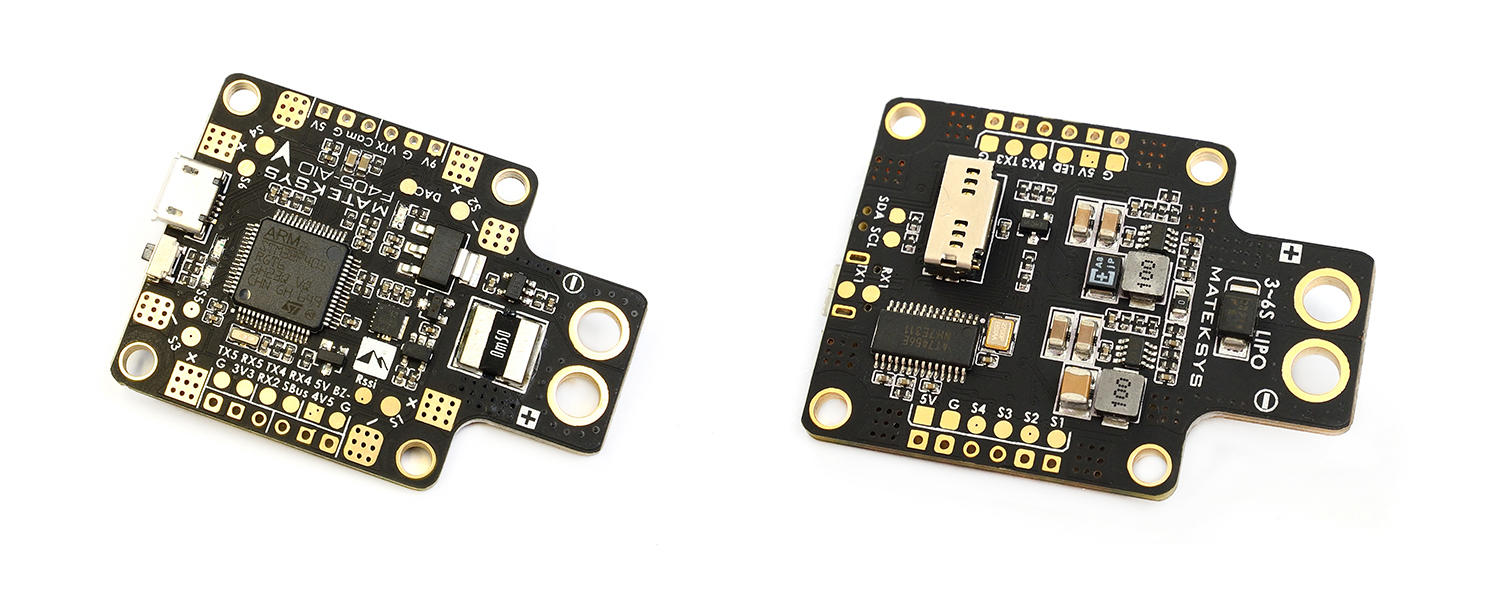 Matek F405 AIO FC Specifications
MCU: 168MHz STM32F405
IMU: 32K ICM20602 accelerometer/gyro (SPI)
Max. 32K Gyro update & 16K PID Loop
OSD: BetaFlight OSD w/ AT7456E chip
Blackbox: MicroSD card slot (SD/SDHC)
VCP, UART1, UART2, UART3, UART4, UART5
Built in inverter for SBUS input (UART2-RX)
PPM/UART Shared: UART2-RX
SoftSerial on S5 & S6 optional
Smartaudio & Tramp VTX protocol supported
Spektrum BIND_PIN: RX4
WS2812 Led Strip : Yes
Beeper : Yes
RSSI: Yes
PDB Specifications
Input: 9~27V (3~6S LiPo) w/TVS protection
PDB: 4x30A (Max.4x50A), 6 layers*2oz copper PCB
Dual BEC: 5V 2A & 9V 2A
LDO 3.3V: Max.300mA for Spektrum RX
Current Sensor 200A (Scale 165)
Battery Voltage Sensor: 1:10 (Scale 110)
2x LEDs for FC STATUS (Blue, Red)
6x PWM / DShot outputs without conflict
5x UARTs
1x Group of  G/S1/S2/S3/S4 pads for 4in1 ESC Signal/GND
4x pairs of corner pads for ESC Signal/GND connections (DSHOT compatible)
1x pair I2C1 pads (for INAV firmware only)
1x Side-press button for BOOT(DFU) mode
36x51mm PCB with 30.5mm mounting holes & XT60 socket
12g

Contents in addition to the Flight Controller. 
1x Rubycon ZLH 35V/470uF (Low ESR)
4x M3 Anti-vibration Standoffs
 FR4 PCB Plate 36*36*1mm

Note : Please always test the board first using usb connection as returns cannot be accepted once the Flight Controller as been soldered.
Neat F4 board for a compact build , Matek use good filters so always clean video. Ensure the XT60 fitting will work with your type of frame, It does with mine as I wanted the connector at the side. You can easily change the orientation of the board in Betaflight. Excellent service from Quadcopters Uk .
Great flight controller from matek and service to match with my order going in late afternoon and delivered to my door before 10am the next day, simply cannot ask for more but then I got some free lipo straps and stickers.
Write your own review
The item has been added to your basket