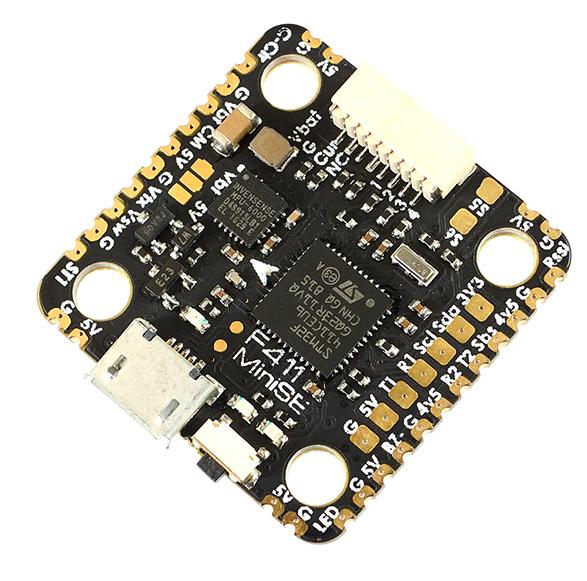 Matek F411-Mini SE 20x20mm Flight Controller
---
QuadCopters Price Match
Matek F411-Mini SE 20x20mm Flight Controller 
The Matek F411-Mini SE has a built-in OSD and MPU-6000 gyro. The board as standard is 20x20mm mounting holes but also comes with a 30.5x30.5mm mounting adapter board. The FC runs on Betaflight as standard using the MatekF411SE target, but can be flashed with INAV software. It also comes with Vibration isolation mounting hardware to ensure smooth vibration free flying. 
FC Specifications
MCU: 100MHz STM32F411CEU6
IMU: MPU6000 (SPI)
Baro: BMP280 (I2C)
OSD: AT7456E (SPI)
Blackbox: No
2x Uarts
2x Softserial-Tx
6x PWM outputs (Dshot/Proshot/oneshot/multishot)
1x I2C
3x ADC (VBAT, Current, RSSI)
3x LEDs for FC STATUS (Blue, Red) and 3.3V indicator(Red)
1x SH1.0_8pin connector (Vbat/G/Curr/R6/S1/S2/S3/S4)
TR/SA VTX control: Yes
Camera control: Yes
WS2812 Led control : Yes
Beeper output: Yes
RSSI: Yes
Filtered Vbat output power for VTX,  Switchable via AUX (modes tab-user1)
Convertible 20mm to 30.5mm mounting
Power
Input: 6~36V (2~8S LiPo)
BEC: 5V 2A cont. (Max.3A)
LDO 3.3V: Max.200mA
Battery Voltage Sensor: 1:10 (Scale 110)
No Current Sensor built-in, supports external current sensor of PDB/4in1
FC Firmware
INAV Target: MATEKF411SE
BF unified Target: MATEKF411SE(MTKS)
Physical size:
Mounting

20 x 20mm/Φ3mm with Silicon Grommets
20 x 20mm/Φ2mm with Silicon & Brass Grommets
30.5 x 30.5mm/Φ3mm with Conversion Plate and Silicon Grommets

Dimensions:  28 x 28 mm
Weight: 5g
Included:
1x F411-miniSE
1x 20mm to 30.5mm conversion plate
6x Silicon grommets M4 to M3
6x Brass grommets M3 to M2
1x SH1.0_8pin cable 5cm
2x SH1.0_8pin connectors
Layout picture: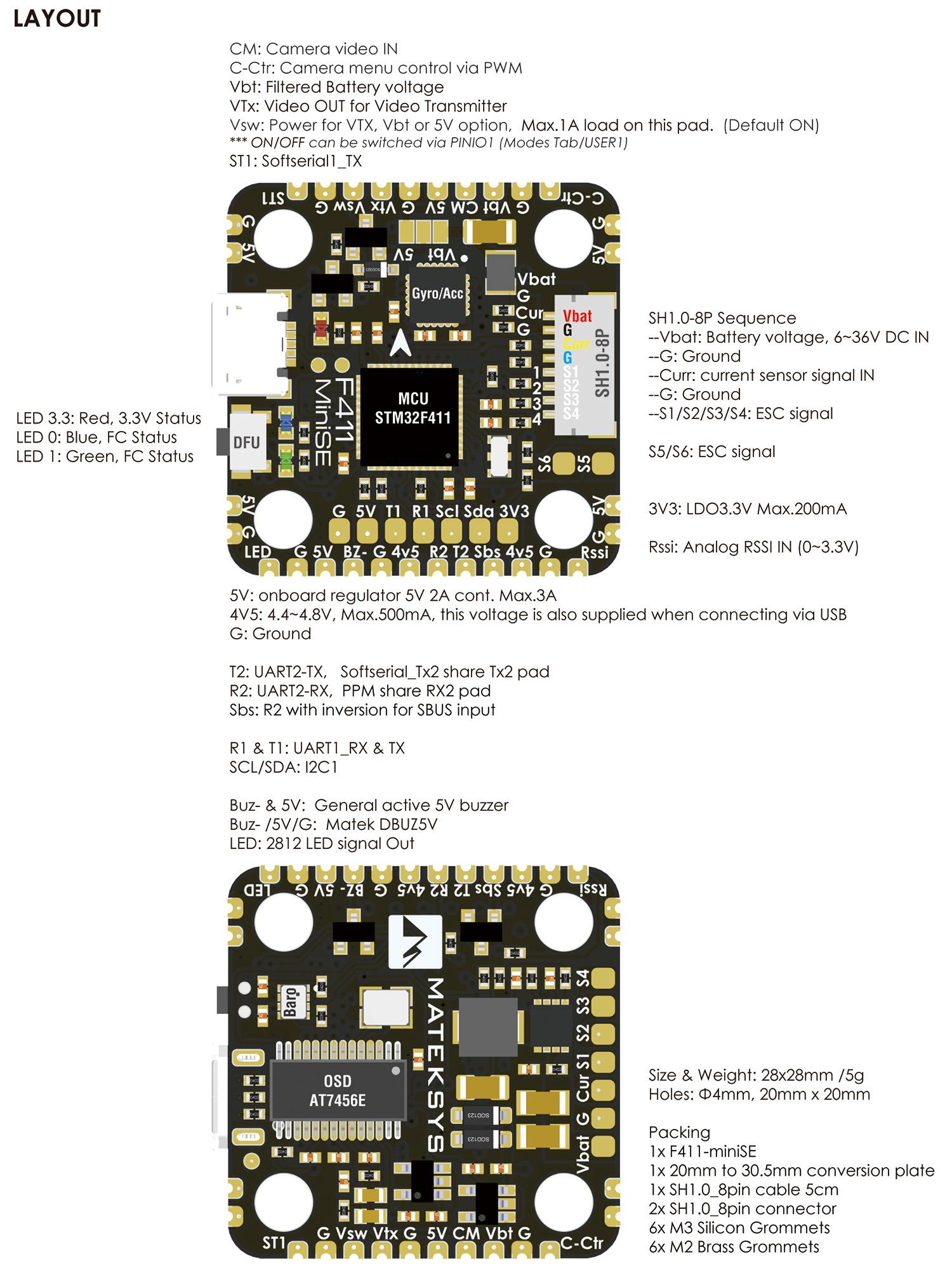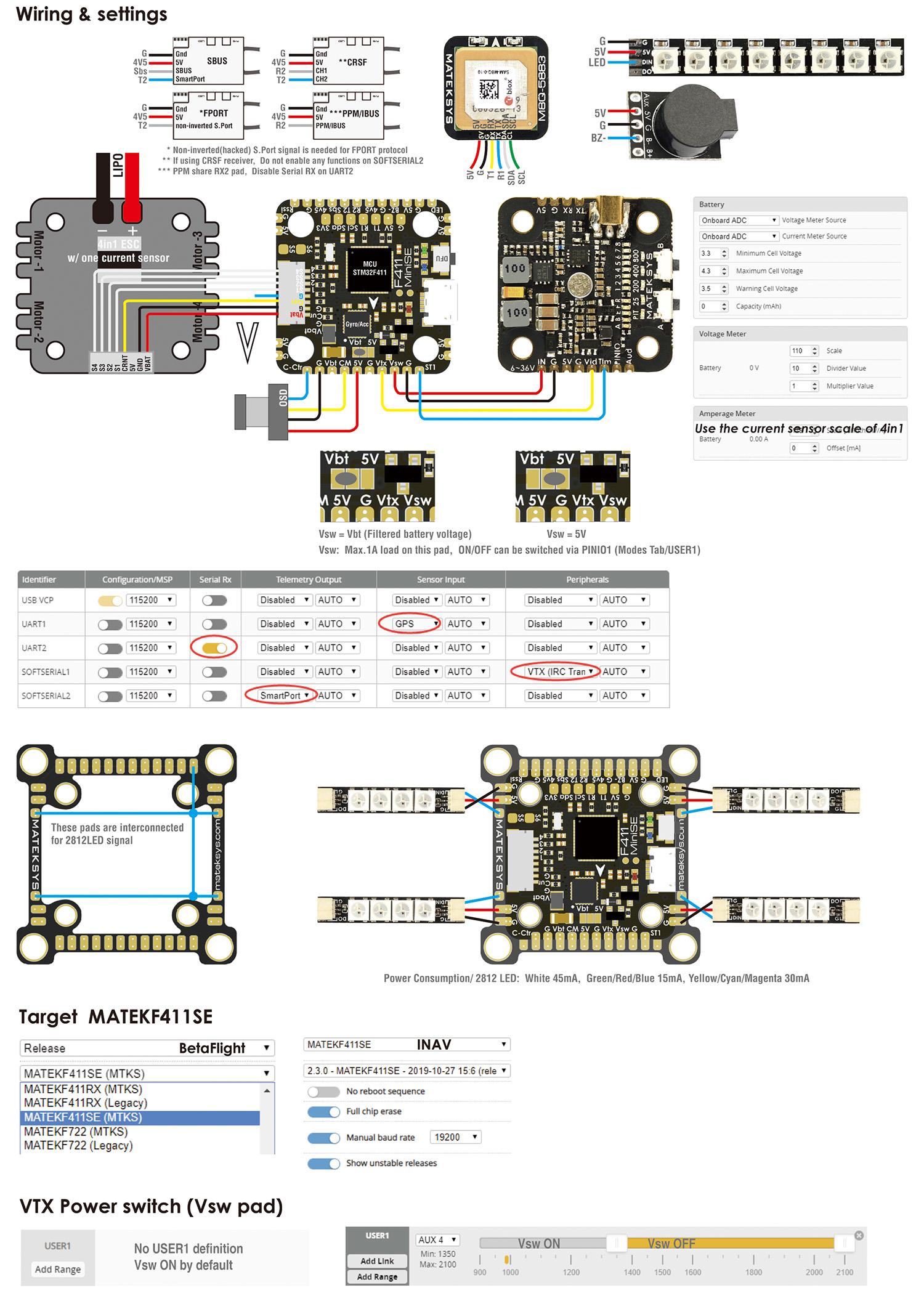 Have not flown with it yet but connects and lights up as it should, can use it with the latest software. If you want to use the extension you need nuts and bolts though. Feels like a high quality FC.
Write your own review
The item has been added to your basket