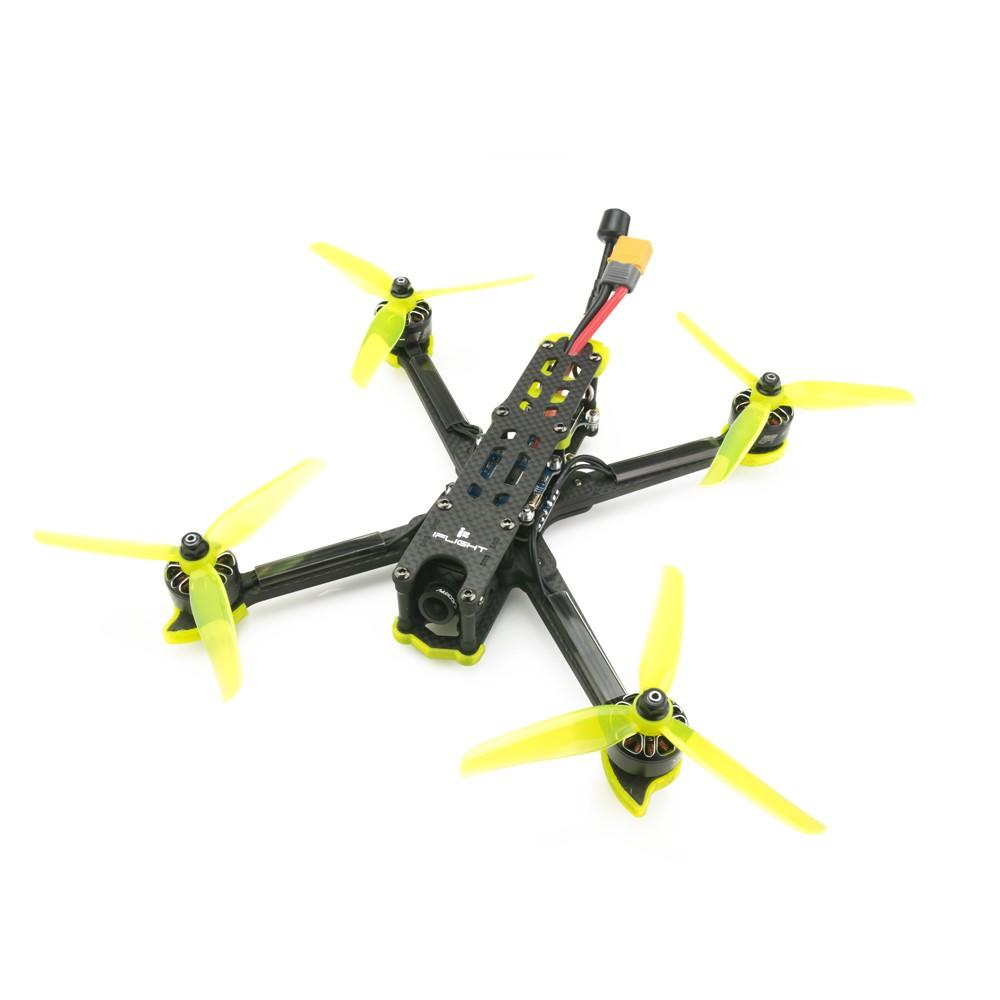 Iflight Nazgul5 V2 Analog Freestyle FPV Drone 6S or 4S BNF (xm+ ACCST 2.1.2 FCC)
---
QuadCopters Price Match
Iflight Nazgul5 V2 Freestyle FPV Drone 6S or 4S BNF (Frsky XM+ ACCST 2.1.2 FCC)

If you're  looking for the best budget 5" Analogue freestyle quad look no further. Don't let the word budget make you think this quad isn't capable, its still built to the high standard and quality of all Iflight quads but using the e series of parts. Basically the materials are a little less polished but performance is not compromised.
Nazgul5 V2 is loaded with lots of power; it comes with the XING-E 2207(6S 1800KV / 4S 2750KV) motors, SucceX-E F4 Flight Controller, SucceX Force 5.8g 800mW VTX Adjustable, SucceX-E 45A 2-6S BLHeli_S 4-in-1 ESC, and the very popular Caddx Ratel Camera which make this quad a must-have!

Note: The colour of propellers may vary, the colour strap may vary, GoPro and GoPro mount NOT included.
Features
5mm arm design for more durability
Easy-Swap arm
LED illuminated Logo
XING-E 2207 motors and NAZGUL 5140 props
5" version also fits 5.1" style propellers
Popular True-X configuration
TPU crash-guards
Fits both 30.5x and 20x stacks
Specifications
SucceX-E F4 45A flight stack
XING-E 2207 FPV Motor(6S 1800KV / 4S 2750KV)
Wheelbase: 240mm*240mm
Body size: 170*170mm
Propeller size: 5 inch /5.1 inch
FC pattern: 30.5*30.5/20*20 mm
FPV cam spacing: 19mm
Weight: 393.4g (without battery)
FACTORY SETUP and WIRING DIAGRAM
This BNF comes pre-built and setup with all necessary parameters to bind-and-fly. We also added a basic filter and PID tuning as well as some more software tweaks enhance the flight experience.
Reflashed your drone but didn't backup the setup? Messed up the whole tune and want our factory tune back?
No need to worry! All Factory Dumps and Wiring Diagrams can be found on our Google Drive: LINK
FC // SucceX-E F4 Flight Controller
MCU:STM32F405
Gyro:MPU6000
Betaflight OSD:YES
Blackbox:8MB
4X Uarts(1 2 3 6 )
8 x Dshot/Proshot/Oneshot output
8 x individual ESC power/ signal pads
1 x Group of Gnd/Vbat/M1/M2/M3/M4/Cur/TX
VTX telemetry: YES
WS2812 led Strip:YES
Baro:No
Beeper:YES
Input:2-6S(Max 8S)
BEC:5V/2.5A cont
Firmware target : BETAFLIGHTF4
Mounting:30.5*30.5mm,φ4mm with Grommets φ3mm
Dimensions:36*36mm
Weight:7.6g
ESC // SucceX-E 45A 2-6S BLHeli_S 4-in-1 ESC
Dimension: 40*43mm
Mounting Holes: 30.5*30.5mm/Φ3mm
Weight: 14.4g
Supports 2-6S Lipo input
STM32F051 MCU, 48Mhz Runs BLHELI 16.X Firmware
Current sensor: YES
BEC: NO
Supports: DShot150/300/600/1200/MultiShot/OneShot etc.
Target: G-H-30 BLS 16.7
VTX// SucceX Force 5.8g 800mW VTX Adjustable
The output power is stable;
Transmit power 4 gear switch: 25mW/200mW/400mW/800mW;
Output 48 frequency points,
Frequency lock fast, the boot does not interfere with companions;
Built-in output power self-check function;
Full format video format: NTSC /PAL;
Wide input voltage range. low power consumption:
7V~36V,+12V/380mA@800mW;
-Small size:36*36*3mm
 Mounting holes 4-M3
Lightweight: 7.2g(excluding antenna)
VTX Specifications
Item: SucceX-Force 800mW adjustable VTX
Input Voltage:
Output voltage/ Max current: 5V 1A
12V input current: 40mA@PIT MODE, 95mA@25mW, 185mA@200mW,250mA@500mW, 380mA@800mW
Output 48 frequency points,
size:36*36*3mm
PIT/25mW/200mW/400mW/800mW
Recommended Parts (Not Included)
Battery 4S 1550mAh
Battery 6S 1300mAh
GoPro Mounts
Includes
Prebuilt and tested Quadcopter
1 x XL5 V5 Frame
1 x Caddx Ratel, 2.1mm lens camera
1 x Albatross LHCP RP-SMA 5.8g antenna
2 sets x Nazgul 5 inch 3-blades (Set of 4 - Color may vary)
1 x 20*200mm Microfiber PU Leather Battery Strap (Color May Vary)
1 x 20*250mm Microfiber PU Leather Battery Strap (Color May Vary)
The item has been added to your basket