Ready To Fly or BNF AstroX Racing Drone Competition Spec
---
ASTROX RACING DRONE COMPETITION SPEC Ready to Fly Or BNF
Astrox Truex Racing Frame
T-Motor F30a 2-4s Dshot Esc OR CP30A Cobra Dshot Esc
T-Motor F40 Pro 2400kv OR Cobra CP-2207 2450KV Champion Series Motor
Matek F450-Osd F4 Betaflight Flight Controller
Matek Fchub-6s Osd With 184a Current Sensor Pdb
Matek M3 Vibration Dampning Fc Standoff 4pcs
Tbs Unify Pro 5.8g Hv Race
Menace Rc Raptor Antenna Stub Version 5.8ghz Sma Rhcp
Runcam Swift 2
Hqprop 5x4.3x3 V1s Durable Polycarbonate Pc
Astro X Full UK Class Racing Drone - RTF/BNF Inspired by Adam FPV Kid. Choose between Cobra or T-Motor Power Setups.
Do you want a machine capable of keeping up with the pros? We decided that the off the shelf RTF and ARTF racing quads just could not compete in real world competitions against custom built machines. So now is your opportunity to bridge the gap and really accelerate your game with our new RTF and ARTF packages.
The AstroX True X frame is definitely the pinnacle of high quality racing drones, with chamfered carbon edges and a low profile frame, weighing in at only 83g - it's made for speed. Built by the top racers themselves; Tom Smith and HPIGUY. We have decided to build this in dedication to the youngest drone pilot in the hobby – Adam FPV kid. The build is an identical copy of what Adam rips around the track. Been in the game since the start, Tom and Richard know their stuff when it comes to racing drones, competing in many races around the UK and across the world including the drone prix in Dubai! These RTF/ARTF setups are built in store and can be made to order if you choose – maybe you want TBS Triumph antennas or a different PDB, we can sort it for you. 
UK Class
UK Class means that this machine is permissible to be raced in all UK events. This means that no more than 25Mw can be used and no larger than 5-inch plastic propellers. So we have fitted the TBS Unify Pro digital VTX that cover all bands and channels including the now racing standard "RaceBand" channels. We have matched the HQ props to our T-motor F40 2400KV motors to give you incredible low down torque and at the same time fast forward flight. Or, as a changeable option, the Cobra power-setup. Involving the CP30A Cobra esc's, feeding the monstrous 2207/2450kv Cobra Motors.
In Field Programming
No need for a computer here. Rates too low? PIDS not right? Want to change the colour of the LEDs? No problem. The Betaflight FC is capable of changing all of this with the remote controlled OSD. Much like the ImmersionRC Vortex you can now enter the menu and change tonnes of settings through your FPV goggles or monitor.
Lightweight Frame
The frame of choice here is the Astro True X. Although lightweight at 85grams this frame can take a beating, The last thing you want at a race is to be swapping out arms after a crash, and we have flew this for the last few months without snapping a single arm. However spares are available from our store.
Runcam Swift 2 Camera
The majority of competitors at race events use the Runcam Swift 2. The WDR, (wide dynamic range) is excellent giving you the best performance imaging at a low cost. You can also change settings with the supplied cable without having to power up the quad (most race events don't allow powering up other than during the race) so this makes it super handy. The camera comes with a 2.3mm lens and is capable of using the 2.5 and 2.1 lenses on the market. If you want a different lens let us know and we will fit one for you.
Thought in design
Why is this important? Not only do you break props during a crash but it's also common to break the SMA connector from the VTX and in turn burn the VTX out. To reduced the risk of this happening we use a "pigtail" connected with a zip tie that can snap off saving you ruining your equipment and making fixing as easy as adding a new zip tie. The Antenna supplied is the Menace Raptor (RHCP), small lightweight giving excellent video reception and still very durable. There are also many more minor touches that go into making this a great machine like short 14AWG wire to connect the XT60 to the PDB reducing internal resistance and a built in OSD so you can keep an eye on your battery voltage and more.
ESC's with BLHeliS
We supply our machines with either the CP30A Cobra ESC or the T-motor F series ESCs (30 amp) to reduce risks of thermal cut offs and over draw. We also flash the ESC's to the latest firmware and set them up to match the motors. BLHeliS is the latest protocol allowing the flight controller to talk quickly to the ESC's giving you a faster and smoother flight characteristics.
Betaflight
All our machines come set up with Betaflight 3.0.1 or higher. Even using stock PID's with the right rates makes this machine cut through the air and turn on a penny.
RTF or ARTF
The choice is yours; RTF comes with an FrSKY Taranis Plus that is fully set up. A BNF comes with an FrSKY XM+ receiver installed (under the FC). We like to use the XM+ due to its lightweight and size and also because it uses the SBUS protocol to reduce lag between the TX/RX.
Don't forget we can fully customise this machine to your liking. This includes adding things like a clear aerodynamic housing over the arms or LEDs.
Want something changing? Get in touch now and we will customise a machine for you.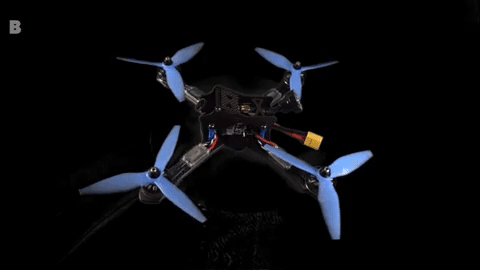 *Lead time for these machines is a couple of days as they are all built to order by some of the UK's best pilots Tom Smith and Richard Whelan (HPI GUY) 
Great service , loads of advice given before the final build ,cracking tidy build . Many thanks
Write your own review
The item has been added to your basket