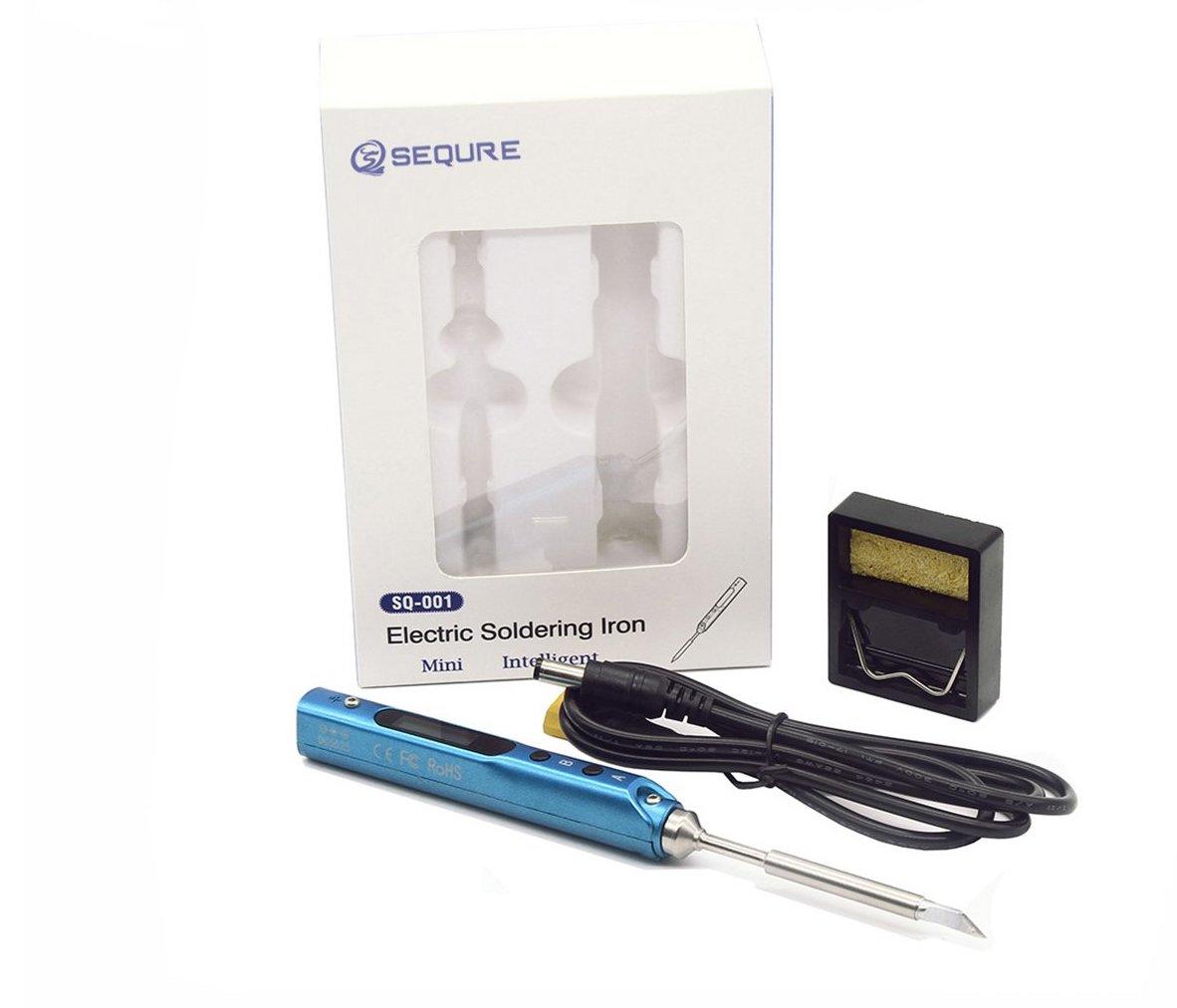 Sequre Mini SQ-001 Portable Soldering Iron 65w XT60 with BC2 Tip
---
QuadCopters Price Match
The Sequre SQ-001 soldering iron is very similar to the very popular TS100 with all the same features and quality but at a more wallet friendly price.
The Sequre SQ-001 Portable soldering iron has a XT60 connector so it can be easily powered in the field using a 3s to 6s lipo , heat up times are slightly quicker with 6s than 3s for example running 12v supply it will take approx 40 secs to heat up to 300 degrees where using 6s will bring this down to around 11 seconds.
It also has a nice OLED screen and parameters are easily changed such as temperature and firmware updates.
The tips are similar again to the TS100 and use ceramic core technology which means the heat transfer to the soldering tip is very quick and precise and little heat is lost down the shaft like traditional soldering tips.
The SQ-001 also has a range of accessories and different tips which we will stock to please the most demanding FPV pilot who likes to solder.
Ours come with the most popular used tip in the FPV community the BC2 as it as its not too big or small so can handle most tasks from pcb soldering to the all important battery terminals and connectors. 

Controller:
SQ-001 is based on 304 stainless steel nested ABS + PC shell, Integrated special power interface, Safety circuit design, Antistatic structure.
The perfect combination of embedded STM32 processor, dual temperature sensor and acceleration transmitter.
Make SQ-001 realize intelligent temperature control between 100-400 degrees, more stable temperature, instantaneous temperature rise, automatic sleep, over temperature alarm and other functions.
Heating end:
The heating end adopts internal heating core
Factory preset temperature: 300 ℃
Temperature stability range: ± 2%
External independent power supply: DC 5525 power interface, suitable for DC 12-24v notebook power supply, vehicle power supply and mobile power supply.
Micro USB interface: set temperature rise curve, user defined function key and firmware upgrade function through parameter file.

Contents
1 x SQ-001 Controller
1 x Solder Tip ( Default BC2 tip)
1 x Safety Instructions
1 x Hex Key
1 x User Manual
1 x DC5525 XT60 Power Cable
1 x Mini-bakelite Stand Holder
Just as good if not better than the TS100 . Same product much better price and equal if not better performance and much cheaper tips and accessories.
The secure SQ-OO1 was purchased for the field and to be a back up for my TS100 but I cannot tell the difference in performance . Only cheaper tips and accessories. Easy to use and makes soldering a breeze.
Write your own review
The item has been added to your basket