T-Motor F40 Pro II 2400KV Motor Discontinued See F40 Pro V3
---
F40 Pro II with Ezo Bearings new from T-Motor is the Explosive and Lightweight FPV Racing Motor
Now replaced with the newer V3 F40 PRO
Used by Tom Smith these are his new choice of Motor for his FPV adventures.
The F40 Pro II is the worlds first brushless motor to use high temperature enamelled coating over silver wires this means they can run to extreme temperatures over 220 degrees Celsius.
Weighing only 29.5g and thats including wires, the F40 PRO II has a high power ratio for the size and weight of the motor. Also they have a titanium steel shaft with EZO bearings making them durable and super smooth.
Additionally, the top of the stator has an anti-slip design that keeps your props stable during high intensity flights.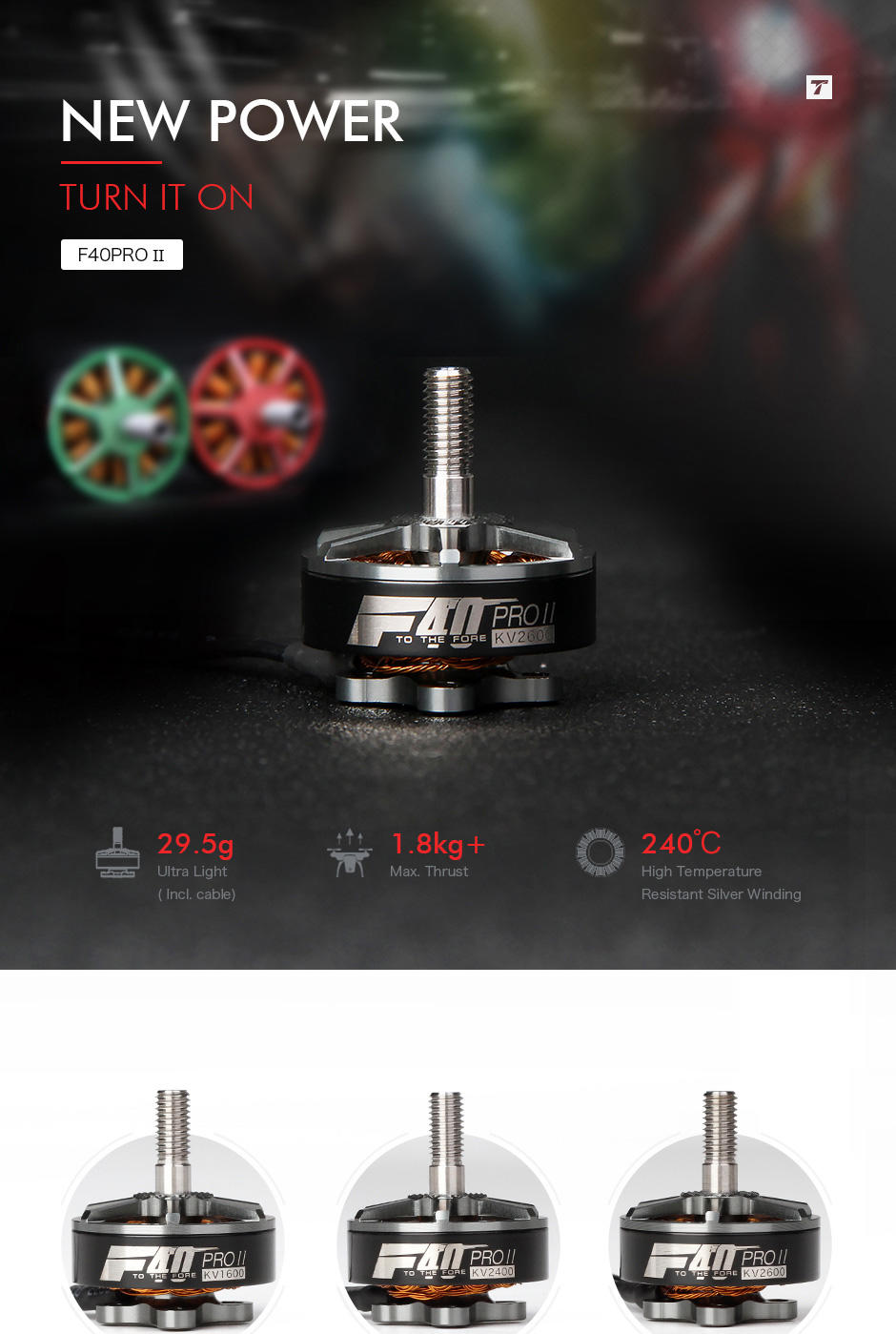 Includes:
1x F40PRO II Motor. (select your kv option)

1x Prop Locknut

4x Socket Head Screws
Specifications of the 2400KV 
KV: 2400

Configuration: 12N14P

Shaft Diameter: 4mm

AWG: 18#

Internal Resistance: 42mΩ

Motor Dimensions (Dia.*Len): Φ27.9×32mm

Weight with wires(g): 29.5g

Weight without wires(g): 27.5g

ldle current@10v(A): 1.6A

No.of Cells(Lipo): 3-4S

Cable length: 100mm
The best motors I have ever used. Build quality and performance is second to none. And even with a very hard session free styling the motors come down nice and cool running hq 4.8 pitch props. Highly recommended .
Write your own review
The item has been added to your basket