Tattu R-Line HV V2 15.2v - BUY HERE
Introducing the latest improvement to battery technology - Tattu have created a High Voltage lithium-polymer battery which provides mini-quads with unbelievable power at full voltage of 17.4v.
In comparison to a regular 16.8v, the HV lipo at 17.4v will provide 33%+ more power if you fly from full charge to 15v. More power will allow the pilot to rip around tracks with consistent power output and performance throughout. As the hobby has progressed, quality and performance in miniquad technology has exploded but unfortunately limited to battery capabilities and weight. Tattu has taken a step in the right direction to improve performance of these miniquad battery's.
High Voltage batteries are designed to hold a voltage of 4.35v per cell instead of the standard 4.2v per cell. The addition of this extra voltage from a full battery gives you more power for your aircraft. Please note that you need a compatible LiHV battery charger that is capable of charging the battery up to 4.35v per cell
FlyingBearFPV from the well known DRL races has featured in a private race which showed off the power of the HV LiPo, reaches incredible speeds around a tight course.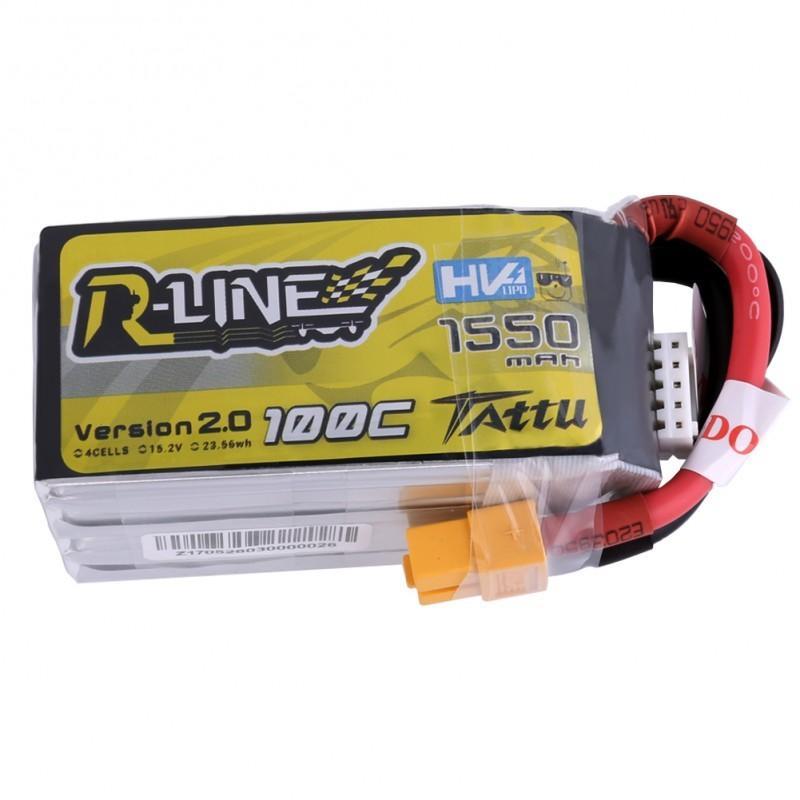 SPECS
| | |
| --- | --- |
| Net Weight (g) | 194 |
| Brand | Gens ace |
| Capacity | 1550 mAh |
| Discharge Rate (C) | 100 |
| Max Cont Current (A) | 155 |
| Max Burst Current (A) | 310 |
| Max Burst discharge Rate (C) | 200 |
| Parallel (P) | 1 |
| Voltage | 15.2V |
| Length (mm) | 75 |
| Width (mm) | 36 |
| Thickness(mm) | 38 |
| Wire Gauge | No |
| Wire Length (C/D) | No |
| Connector Type | XT60 |