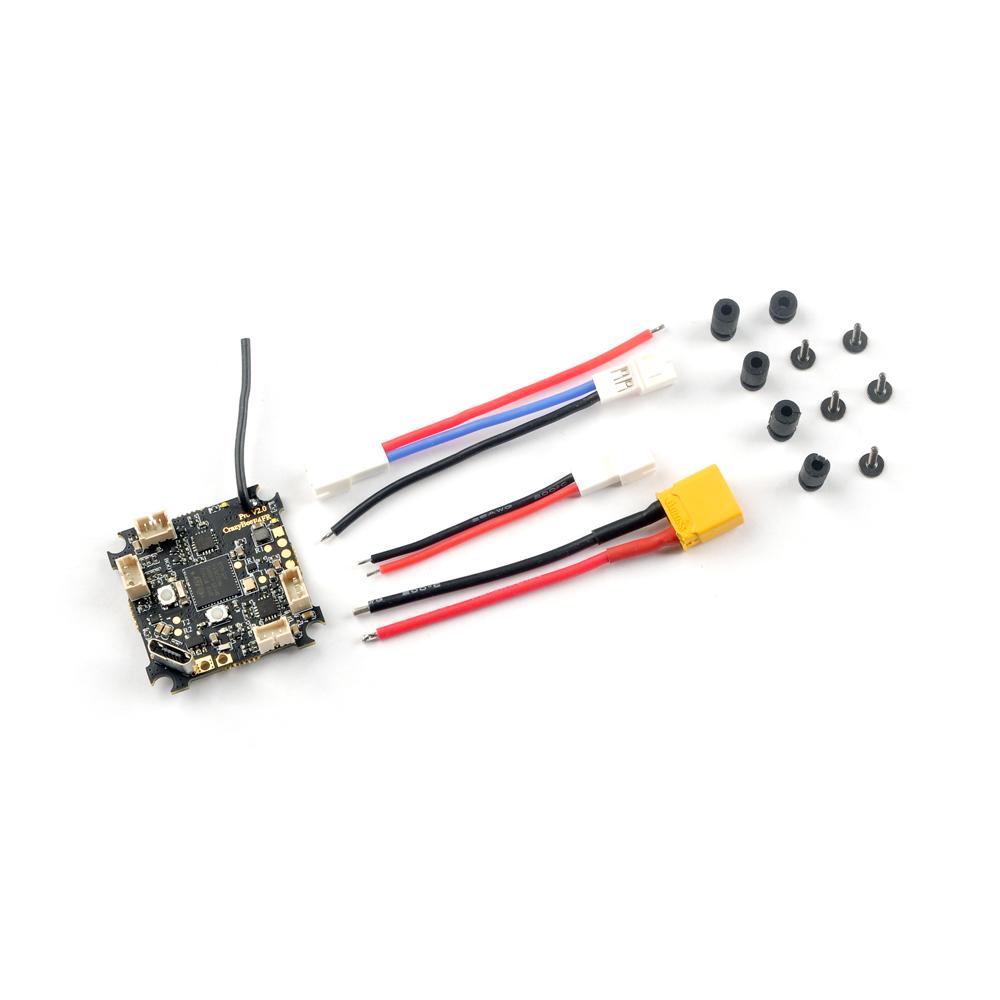 Crazybee F4 Pro V2.0 1-3S Compatible Flight Controller for Mobula7 HD Internal Frsky
---
QuadCopters Price Match
Crazybee F4 Pro V2.0 1-3S Compatible Flight Controller for Mobula7 HD with Internal Frsky
This is a replacement flight controller and 4in1 ESC board for the Mobula 7 micro drone.
The biggest differences between Crazybee F4 PRO V1.0 and V2.0 are:
V2.0 could handle 1-3s Lipo/LiHV
V1.0 could handle only 1-2s Lipo/LiHV
V2.0 use bigger bind and boot button , change the BAT/GND pad to "through hole"
Flight controller
MCU:STM32F411CEU6 (100MHZ, 512K FLASH)
Sensor: MPU-6000(SPI connection)
Board size: 28.5 * 28.5MM
Power supply: 1-3S battery input (DC 3.5-13V)
Built-in 5A(each) Blheli_S 4in1 ESC Dshot600 ready
ESC MCU Upgraded to EFM8BB21
Frsky version Built-in SPI Frsky receiver with telemetry(D8/D16 switchable)
Flysky version Built-in SPI Flysky receiver with telemetry(AFHDS/AFHDS-2A Compatible)
DSMX version Built-in Serial-based DSM2/DSMX compatible satellite receiver(Default RX2 was used for DSM2/DSMX receiver)
No RX version support external serial-bus receiver like xm+, crossfire, S-FHSS and Dsm2/DSMX, Ibus protocol etc.
Built-in Betaflight OSD (SPI Control)
Built-in Current meter sensor Max up to 28A
Current meter scale set to 1175
Built-in 5V 1A Buck / Boost with LC filter
Built-in voltage detection
BLHELI_S pass-through Ready
Multi Serial port support
Fully compatible with almost Brushless whoop drone
Weight:4.3g
Onboard 4in1 ESC
MCU upgraded to EFM8BB21
Power supply: 1-3S LiPo/LiPo HV (3.5v/13v)
Current: 5A continuous peak 6A (3 seconds)
Support BLHeliSuite programmable
Factory firmware: S_H_50_REV16_7.Hex
Default protocol: DSHOT600
Receiver support
No RX version support external serial-bus receiver like xm+, crossfire, S-FHSS and Dsm2/DSMX, Ibus protocol etc.
Firmware target:
Frsky version  betaflight_4.0.0_CRAZYBEEF4FR.hex <--- This is the Frsky version (this listing) 
Flysky version betaflight_4.0.0_CRAZYBEEF4FS.hex
DSM2/DSMX version betaflight_4.0.0_CRAZYBEEF4DX.hex
No RX version betaflight_4.0.0_CRAZYBEEF4DX.hex
Package includes:
1 x CrazybeeF4 PRO flight controller
3 x Power cables PH2.0 - XT30 with Capacitor
1 set Shock absorbing rubber and screws
If you are going to flash this FC it is recommended to copy the settings from the CLI before hand, and then pasting them back in after flashing so you do not lose your stock settings.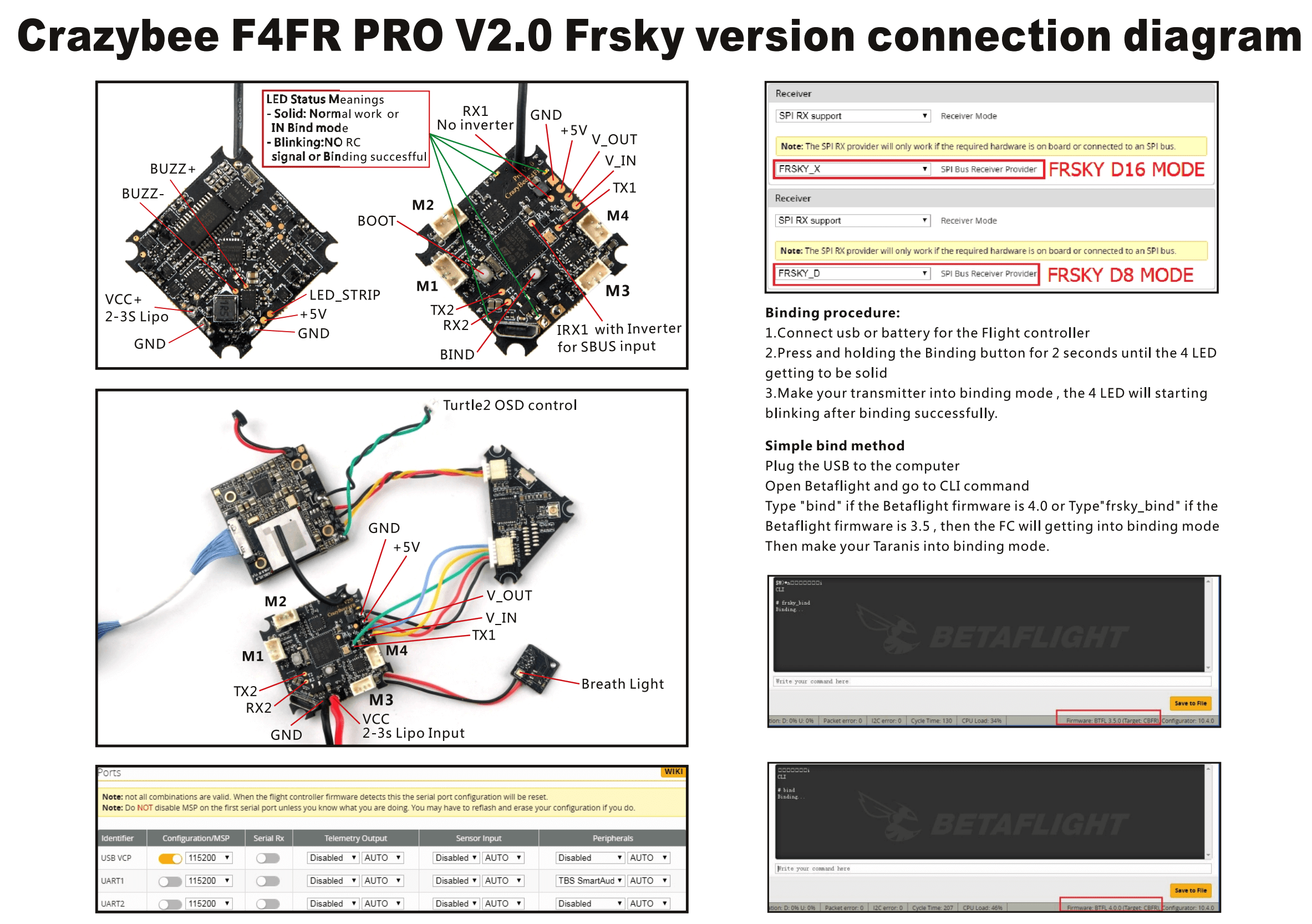 great little fc,good replacement for my old f3 board,instantly connects to betaflight config.unlike the older f3...4k2k runs at lower processer ie 6% where as the old f3 ran at 26%..On a 1S Mobula 7 whoop. fast postage from Quadcopters,next day delivary..
Write your own review
The item has been added to your basket