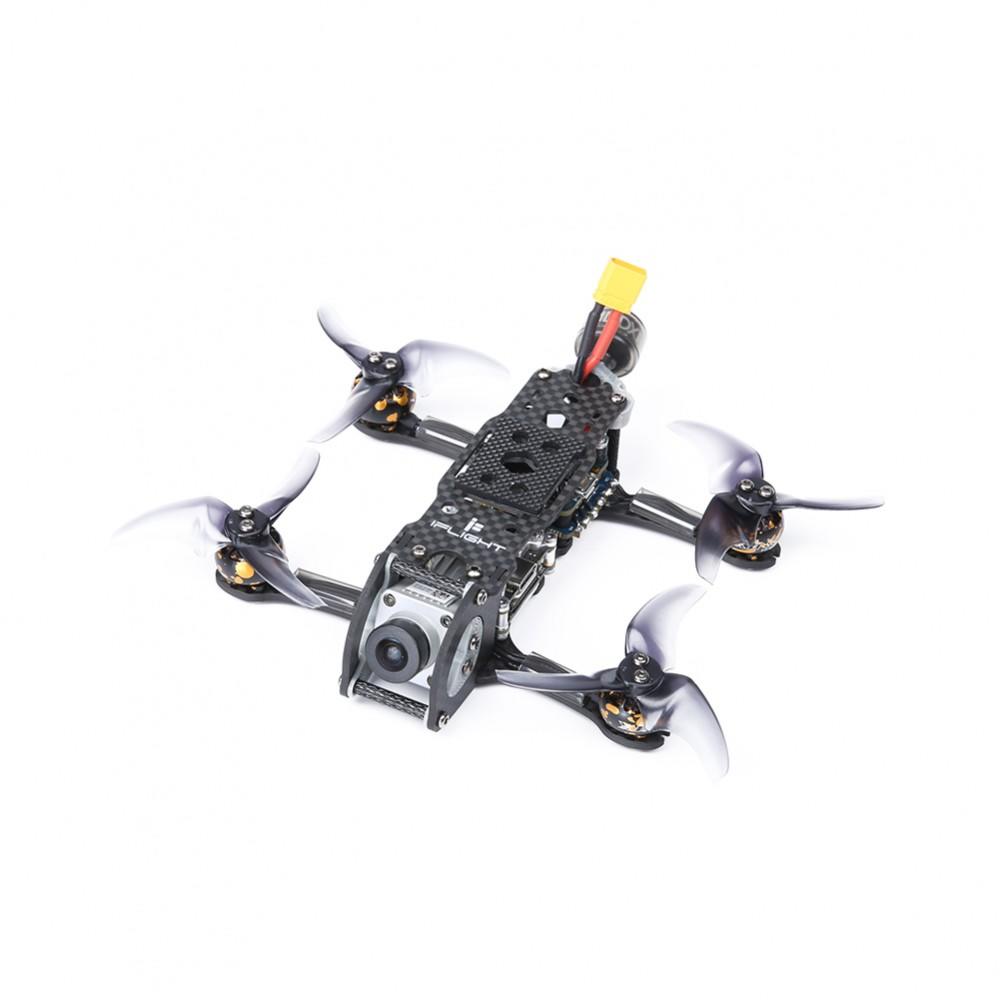 iFlight iH2 FPV Drone BNF with Caddx Vista DJI Digital HD System 4s
---
QuadCopters Price Match
Introducing the iH2 HD Whoop size Bind and Fly Drone with the Caddx Vista Digital HD System installed.
This will fly perfectly on 2" or 2.5" Propellers and using a 4s Lipo Battery giving really smooth power all the time with a crystal clear video signal thanks to the Compatibility with the DJI Goggles.
The iH2 will bind to the DJI Remote (not supplied) without any additional hardware or to any other radio using there suitable receiver.
These can be flown as a whoop with the ducts or more as a freestyle quad without. 

Features:
126.5 grams without battery

Butter smooth XING-E 1204 

Duct prop guards to protect the sensitive environment or yourself

Pre-tuned with smooth freestyle settings
iH2 HD BNF Specs:
SucceX-E mini F4 + mini 35A stack

Motor: XING-E 1204 4500KV

Wheelbase: 120mm

Body size: 100*68mm

Bottom plate thickness: 2.5mm

Top plate thickness: 1.5mm

Top and bottom plate spacing: 22mm (aluminum column height 25mm)

Ducted propeller size: 2 inch

Maximum propeller size without ducts: 2.5 inch props

FC pattern: 20*20mm,16*16mm

FPV cam spacing: 19mm

Weight: 126.5g (without battery)

Flight time: 5-6 min cruising
FACTORY SETUP and WIRING DIAGRAM:
Reflashed your drone but didn't backup the setup? Messed up the whole tune and want our factory tune back?
No need to worry! All Factory Dumps and Wiring Diagrams can be found on our Google Drive: LINK
iH2 HD Quad BNF Included Components and Parts
Prebuilt and tested Quadcopter

1x iH2 HD Frame

1x Caddx Vista Digital HD System Kit

1x TPU Antenna holder 

2x TPU camera side plate soft mount

2x Emax 2 inch / 2.5 inch 3-blades (Set of 4 - Color May Vary)

1x iFlight Lipo Strap
Specifications:
- MCU:168MHz STM32F405
- Gyro:MPU6000
- Blackbox:8MB
- Betaflight OSD:YES
- BEC:5V 2.5A
- Uarts:5
- ESC Telemetry:yes
- INA Pad:nuart2
- Input voltage:2-6S
- Size:25*25mm /20*20mm φ3 mounting
- Weight: 4g
- Firmware:BETAFLIGHTF4
Physical
- Mounting hole:20*20mm,φ3mm
- Size:25*25mm
ESC // SucceX-E Mini 35A

Top Features:
- 6 layers double-sided PCB board
- 2oz 1.4mm thick power board
- TDK MLCC Low ESR ceramic capacitors
- Top grade 2R203 MOSFET
Specification:
MCU: BB21 

F16G

BLHeliS

Capacitance: 470uF/50V
Current Sensor: Yes
Input: 2-6S LIPO

Constant: 35A / Burst: 40A

BEC: No

Supports up to Dshot600, Proshot, Oneshot, Multishot 

Targ

et: 

G-H-30

Weight:

6.9g

Mounting pattern: 

20*20, 

φ3mm with Grommets φ2mm

Dimensions

: 

31

*30mm (including the power pads)
Additional Suggested Parts
DJI HD FPV Goggles

Radio Controller

DJI Remote Controller (Mode 2)

Battery 4S 450mAh
Important
The DJI Remote Controller is recommended for beginners since you won't need to set up another receiver, but it is also optional in this BNF drone because it is NOT required in order to use the FPV system. If you don't choose to use the DJI Remote Controller, you can choose a receiver option for your transmitter and then bind to your own radio as usual.
The item has been added to your basket