SkyRC Q200 Quattro 4 Port 200W Charger AC
---
QuadCopters Price Match
SkyRC Quattro 4 Port Lipo Battery Charger - Can charge 4 Lipos at once independently . 

The SkyRC Q200 is a Quad-channel charger with 4 independent circuits, which can charge four different kinds of batteries simultaneously. The charger has a 480×320 color LCD display, and paired channels (A&C or B&D) that support power distribution in AC mode. Users can also connect the charger to either a PC or mobile device for even easier use. Firmware upgrade is available via the PC software interface.
Our chargers are UK Spec and come with UK plug . 
This charger features:
► Power distribution between four channels in AC mode.
► An additional LiHV mode to charge the new generation of LiPo batteries with an end of charge voltage of 4.34V.
► Individual cell voltage balancer.
► Automatic charging current limit, capacity limit, temperature threshold and processing time limit.
► Ability to store and load up to 10 different charge/discharge profiles.
► Internal resistance meter.
The SKYRC Q200 is compatible with PC and mobile applications to allow for easier monitoring and use.
► SkyCharger App: The Bluetooth 4.0 connectivity allows the user to control and monitor the Q200 comfortably through an app on a portable device such as smartphone, iPad, or iPhone. The iOS app can be downloaded from iTunes Store, and the Android app from Google Play Store. Operation of the app is self-explanatory and the same on iOS and on Android. Explicit pairing is not required; after download and installation just activate Bluetooth on your mobile device and launch the app. The Q200 and your device will establish a Bluetooth connection automatically.
► Charge Master: The user can monitor pack voltage, cell voltage and other data during the charging, view charge data in realtime graphs, and can also control charging and update firmware from the "Charge Master" PC Software.
A unique feature of SKYRC chargers is the Scan To Go automatic charging system. Each battery requires its own dedicated charging process, and it is easy to set up the charger incorrectly for a specific type of battery, resulting damage the battery or even cause accident. Scan To Go provides a solution to this problem by allowing the user to assign a QR Code which contains all the relevant data for the battery for charging or discharging. The user can create a unique QR Code by using "SkyCharger" apps. Print it and paste it on the battery. Using your smart phone and launch "SkyCharger" app. Since all the essential information is stored in the QR Code, all you need to do is press the Scan button, and the charge or discharge process will start automatically.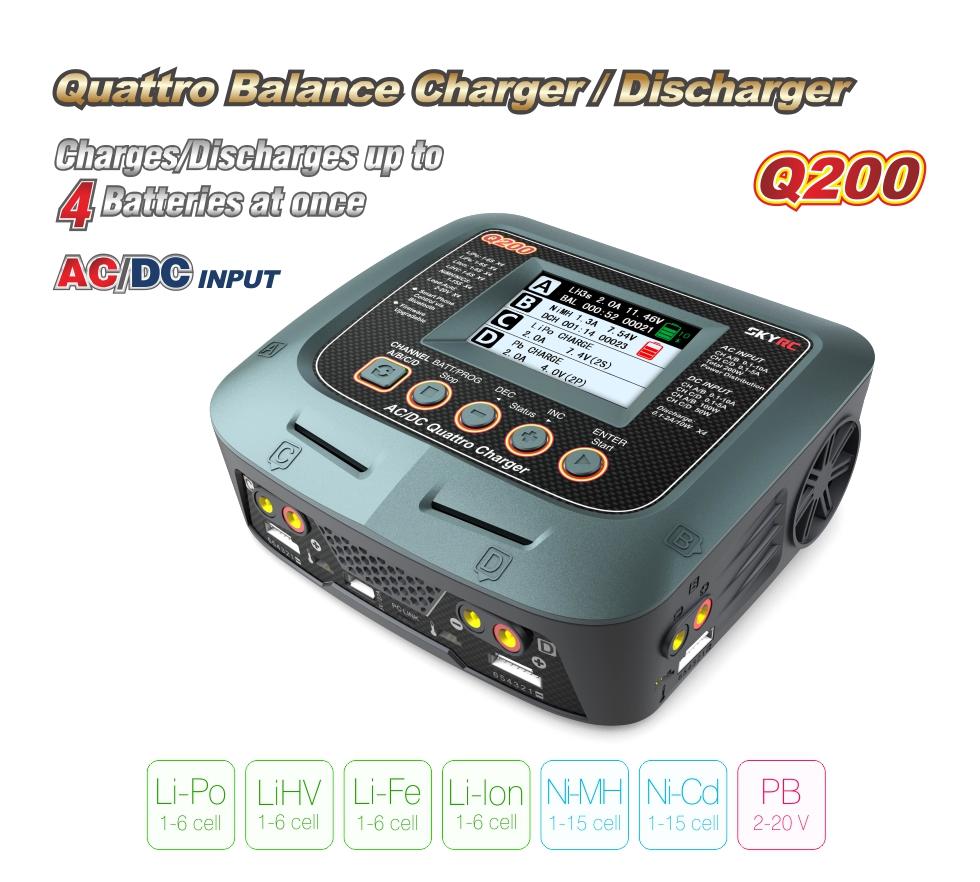 ---
SPECIFICATIONS
Input Voltage
AC 100-240V
DC 11-18V
Charge Circuit Power

AC Input:
CH A + CH C = 100W
CH B + CH D = 100W
CH A / CH B: 50-100W
CH C / CH D: 0-50W

DC Input:CH A / CH B: 100W
CH C / CH D: 50W

Discharge Circuit Power
4x10W
Charger Current Range

CH A / CH B: 0.1-10A
CH C / CH D: 0.1-5A

Discharge Circuit Range
0.1-2A x4
Current Drain for Balancing Port
Max 200mA/cell
Trickle Charging Current
50mA-300mA & OFF
LiPo/LiFe/LiIon/LiHV Battery Cell Count
1-6S
NiMH/NiCd Battery Cell Count
1-15S
Pb Battery Voltage
2-20V
Dimensions
197 x 182 x 71mm
Net Weight
1335g
Please download user manual here User Manual
The item has been added to your basket