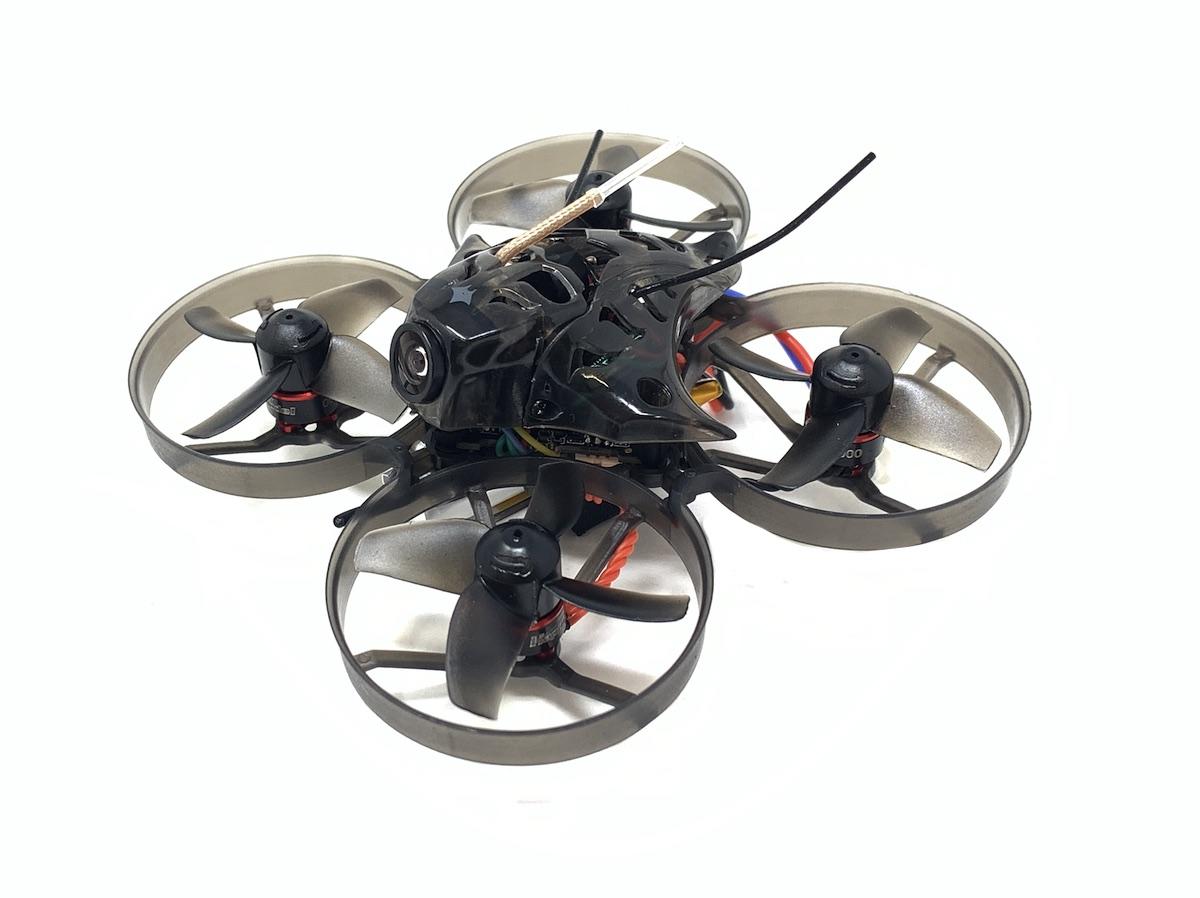 Mobula 7 F4 Micro FPV Drone 2s Standard EU LBT
---
QuadCopters Price Match
Mobula 7 Tiny Whoop 2S Power BNF with FPV and full OSD, EU LBT Standard version inc charger and lipos.
UPDATED V2 Version with new type black frame and F4 Controller

The latest 2s Whoop to hit our store and this one is a beast for its size, we've had a lot of requests to stock the Mobile 7 by HappyModel so here it is. The standard version is the best value for money as it comes with 4 lipos and a 6 in 1 charger along with a set of spare props.

This tiny whoop is perfect for those winter nights as its perfect for fast indoor flying, and also capable of outdoor flights which now thanks to 2s power is possible.

Key Features of the Mobula 7 
V2 version has been updated to an F4 FC along with a black frame.
Happymodel has entered the game with another competitor in the 75mm brushless whoop space. The defining feature being the ability to run on both 1s and 2s batteries depending on how fast you need to go.
The only difference between the basic and standard is the included charger. The basic version comes with a small USB charger while the standard comes with a 6-way charger.
Features
New Crazybee F4 PRO Flight controller 1-2s Lipo compatible
Betaflight support, multi-flight mode: ACRO/AIR/ANGLE
New 0802 Powerful and High-efficiency Brushless motor and Smooth ESC
Betaflight OSD support, easy to get RSSI, Voltage, current from your goggles (DSM* version no RSSI output)
SmartAudio ready, change VTX bands, channels via OSD
Adjust the settings and the PID of the flight controller via OSD
Full telemetry function ready
Headlights ready
Camera angle adjustable
Real Bind and Fly version
Buzzer Ready
Specifications
Drone
Wheelbase: 75mm
Size: 98mm*98mm*36mm
Weight: 25.9g (without battery)
Weight:40g (with Original 250mah lipo battery x2 )
Crazybee F4 V2.0 Pro Flight Controller Item Name: Crazybee F4 Pro FC
MCU: STM32F411CEUb (72MHZ, 256K FLASH)
Sensor: MPU-6000 (SPI connection)
Board size: 28.5 * 28.5MM
Power supply: 1-2S battery input (DC 3.5-8.7V)
Built-in 5A(each) Blheli_S 4in1 ESC Dshot600 ready
Built-in Betaflight OSD(SPI Control)
Built-in Current meter Max 28A
Current meter scale set to 1175
Built-in 5V 1A BEC with LC filter
Built-in voltage detection
BLHELI_S pass-through Ready
Heading LED Ready
Firmware
(Frsky EU-LBT version) CRAZYBEEF4 PRO FS Firmware target: CrazybeeF4FS
Onboard 5A 4 In 1 ESC
Power supply: 1-2S LiPo/LiPo HV (3.5v/8.7v)
MCU upgraded to EFM8BB21
Current: 5A continuous peak 6A (3 seconds)
Support BLHeliSuite programmable
Factory firmware: S_H_50_REV16_7
Default protocol: DSHOT600
SE0802 16000KV Motor 
Model: SE0802
KV: 16000KV
Configuration: 9N12P
Stator Diameter: 8mm
Stator Length: 2mm
Shaft Diameter: F1.0
Motor Dimension (Dia.*Len) : F10.5*14.5mm
Weight: 1.8g
Support 1-2S Lipo
Propeller
40mm 4-blade Propeller ( 4 CW + 4 CCW)
5.8G VTX AIO Camera
5.8G 40CH 25mW VTX
Output power: 25mw
Frequency: 40CH
Input voltage: 3.3V 5.5V
Current consumption: 300mA(type)
700TVL FOV120 Camera
Camera resolution: 700TVL
Field of view: 120°
Video Format: NTSC
Antenna: RG178 antenna
Frequency: 5.8GHz 5bands 40 channels
With Raceband
SmartAudio ready (Frsky EU-LBT and DSMX version not compatible)
Size: 13.9"12.0mm ( L*W )
Weight: 3g
Lipo Battery
Capacity:250mAh
Voltage:3.8v
Continuous Discharge Rate: 30C
Instantaneous discharge rate: 60C
Size: 55mmx12mmx7mm
Weight: 6.5g
Connector: PH2.0
Notes: Need 2pcs batteries for Series circuit
Includes Standard Version
- Happymodel Mobula 7 V2 (Standard Kit) - FrSKY XM+ EU LBT
- 6 Cell Charger (needs 7-25V DC or XT60 battery for power supply)
- 4x 1S 250mAh LiPo LiHV 30C battery
- Accessories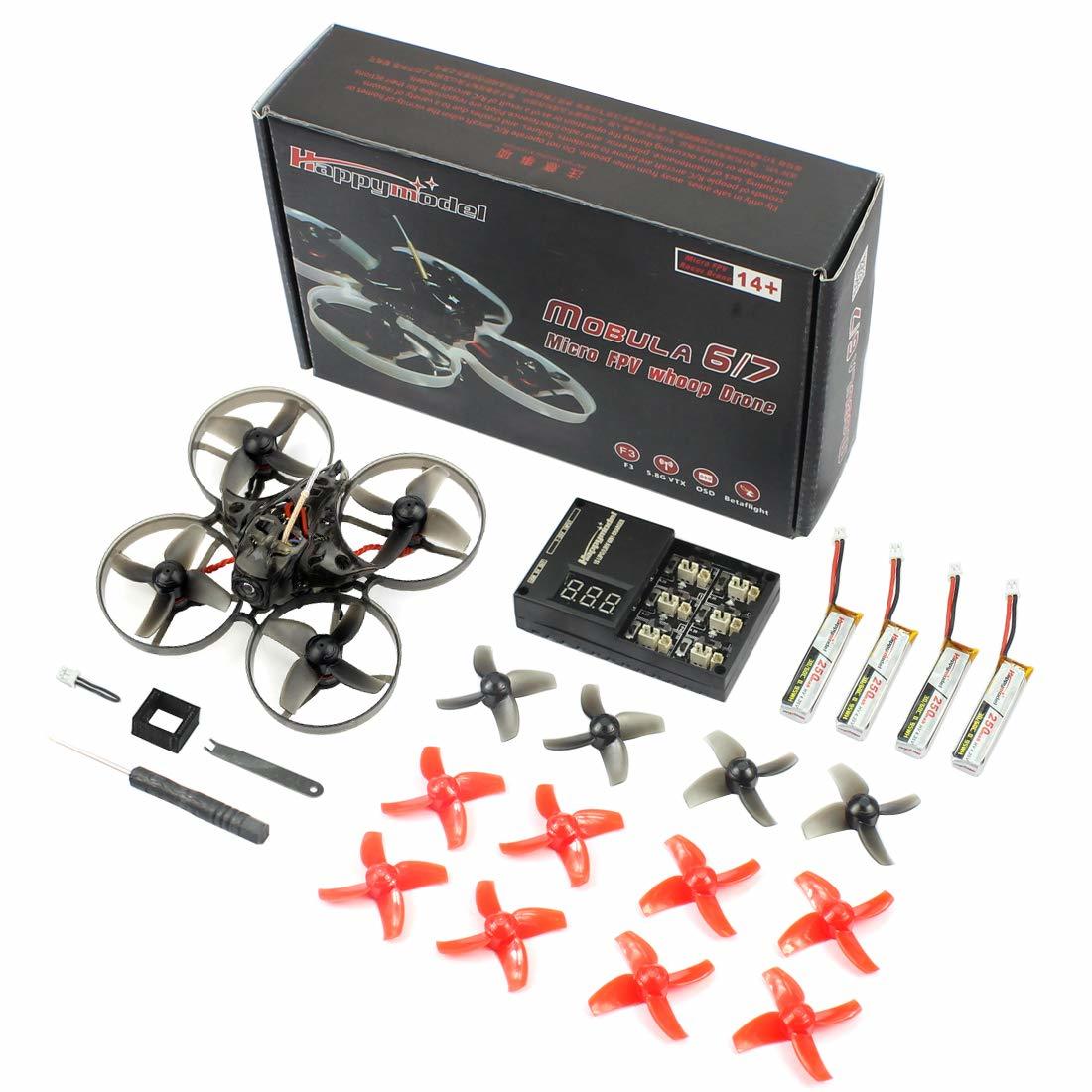 The Mobula 7 I've just purchased from Quadcopters is really amazing for such a tiny drone . Its surprisingly very fast and responsive and yet easy to fly. Come with a multi charger so I can charge many lipos at the same time which keeps me in the air pretty much constant apart from the occasional crash :) If your thinking of getting one - Do it.
Just received my Mobula7 from the guys at Quadcopters co uk. It is an updated version from that pictured with the black v2 frame and props. Have yet to test it's full potential but so far on a few test flights it has lived up to the hype. Many thanks. Ps. I'm not a robot
Write your own review
The item has been added to your basket