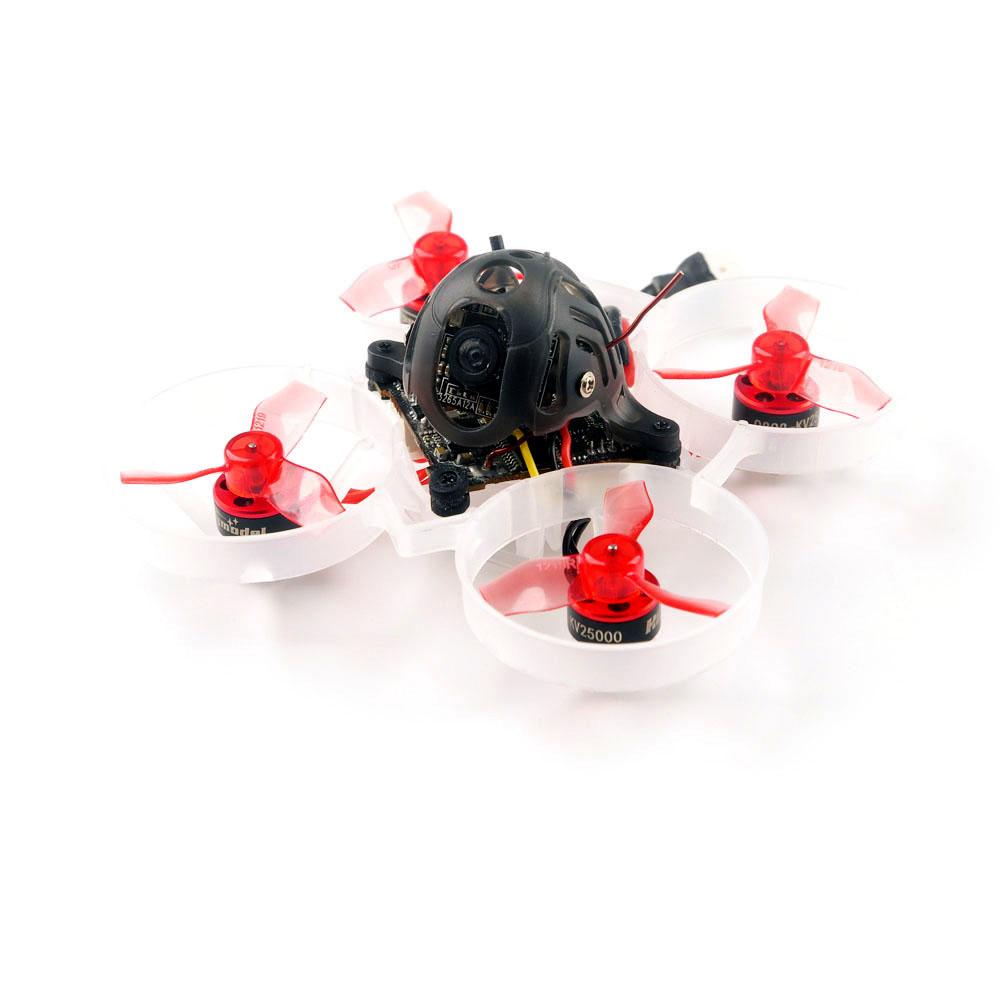 HappyModel Mobula 6 Frsky 1s Brushless FPV Whoop Drone
---
QuadCopters Price Match
New Mobula 6 from Happymodel is a 1S Brushless Micro Whoop Style Drone with 19000KV Regular Freestyle or Race 25000KV Motors and with Frsky Receiver.
This tiny beast is extremely fast for its size and is perfect for both indoor and outdoor freestyle and racing.
Weighing in at only 20g and fitted with a F4 Flight Controller and Runcam Nano3 fpv camera, This will be a perfect drone to get through the winter days when indoor flying is the only option.
And at a very affordable price point which will make this appealing to new pilots and veterans wanting something small and fun.
The 24000kv will be available later but with much less flight time and battery life sacrifice hence the 19000kv is the sweet spot.

Features:
AIO 4IN1 Crazybee F4 Lite flight controller built-in 5.8G VTX
Extreme light 1S 65mm Brushless whoop only 20g
Runcam Nano3 The lightest 1/3 CMOS 800TVL Camera
Smooth and powerful
Compatible for 1S Lipo/LIHV
Camera Angle adjustable
Specifications:
Brand Name: Happymodel
Item Name: Mobula6 1S 65mm Brushless whoop drone BNF version
Wheelbase: 65mm
Size: 80mm*80mm*37mm
Weight: 20g
Receiver option:
Internal SPI Frsky version (Compatible with ACCST D8/D16, Recommend D8 mode)
Motor speed option:
SE0802 KV19000(Regular Edition)
Package includes:
Item Name
Qty
Mobula6 1S 65mm whoop Drone Frame
1
SPI Receiver Option1: Crazybee F4 Lite FC built-in Frsky SPI D8 RX
1
SPI Receiver Option2: Crazybee F4 Lite FC built-in Flysky SPI RX
SE0802 19000KV or 25000KV brushless motor
4
Gemfan 1219-3 Propellers(4cw+4ccw)
1
Runcam Nano3 1/3 CMOS 800TVL camera
1
5.8G 25mw 40ch vtx (Flight controller built-in)
1
1S 300mah 30C LiHV Battery
4
1S Lipo/LIHV USB Charger
1
Propeller disassemble tool
1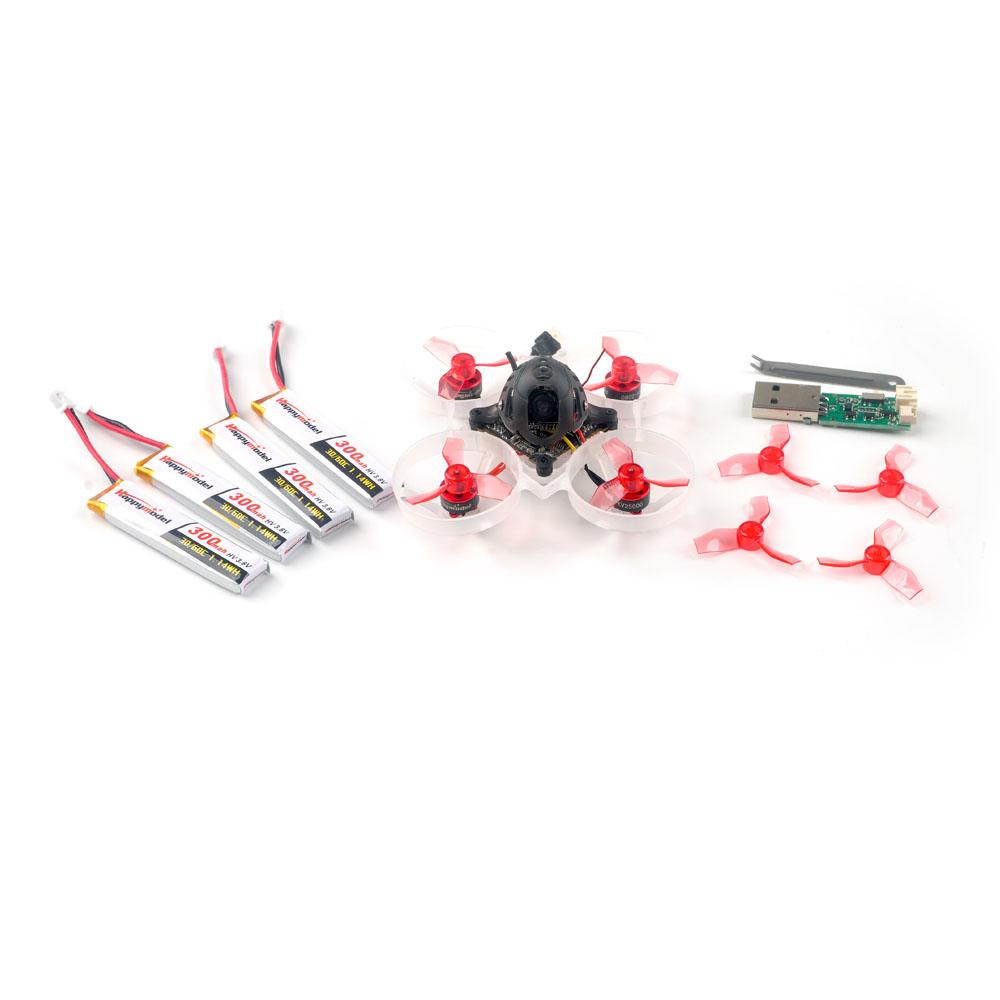 Spare parts specifications:
Motor
Mode: SE0802 19000KV or KV25000
Configu-ration:9N12P
Stator Diamter:8mm
Stator Length:2mm
Shaft Diameter:Φ1mm
Motor Dimension(Dia.*Len):Φ10.5mm*14.9mm
Weight(g):1.9g
No.of Cells(Lipo):1S only
Propellers
Gemfan 1219-3
Center Thickness:5mm
Prop Disk Diameter:31mm
Center Hole Inner diameter:1.0mm
Weight:0.28g
Flight controller
(Frsky SPI RX version) CRAZYBEE F4 Lite Frsky version Firmware target: CrazybeeF4FR
(Flysky SPI RX version) CRAZYBEE F4 Lite Flysky version Firmware target: CrazybeeF4FS
MCU:STM32F411CEU6 (100MHZ, 512K FLASH)
Sensor: MPU-6000(SPI connection)
Board size: 28.5 * 28.5MM
Power supply: 1S battery input (DC 2.9V-4.35V)
Built-in 5A(each) Blheli_S 4in1 ESC Dshot600 ready
Built-in Betaflight OSD(SPI Control)
Built-in 5.8G VTX
Built-in SPI Frsky/Flysky receiver
Built-in 5V 1A BEC
Built-in voltage detection
Onboard 4in1 ESC
MCU upgraded to EFM8BB21
Power supply: 1S LiPo/LiPo HVCurrent: 5A continuous peak 6A (3 seconds)
Support BLHeliSuite programmable
Factory firmware: O_H_5_REV16_7.HEX
Default protocol: DSHOT600
Onboard Frsky SPI D8 receiver Version
SPI BUS receiver Frsky D8 compatible
Compatible Non EU transmitter D8 modelChannels: 8ch
Failsafe support
No ground interference ( Transmitter and receiver 1 m from the ground): 100m~200m
Onboard Flysky SPI receiver Version
SPI BUS receiver
Protocol: AFHDS and AFHDS-2A Switchable
Channels: 8ch(AFHDS) or 14ch(AFHDS-2A)
No ground interference ( Transmitter and receiver 1 m from the ground): 100~200m
Failsafe support
Onboard 5.8g VTX
Output power: 25mw
Frequency: 40CH
Input voltage: 3.3V 5.5V
Current consumption: 300mA(type)
Frequency: 5.8GHz 5bands 40 channels
With Race bandSmartaudio ready
Runcam Nano3
Model: RunCam Nano 3
Image Sensor: 1/3″ CMOS
Horizontal Resolution: 800TVL
Lens : 2.1mm(M8) FOV 160°
Signal System: NTSC
S/N Ratio: >50dBElectronic Shutter Speed: Auto
Auto Gain Control (AGC): Auto
Min. Illumination: 0.01Lux@1.2F
D-WDR: Auto
Day/Night: Color
Power:DC 3-5.5V
Current: 110mA@5V 120mA@3.3V
Housing Material: ABS
Net Weight: 1.2g
Dimensions: L14mm*W14mm*H9mm
Lipo Battery
Capacity:300mAh
Voltage:3.8v
Continuous Discharge Rate: 30C
Size: 57mmx12mmx7mm
Weight: 8gConnector: PH2.0
Love the Mobula 6 and especially at the price I paid for mine. Its a blast indoors and is also very able outdoors too. Came with 4 lipos and charger so very happy and highly recommended it to anyone .
Write your own review
The item has been added to your basket