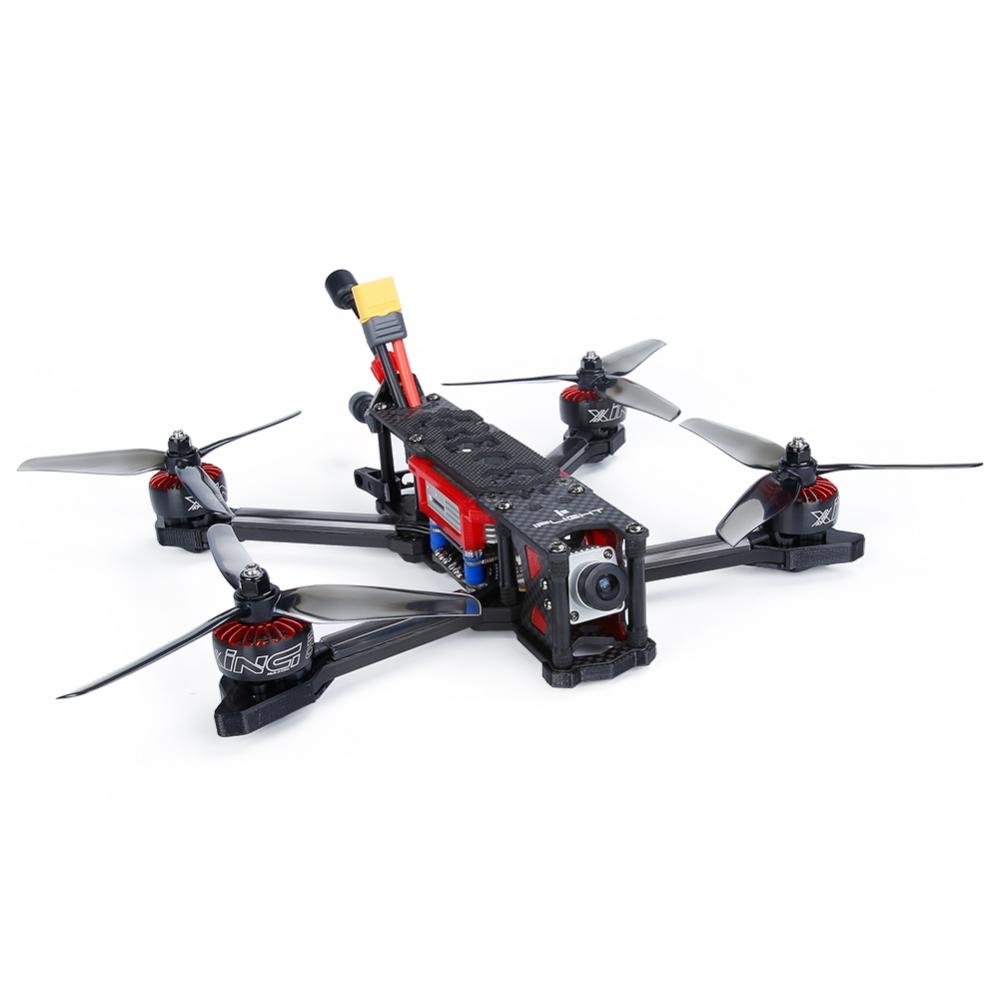 iFlight Titan DC5 With DJI Air Unit BNF 4s /6s
---
QuadCopters Price Match
The iflight Titan DC5 w/ DJI Air Unit BNF features the amazing new DJI FPV system, this quad makes flying FPV truly breathtaking. With the 720p video shown at 120fps through the goggles, DJI has set the bar at a new high for clarity and image quality in an FPV system. This TITAN DC5 BNF is 5 inch quad which is no prop in view, equipped SucceX-D F7(50A 4-in-1 ESC) Stack and popular XING motor, everything you just need to bind and fly!
Features
- No Props in view
- Optimized weight distribution: DJI unit and Stack centered 
- Equipped with SucceX-D F7(50A 4-in-1 ESC) Stack
- Equipped with the DJI FPV Air Unit -Bind and Fly
- Buttery-smooth 720p 120fps FPV feed
- Pre-tuned with smooth freestyle settings
- Full 3K Carbon Fiber airframe with chamfered arms
- Equipped with XING 2207 motors
- Weight: 390g without battery
FRAME // TITAN DC5:
- Weight :116g
- Wheelbase: 222mm
- Main body dimension: 185*133mm
- Bottom to top distance: 35mm
- Arm thickness: 5mm
- Bottom plate thickness: 3mm
- Top plate thickness: 2.5mm
- Camera plate thickness: 1.5mm( 2.5mm included TPU inserts)
ELECTRONICS :
-  SucceX-D F7 Stack (50A 4-in-1 ESC)
- Universal USB Type C connector instead of micro USB
- Plug-and-Play. No need to solder tiny wires
- Designed to support DJI Digital FPV.
BNF // Parts lists
- 1x TITAN DC5 HD Frame
- 1x DJI Digital HD FPV Air Unit (FPV Camera + Air Unit Module)
- 1x TPU Bracket for DJI Air Unit Module
- 1x TPU Antenna holder for DJI antenna
- 2x TPU camera side plate soft mount
- 1x iFlight Lipo Strap 
- 2x Nazgul 5140 Propeller (Set of 4 - Color May Vary)
- 4x XING 2207 Motor Unibell(4S 2450KV,6S 1800KV)Please choose the version that you want from the dropdown box
- 1x SucceX- F7 Flight Controller
- 1x SucceX BLHeli32 50A 4-in-1 ESC 2-6S
- 2x DJI FPV Air Unit Antenna (MMCX 90° - Pair) (From Air Unit Packaging)
Additional Suggested Parts (not included)
*Radio Controller and receiver if not using DJI's own built in.
*DJI Remote Controller (Mode 2)
*Battery 4S 1550mAh,6S 1300mAh
The item has been added to your basket